Maluku province consists of 1,400 islands inhabited by less than two million people, many still living a subsistence life style as fishermen or farmers in very isolated island communities. These islands are scattered across and around the Banda Sea, barely five hundred kilometres north of Darwin. The Banda Sea is amazingly deep: 7,200 meters down is a huge piece of exposed crust with parallel fault lines.
The provincial capital Ambon is a pretty island and has a long history of engagement with Australia. It is a sister city to Darwin and maintains long-standing education exchanges with the NT. And on the shore of the Ambon Bay is a Commonwealth War Graves Commission (CWGC) cemetery where are buried 1,092 Australian servicemen who died in eastern Indonesia during WWII.
On arriving in Ambon we made our first stop at the CWGC cemetery, where we paid our respects. Two huge "rain trees" dominate the gardens, which are well planted with a variety of tropical species. Pak Syamsuddin, the head gardener showed us around and explained he was currently waiting for replacement plaques for 28 graves which had recently been vandalised by a group of drunken youths. The youths had been caught and were being dealt with by the courts. I assured Pak Syamsuddin that we were grateful for his efforts to keep the cemetery in top condition as a place of pilgrimage for Australians and other Commonwealth citizens.
I discovered that close by is the Republic of Indonesia's hero's cemetery, which commemorates those who died fighting during Indonesia's struggle for independence immediately after WWII. Like the CWGC, it commemorates young men who died fighting for freedom.
My first official duty was a call on the Speaker of the provincial parliament, Pak Edwin Huwae, and his fellow MPs. The parliament is in a large building on the hills overlooking Ambon Bay. I was shown into a windowless waiting room but after a few minutes got up to have a look around rather than sit waiting: the views outside were stunning.
Our meeting focused mainly on education links. The Australian Embassy has agreed with the Indonesian government to make Maluku and North Maluku a priority focus area for the Australian Awards scholarships, in an effort to increase the number of successful applicants for study in Australia from these two provinces. This new focus includes the provision of targeted English language training for applicants in advance of their departure for Australia. Applicants from these two provinces have struggled to meet the English language requirements for study in Australia and the expectation is that this additional English language training assistance will help resolve this.
Pak Edwin was very happy to hear this, as were the members of the provincial parliament's Education Commission to whom Pak Edwin introduced me after our meeting. On the way out of the parliamentary building I also stopped to give an interview about this new arrangement to the local TVRI channel.
Later in the day the Northern Territory government representative based in Jakarta, Mark Bruny joined us in Ambon. I had invited Mark along considering that the NT has such strong and long-standing links with Maluku and Ambon in particular. The annual Darwin to Ambon yacht race is still an important event in Ambon's calendar and was raised in several of our meetings.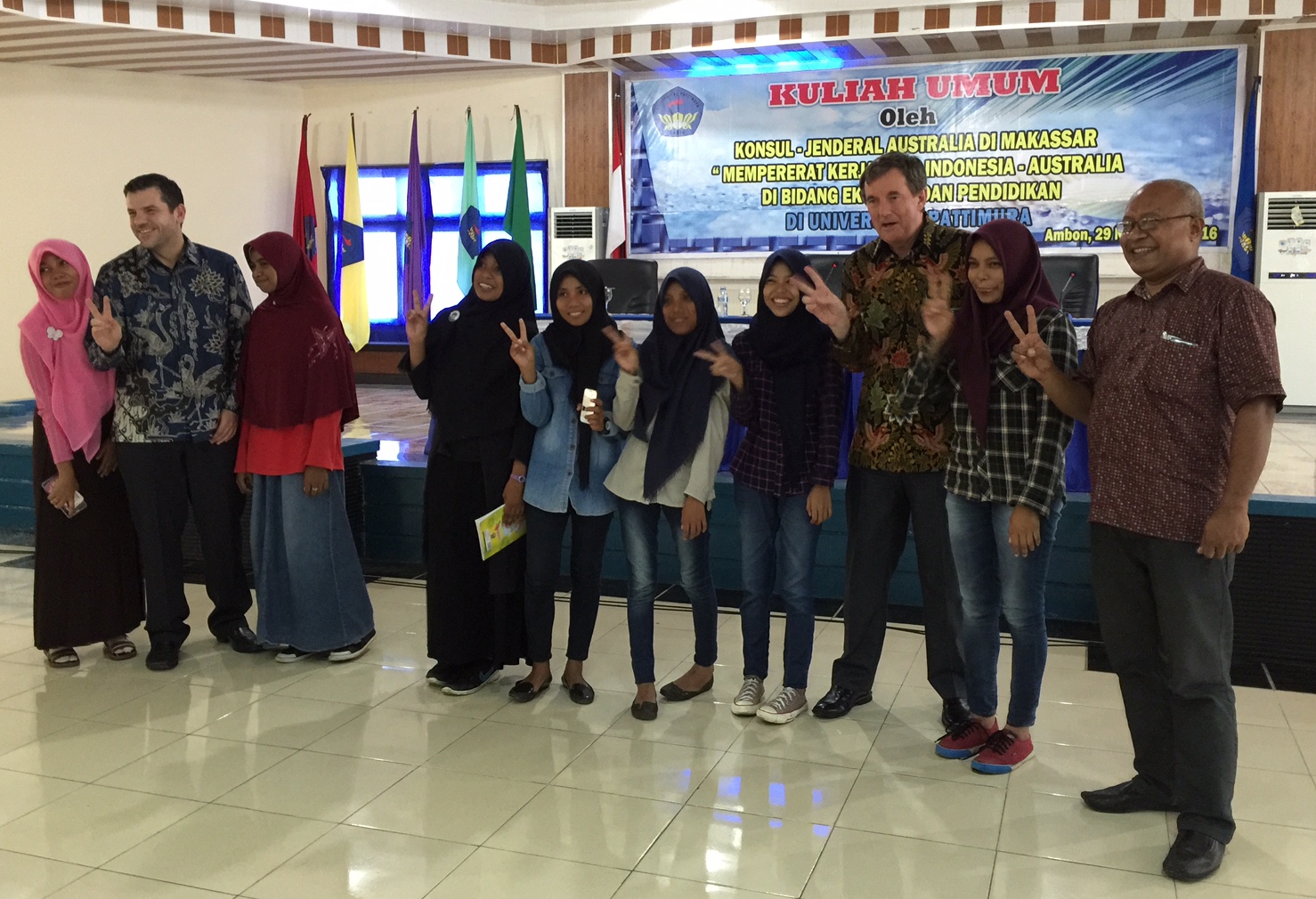 With staff and students of Pattimura University
That evening I hosted a dinner for the Australian alumni based in Ambon, many of whom teach at the local state university, Universitas Pattimura. The following day I also delivered a lecture to students at Pattimura University on Australian-Indonesian relations. This lovely campus is located near the Merah-Putih Bridge on the northern arm of the Ambon Bay. It was after lunch and hot and humid, and required an extra burst of energy to overcome the languid feeling of a tropical afternoon. Students only began drifting into the lecture hall in significant numbers after I was five minutes into my talk, but at the end of the lecture there were around 80 in the hall, and they asked lots of questions about studying in Australia. (Lesson learnt: give lectures first thing in the morning, you get a better turnout.)
On our second day we called on the Governor of Maluku province, Ir Said Assegaf. As we walked into the Governor's office Indonesian popular music was playing loudly from a barrage of speakers set around a stage across a field from the office. The provincial government was celebrating the 45th birthday of the Indonesian civil service (Korpri). It also happened to be Governor Assegaf's birthday. I started off by wishing him many happy returns.
We talked about education links, the new Australian Awards scholarship arrangements for Maluku, and then we got on to tourism. Pak Assegaf said he had been talking with Garuda about a possible Saumlaki-Darwin flight, to increase tourist traffic into Maluku. Currently only 600 – 700 Australians visit Maluku each year (still, this makes Australians the third largest group of visitors). Indeed, getting to Maluku is quite challenging, even from Australia, and there are limited hotels, resorts or homestays in the province's 1,400 beautiful islands.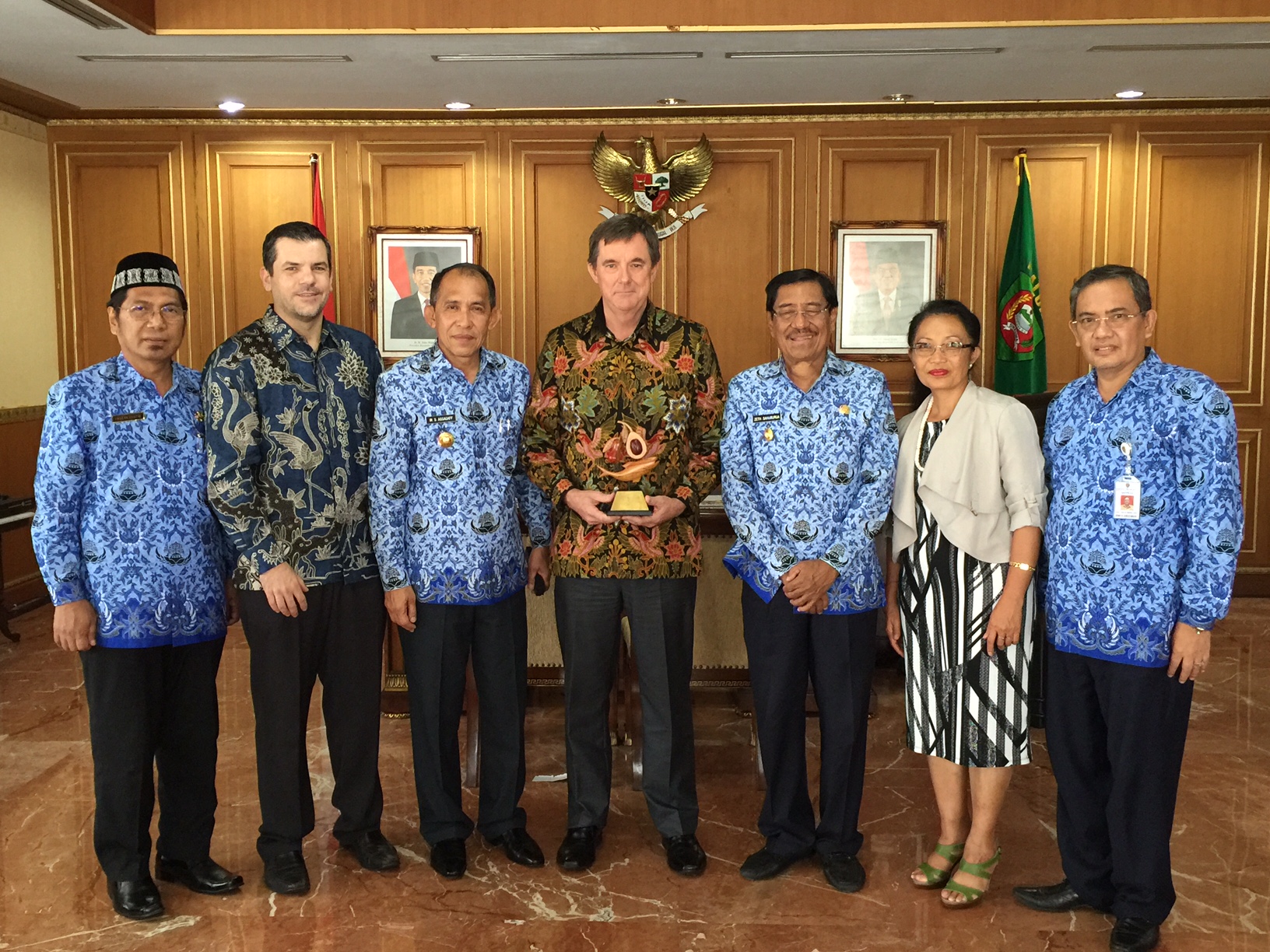 Meeting Governor of Maluku Ir Said Assegaf (on my right --> third from left of picture)
Saumlaki is a quiet town of around 150,000 people, occasionally visited by yachties from Darwin which is due south. It is the capital of the Southwest Maluku Regency, has beautiful beaches and has been a centre for Christianity since the early 17th century. According to Governor Assegaf, the Saumlaki-Darwin route would be a 45 minute flight by ATR-72 aircraft. Currently Garuda flies an ATR-72 on the Ambon to Saumlaki route six times a week, and the Governor argues that adding the Saumlaki-Darwin route would not be difficult.
Later I met some local business people and asked them what they thought about the Governor's idea of a Saumlaki-Darwin flight. They said the idea was good but ambitious: they questioned how much traffic there would be between Ambon/Saumlaki and Darwin. Their view was that if the mooted Masela Block gas project in Southwest Maluku got under way then the Saumlaki-Darwin route might become economically viable, because of the demand from oil and gas industry workers and business people.
A highlight of our sojourn in Ambon was a visit to Leahari village, a one hour drive over the hills to the coast of southeast Ambon. We were to meet the villagers, and representatives from two NGOs - Arika Mahina and Yayasan Walang Perempuan – which have for two years been implementing a DFAT-funded MAMPU project to raise the status of women in the community.
Leahari is a very traditional community where according to local customary law (adat) women were confined to domestic duties and serving their husbands and families. On arrival at the village Putri and I were welcomed by a dour looking male elder dressed in a black cloak and a red scarf. According to tradition he poured water over my feet and shouted in my face, "Welcome to Leahari Village!" This slightly intimidating welcome did not bode well for a productive dialogue on gender equality.
However, during the meeting the young village headman explained that the intervention of the two NGOs had made a major impact on the community and had turned around community attitudes towards women. The village had negotiated a local law which included women in decision making and enshrined gender equality. I then encouraged the women at the meeting to express their views: several women explained that the elders now listened to their views.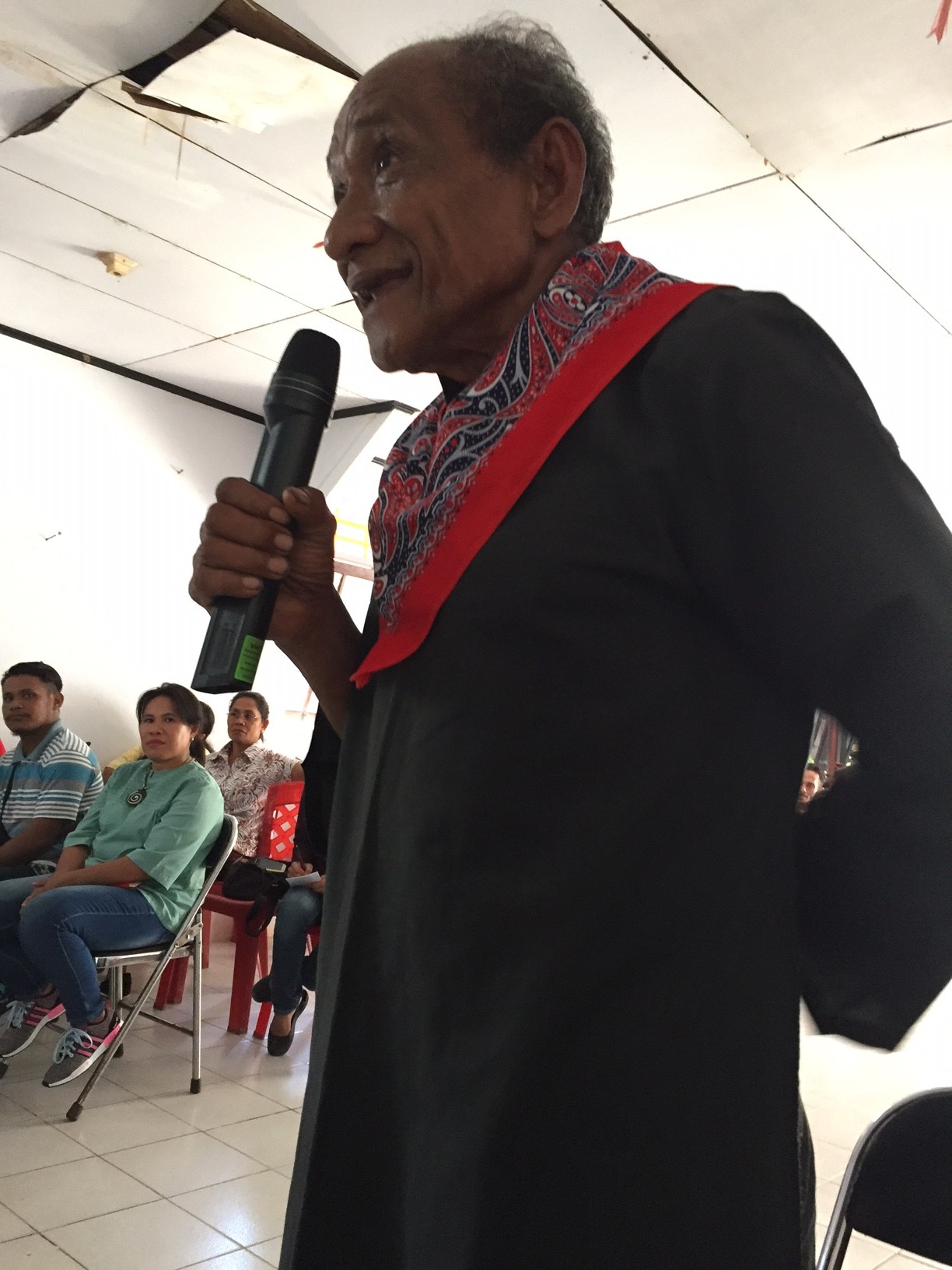 Elder of Leahari village explains how MAMPU project changed his thinking about the role of women
The key moment occurred when one of the black dressed elders stood up and spoke. He said that when the NGOs had first arrived in his village he had adamantly opposed their intervention; he shouted, "adat, the laws of our ancestors, could not be changed!" But the NGO representatives persisted. They argued that some elements of adat could be changed while others could be retained. They pointed to how other communities were adapting to the 21st century and empowering women, while maintaining their traditions and community cohesiveness.
Seeing how the women in his community responded to the NGOs, he said he had gradually come around to appreciate that gender equality would be good for his community. Then he broke out in a smile and said he was now 100 per cent behind the movement. I got up and shook his hand. All cheered.
We then drove back to the airport and got on a flight to Ternate, the fabled volcano and Sultanate, and began our visit to the province of North Maluku.
***