It was the first day of term for 475 Faculty of Industrial Technology students at the Indonesian Muslim University (UMI), one of Makassar's top private universities. And they were all politely gathered in the university's Al Jibra Auditorium waiting for me. I had been invited by the Dean of the Faculty of Industrial Technology Prof Zakir Sabara, to give a lecture on "Challenges Facing Industrial Technology Students in a Globalised World".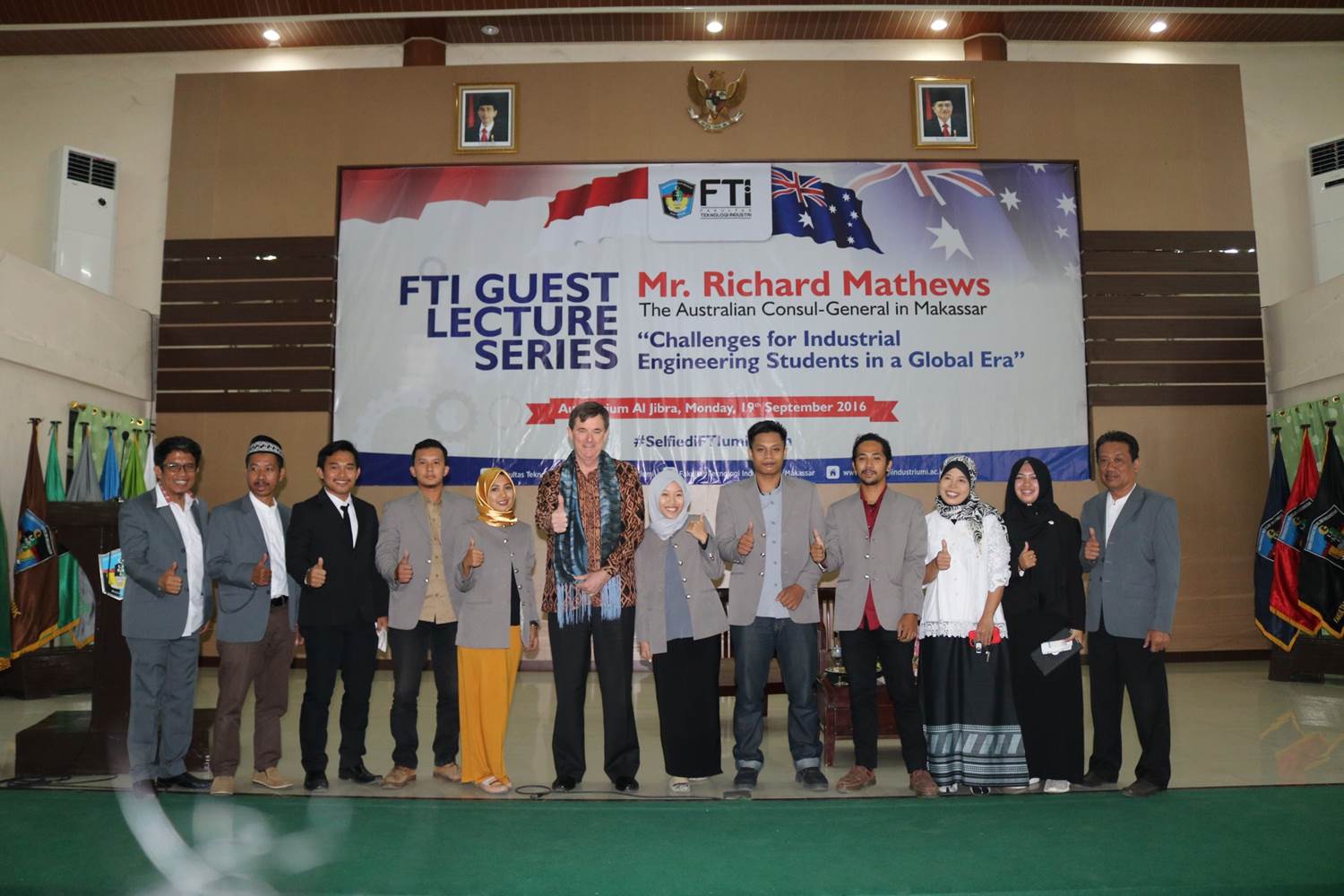 With UMI Student Council
I am no expert on industrial technology, but I do have a few years of life experience and I can give a lecture in Indonesian, which is perhaps why Prof Zakir and his colleagues thought I would be an interesting guest-lecturer for their first-year students.
As I arrived I was asked to stand at the entrance to the auditorium with the Rector of UMI, Prof Dr Masrurah Moktar, to participate in a welcoming ceremony. Dr Masrurah is one of an increasing number of female University Rectors and a locally renowned poet and leader of the Islamic community in South Sulawesi. I was also met by the dynamic Dr Setyawati Yani (Ibu Wati), a Curtin University graduate and the Director of UMI's international office, who was to be the moderator for my speech and Q&A session.
The ceremony was a vigorous Anguru dance by a youth in a sarong and red shirt, in which he pledged allegiance to the visitor and emphasised his loyalty with a very sharp traditional knife or badik which he used on his body a few times (without spilling any blood). It was a powerful performance. Then Prof Masrurah and I had sashes placed around our necks by some young ladies and we entered the auditorium to vociferous applause.
Indonesian ceremonies are often very noisy affairs, and this was no exception. The two MCs – a young man who declaimed loudly in Indonesian, and a young woman who translated into English – spoke excitedly as if they were announcing celebrities. There was loud music, then a short interlude of relatively quiet dancing by some colourfully dressed girls – the padupa or welcoming dance.
Prof Masrurah addressed her new first year industrial technology students. Then Prof Zakir introduced me, during which he said he followed my blog and noted I had made the call to all and sundry that if you "take a selfie" at one of South Sulawesi's many beauty spots then please also "take your rubbish" away (ambil selfie, ambil sampah). I was a bit blind-sided by this, then I had an idea.
As I set up at the podium I said into the microphone "please, just wait a moment". I turned my back to the audience then raised my smartphone and took a selfie with the students behind me. The kids erupted in applause and laughter, and Prof Zakir and Ibu Wati jumped into the photo too.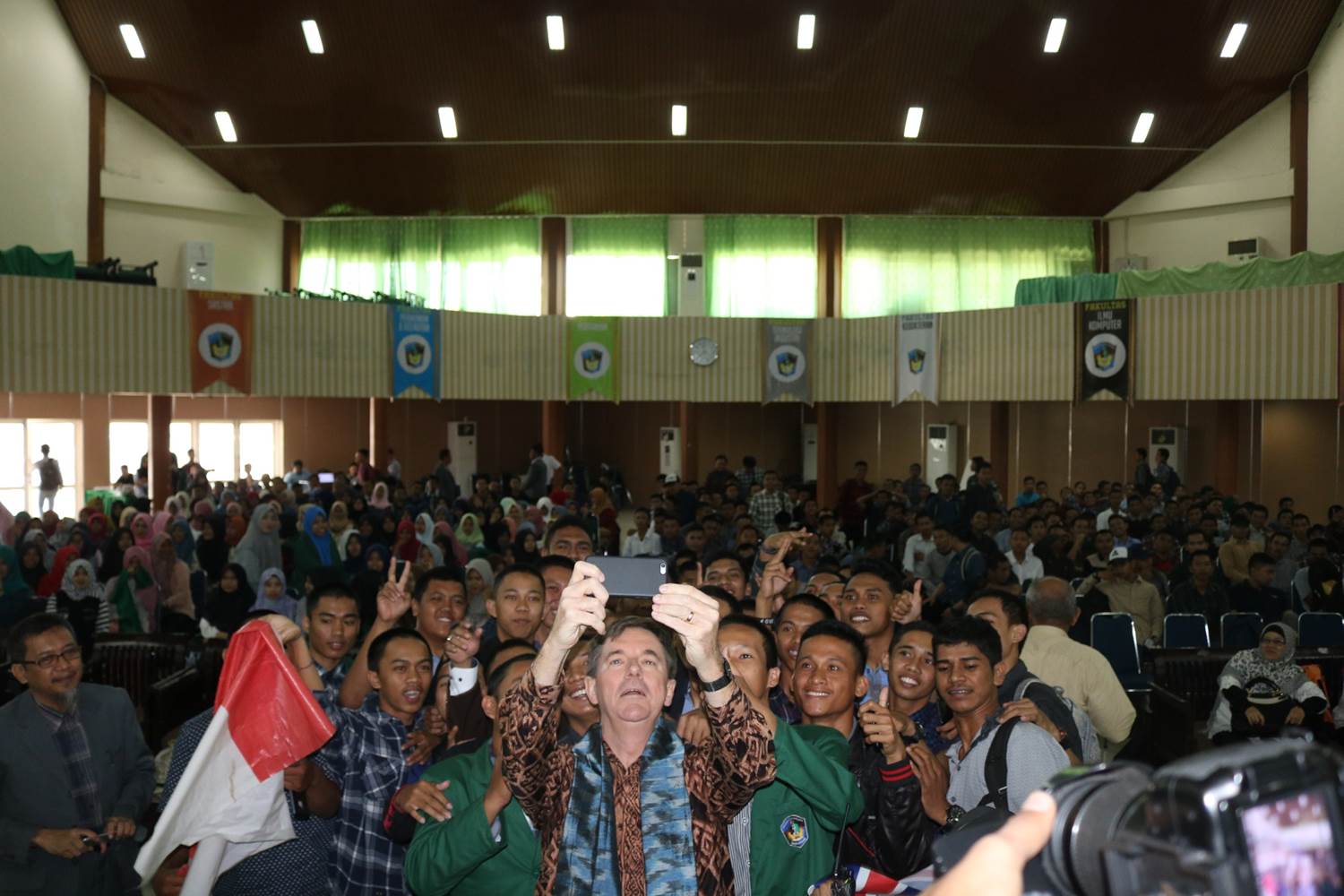 I had connected, so then it was quite easy to keep their attention.
Basically I told these young folk that they will have to learn how to manage large amounts of information and not be distracted by the noise of social and other media. They will have to learn to focus, and learn the discipline of thinking clearly. A key technique for developing focus and discipline of thought, is to READ BOOKS. Novels, biographies, history books, just BACA, BACA dan BACA (read, read, read). I said "you will need to develop your creative skills in order to succeed in your careers and contribute to making Indonesia an innovative nation". Creativity and innovation are the essential ingredients for success in an increasingly globalised world, and to become an innovative nation a country needs creative people.
Unfortunately not many of the students actually read books, as I found out when I asked those who had read a book recently to raise their hands (about six did so). None raised their hands when I asked them to name some famous Indonesian authors. And these kids did not raise their hands because they were shy. As anyone who has ever addressed a crowd of young Indonesians in Makassar will know, shyness is not the norm.
These young folk are facing the same challenges that young people face the world over. Keeping up to date with friends' activities on social media, watching TV, socialising with other students, studying, eating and praying, all are important so fitting in a bit of quiet reading time is low down on their list of priorities. How to rekindle a love of reading among young people is a real challenge for teachers everywhere.
During the Q&A session several young people asked me interesting questions in good English. The first was "what do you think of the Indonesian education system?" Well, I am a diplomat not in the game of passing public judgement on host government policies or actions. So I suggested they ask their teachers, parents and elected leaders. I added that every country has its own challenges and needs to develop its own unique system of educating its young people, in accordance with local culture, religion and values. And then I harked back to my thesis about the general challenges facing us all of information management, the need to focus your thinking, and the need to stimulate creativity and innovation.
After the Q&A session there was about twenty minutes of selfies with the students and lecturers. The students were bright, enthusiastic and keen to get in the photo with "Pak KonJen". I tweeted some photos, and later the media reported my speech fairly accurately.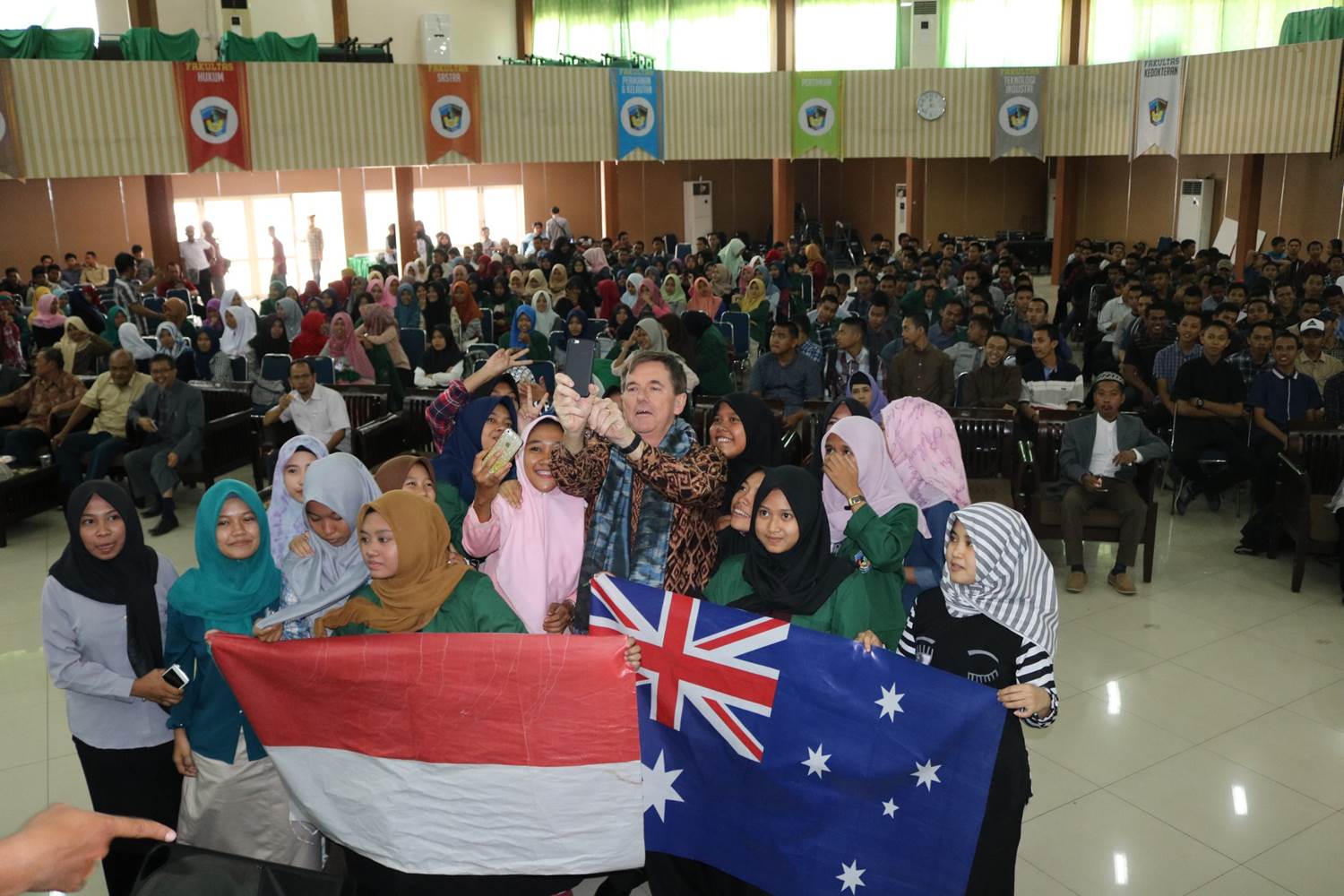 As I left the hall I heard the MC ask students to stay behind to pick up their ID cards. This was indeed their first day of term, and before they had even completed registration they had sat through a speech by the Australian Consul-General, which I hope they will remember. I know they will remember all the "selfies". But I hope that in the future when some among them must choose where to go for their postgraduate studies, they will remember Pak KonJen's lecture – and choose Australia!
#ambilselfie_ambilsampah
***