Australians in Indonesia
For Australians travelling in Indonesia or planning to travel to Indonesia, please refer to the Australian Government's Smartraveller website for latest news and information related to your trip and subscribe for updates. Travel advice is reviewed and updated regularly.
Travel to Australia
Please visit the Australian Government's Department of Home Affairs website for the latest advice in relation to travelling to Australia and for further information on the Australian Government's Department of Health website on COVID-19.
Consular, passport and notarial services
The Consulate-General remains open Monday to Friday for normal business hours (8.30am to 4.30pm). Consular and passport services continue to be provided by appointment. As a precaution for the safety of our staff and visitors, we are providing notarial services only where there is an urgent need. There are additional security screening requirements if you are required to attend the Consulate General. Please Please email [email protected] or call 04113664113 to make an appointment. If the Consulate-General is closed, please contact our Consular Emergency Centre: +61 2 6261 3305 if you have an urgent request.
----------------------------------------------------------------------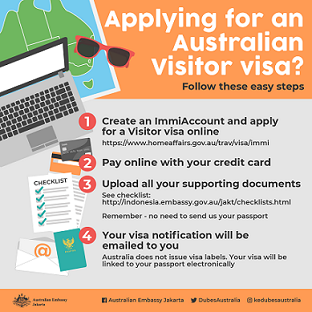 The Consulate-General does not process or advise on visa, migration or citizenship applications. Click here for more information on visas and migration.
------------------------------------------------------------------------------------
Message from Consul-General Mr Todd Dias
Strengthening Australia's relations with eastern Indonesia
Welcome to the website of the Australian Consulate-General in Makassar, South Sulawesi.
The Australian Consulate-General in Makassar opened in 2016 to promote business, education, people-to-people and cultural links between Australia and twelve provinces in eastern Indonesia: East Kalimantan, South Kalimantan, South Sulawesi, Southeast Sulawesi, West Sulawesi, Central Sulawesi, Gorontalo, North Sulawesi, Maluku, North Maluku, Southwest Papua and West Papua. The Consulate-General also provides consular and passport services to Australian citizens in these provinces.[1]
Makassar, a city with around 1.5 million inhabitants, is the gateway to eastern Indonesia. For hundreds of years, sailors from Makassar and eastern Indonesia travelled to northern Australia to harvest sea cucumbers (trepang). They developed strong relationships with the indigenous people of northern Australia, which lives on through influences on language, culture, art and food.
Today, our trading and business links with the eastern provinces of Indonesia are growing fast. We see great potential for business links to expand further now that the Indonesia-Australia Comprehensive Economic Partnership Agreement has reduced tariffs and provided more certainty for investors. Mining and related services, tourism, education and agriculture are key areas of growth where Australian businesses, institutions, experts and social enterprises play an important role.
More than 32 million people live in the 12 provinces, with a diverse and cultural and linguistic heritage. It is an area rich in mineral and natural resources, has extensive mountain, coastal and island zones of great natural beauty, and seas rich in fish and other marine resources.
The Consulate-General in Makassar develops and maintains a wide range of networks across the 12 provinces, drawing on the skills, knowledge and experiences of people from both our countries. We are also working to strengthening connections between schools and educational institutions in Australia and eastern Indonesia; building connections with our growing alumni groups; and strengthening links between regional governments in eastern Indonesia and Australia.
To keep up to date with our activities in building stronger relationships between Australia and the provinces of eastern Indonesia, follow us on Twitter, Facebook and Instagram (@KonJenMakassar). You may also contact us by email at [email protected].
[1] Note that the Australian Consulate-General in Bali covers the provinces of Bali, West Nusa Tenggara and East Nusa Tenggara. The Australian Consulate-General in Surabaya covers the provinces of East Java and Central Java. The Australian Embassy in Jakarta covers the provinces of Papua, Central Papua, Highlands Papua and South Papua in eastern Indonesia; and all other provinces in central and west Indonesia not covered by the Consulates-General.
------------------------------------------------------------------------------------
Contacting the Australian Consulate-General Makassar in an emergency
FOR EMERGENCIES ONLY, Australian citizens requiring urgent assistance should:
call the Consular Emergency Centre in Canberra on (+61 2) 6261 3305
non urgent enquiries can be made by email to

[email protected]

.