I arrived at the Pantai Losari waterfront at nine in the morning, where a traditional pinisi perahu was tied up alongside, a leftover from the Makassar City F8 Festival of a few weeks ago. A pretty and attractive decoration.
Carefully I made my way past the perahu, over a floating wharf of cracked plastic blocks. An ammoniac smell rose from the harbour water which flowed over the floating wharf. There I found a small motor boat ready to take us to Badi Island, a 25 minute ride across a flat and glassy sea.
Noel is an Australian who has lived in Makassar for many years. He welcomed me aboard the boat and introduced his crew. Noel leads one of the largest coral reef rehabilitation projects in the world, which is funded by the Mars Symbioscience, around Badi Island. Mars has been in South Sulawesi for a long time, indeed Noel was the person who opened the first Mars factory in the Makassar Industrial Estate to turn cocoa beans into the raw material for chocolate, which was then exported to Mars factories around the world. Mars products made from South Sulawesi cocoa beans are consumed by millions of people around the world every day.
Joining us on the journey to Badi Island was Professor Jamaluddin Jompa (Prof JJ), the Dean of the Faculty of Marine Science and Fisheries at Hasanuddin University, and a graduate of James Cook University in Townsville. He was coming along to observe the Mars project. Also on the boat was an English journalist, Theodora, who writes about maritime conservation projects.
On the trip across to Badi I counted over 18 large ships at anchor in the Makassar Strait, waiting their turn to go alongside at the Soekarno-Hatta port of Makassar. I also saw many small islands, such as Barang Lompo which has a population of over 5,000 people. Incredible that such a small island can accommodate so many people.
Badi Island has a population of around 2,000, almost all fishermen and their families. Since the 1940s people in South Sulawesi have been selling fish bombs and cyanide poison to fishermen for a quick and easy way to get fish. This fishing method has destroyed many coral reefs. Regional governments have tried hard to eradicate this practice, but coral reefs take a long time to recover.
So Frank Mars, one of the owners of the Mars Corporation, decided to implement a program to rehabilitate a coral reef in South Sualwesi, a part of Indonesia that he knows well.
Since early in the morning the villagers of Badi had been at work, preparing "spiders" made from steel coated in sand. The spiders are used as frames to place young coral in areas where the reef needs rehabilitating. Pieces of young coral are tied to the frame which is then placed firmly on the sea floor.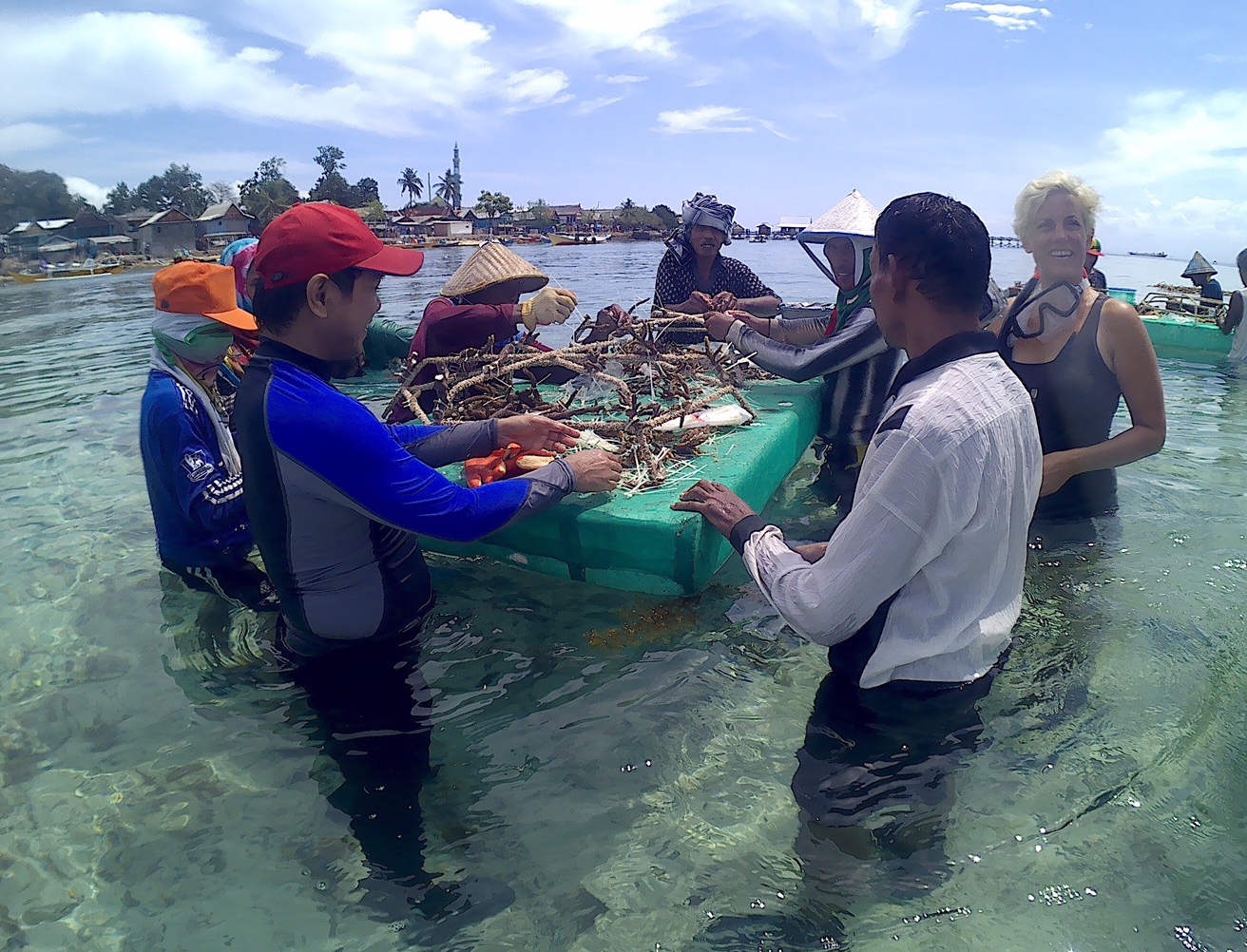 Prof JJ and islanders tie coral onto a spider
A number of Arcopora coral species common to Badi Island are used to rehabilitate the Badi reef. Arcopora spp grow quickly here, and help provide refuge for other coral species and many types of small fish.
Each month the project will run for around three days, and each working day Noel and the Badi islanders will aim to place around 250 spiders around the edge of the island's reef flats. The goal is to rehabilitate around half of the island's fringing reef, so that healthy coral can regrow and become a nursery for fish and other marine life.
The system that Noel and the Badi islanders use is efficient, although labour-intensive. The results are pretty good. After a year most places which have had spiders in place show good coral regrowth. After two years the spiders are no longer visible, covered by abundant new coral.
I swam over a rehabilitated coral reef on the edge of the Badi reef flat, and was impressed by what I saw. Several types of coral were growing healthily, such as the Montipora spp, including great green plate corals. Clearly this system benefits the Arcopora species, but also provides a safe place for the growth of other species of coral too.
I took some photos of Noel putting the spiders into place. For this work he and his team use scuba gear even though the water is only two or three meters deep, because they have to work underwater for long periods of time.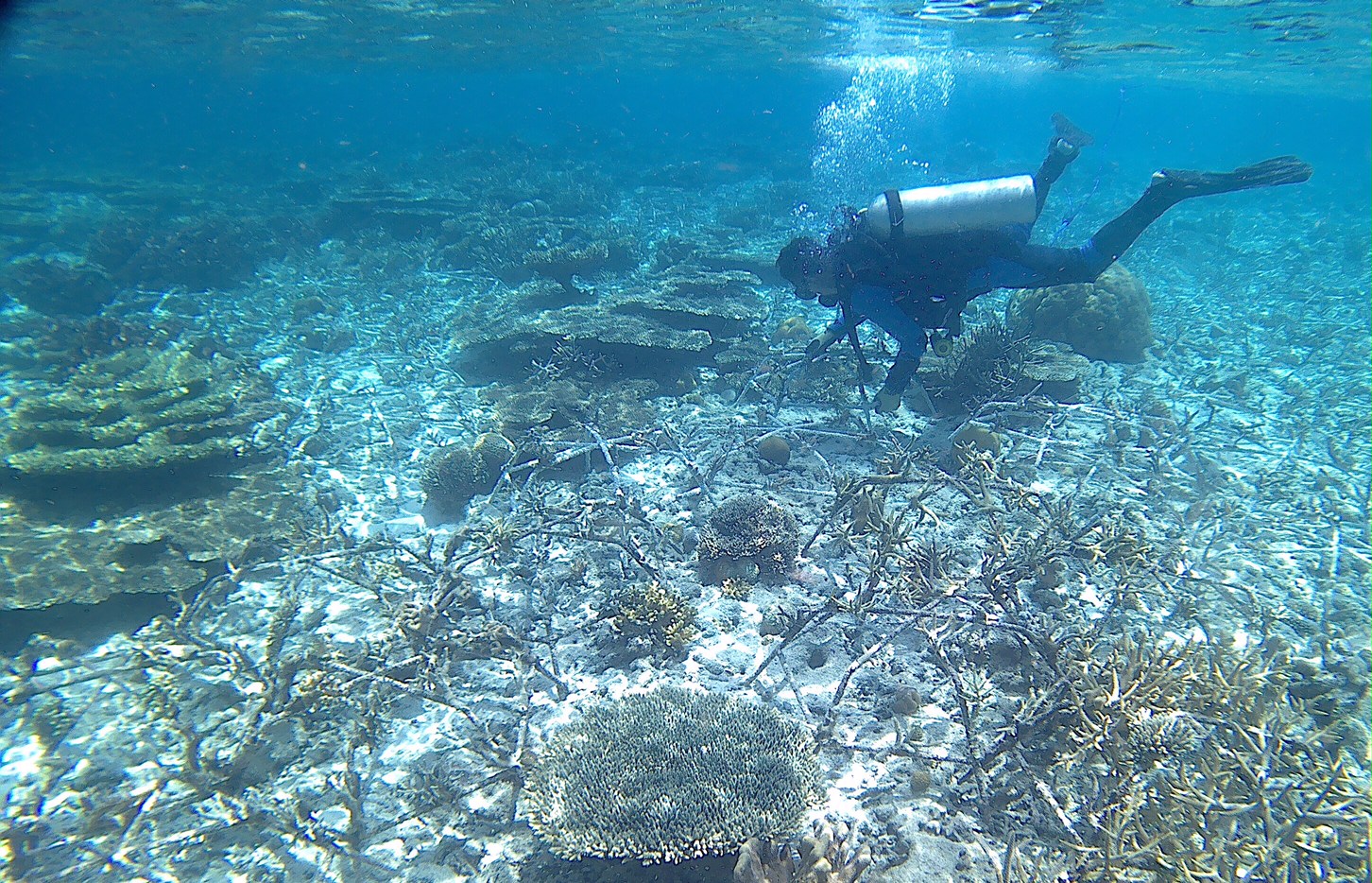 Noel fixes spiders in place on reef edge
The Mars project also helps the Badi islanders on land as well. Mars has built a fish nursery for a small island cooperative that produces the popular "Nemo" species of aquarium fish, as well as sea horses. The cooperative sells the fish to another company in Bali which then exports to customers in Europe and other parts of Asia.
Alongside Badi Island's little jetty there is a modest hut that Mars has built to support the education of the island children: it is the local resource centre and library. Unfortunately on the day we visited Badi island no teachers were at school even though it was normal school day, and the kids were wandering around the beach, and visiting us in little canoes as we snorkelled around the island. So at the resource centre I sat down with some of the fisher children and read them a story. Some of them were very keen to read. We will come back to Badi to read again with the children!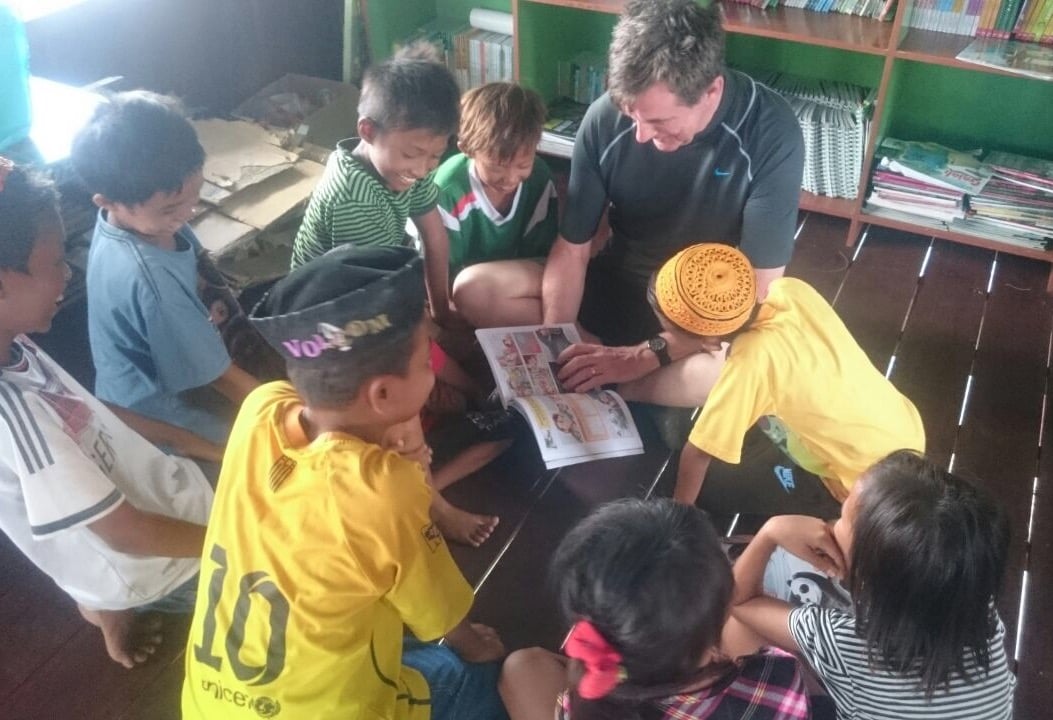 Reading with fisher children on Badi Island
Finally Prof JJ and I had to leave, because of other commitments. On the way back to Makassar we travelled quickly across a calm sea, even though the rainy season had begun a few days earlier.
Pro JJ told me a little about his experiences over many years of involvement in coral reef rehabilitation projects around Indonesia. He said much depends on the attitudes of the fishermen themselves because they live on and make a living from the coral reefs. If they understand the importance of healthy reefs for fish breeding, they will realise that fish bombing and cyanide poisoning are wrong and should be eradicated.
But most fishermen have little formal education, and so are easily influenced by ill-intentioned outsiders. These include people who want to sell fish bombs and cyanide, and tell the fishermen that using these techniques is a quick and easy way to catch fish and get rich.
One way to a better future is to improve the education of the fisher children. The children will positively influence their parents' way of thinking. I know this because when my children were young they often criticised me for smoking, telling me that I was being inconsiderate of their health, and that I would die from lung cancer. They had learnt this from school. Eventually their influence (and nagging!) helped me stop smoking.
Hopefully, the fisher children can likewise influence their parents and create better reefs, and a better, healthier and more prosperous future.
***