South Sulawesi has a population of over 8.4 million, making it the largest province in eastern Indonesia. Administratively it is subdivided into 21 kabupaten or regencies, and three cities (Makassar, Palopo and Pare-pare). My duties in representing Australia throughout eastern Indonesia require me to travel a lot, a very enjoyable and rewarding part of the job, and over the next few years I hope to get to all of the provinces in my area of consular responsibility. But I also aim to visit all of the regencies in South Sulawesi, so recently Putri and I travelled to three which I think offer interesting trade and investment opportunities.
Bone (pronounced bo-nay) is the largest and most populous regency (750,000 people) after Makassar city (1.8 million estimated), and is a rich agricultural area with extensive rice fields, sugar cane plantations, and a plentiful supply of cattle, chicken, eggs, ducks and goats. The capital Watampone is the centre of the former Bugis kingdom of Bone, a key trading centre and the home town of Indonesia's current Vice President, HM Jusuf Kalla. It is a five hour drive from Makassar over the mountains through gorgeous tropical rainforests and quaint little villages. The mountain region has several spots which could be developed for "agrotourism", farms with accommodation for tourists attached.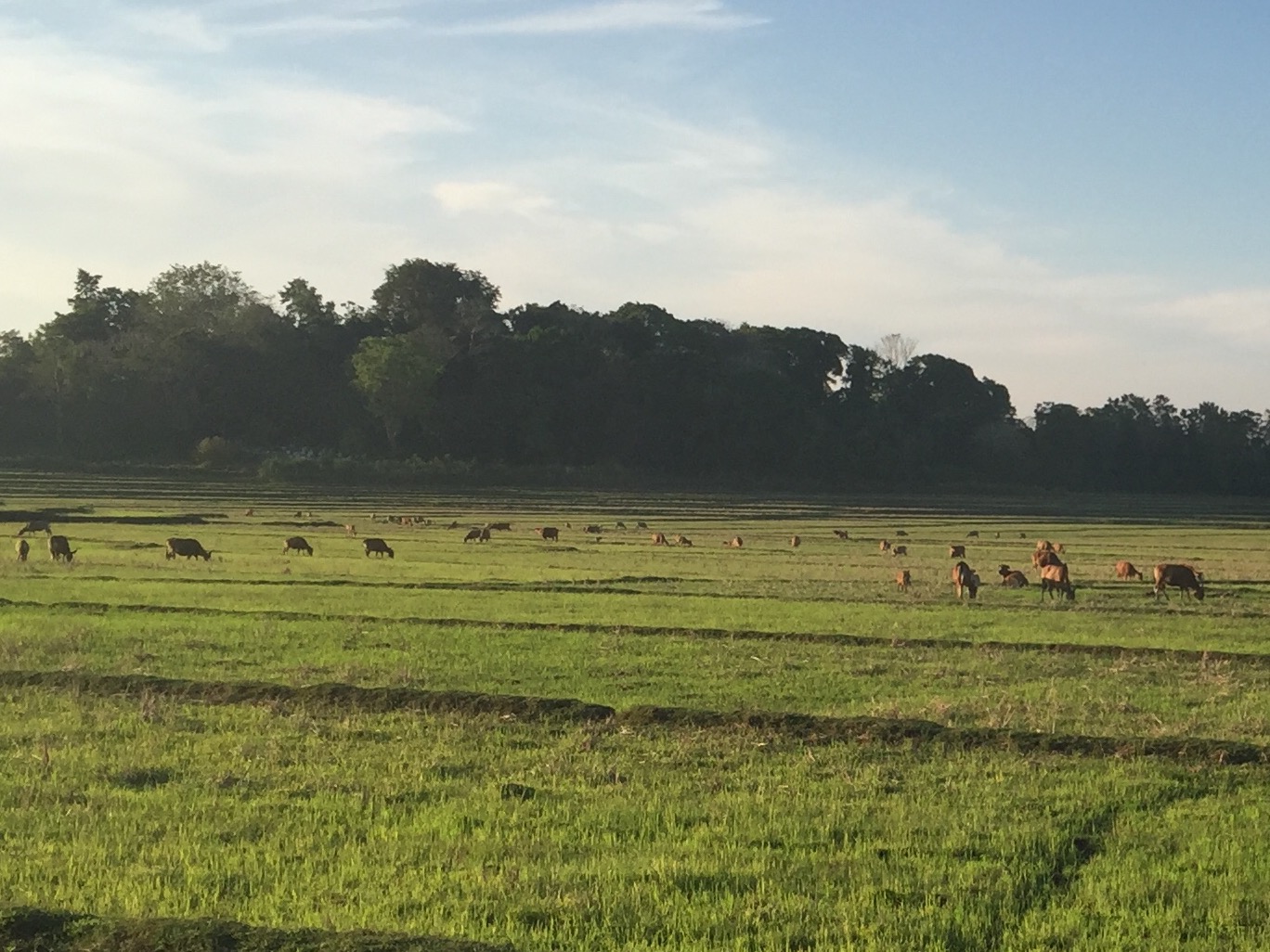 Rich agricultural land of Bone
In Watampone we went directly to the Regent's (Bupati's) official residence, a sprawling whitewashed bungalow with a red tiled roof, fronted by a large circular driveway.
As Putri and I entered a large gold-decorated audience room, the Deputy Head of Bone regency (Wakil Bupati) Pak Ambo Dalle and his senior local government staff welcomed us and immediately invited us to lunch with his senior staff. He said we would leave the formalities until after we had eaten, which Putri and I appreciated after our long journey over the mountains.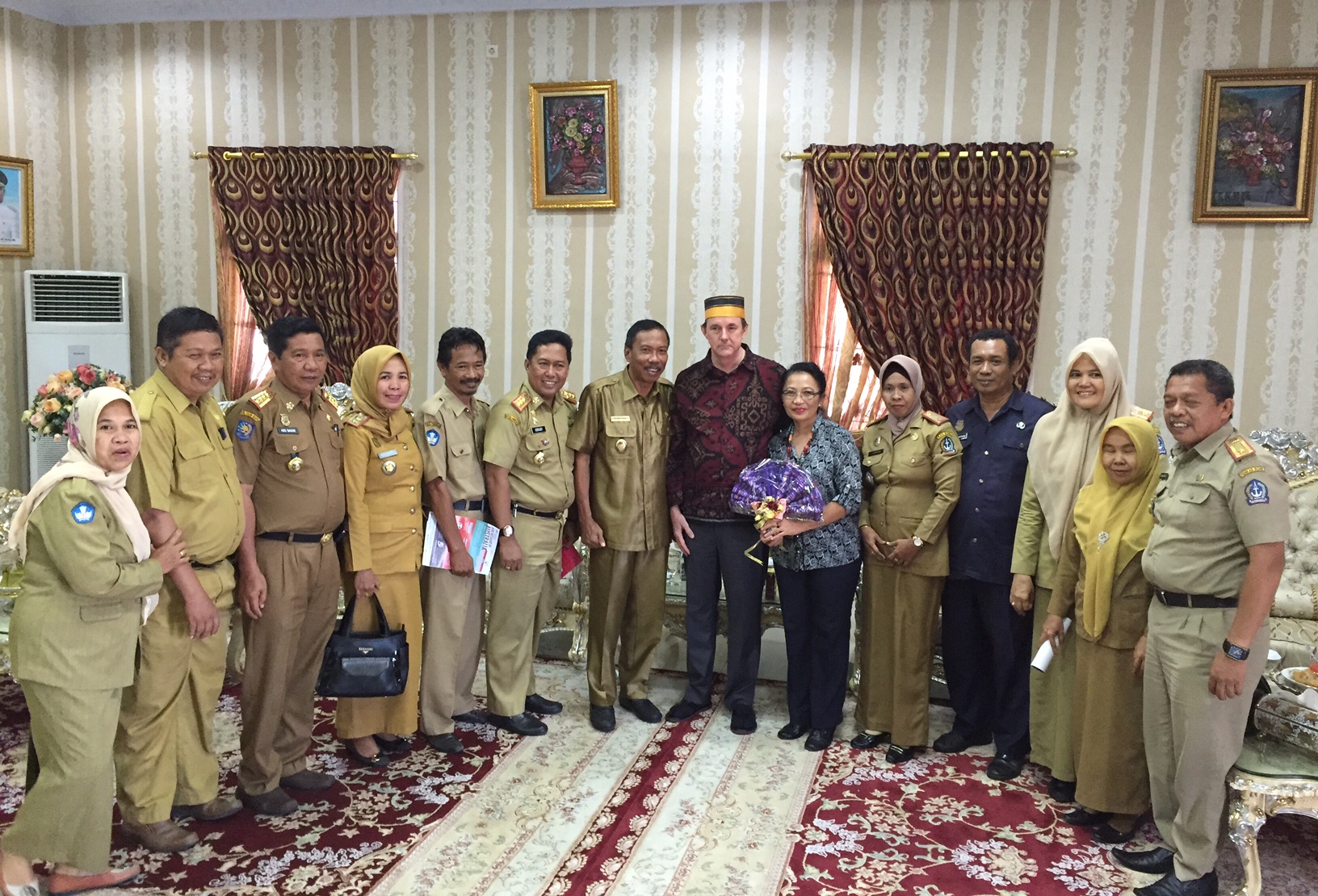 At Bupati's official residence, Watampone
After lunch and before the gathered senior officials, Pak Dalle wished me a happy birthday and presented me with a traditional Bugis hat or songkok! It turns out that my executive assistant in Makassar (Lulu) had told them it was my birthday (she had asked Putri if it would be alright to tell them). Indeed, I turned 60 that day. I was quite touched by the reception, if a little surprised.
Pak Dalle's assistants showed a PowerPoint presentation about Bone, full with statistics and highlighting the regency's strengths. I spoke about our mission in eastern Indonesia, and promoted Australia Awards scholarships and study opportunities in Australia. Several of the senior officials present are now considering sending their children to study in Australia.
In the late afternoon we visited the cattle business of Haji Kamaruddin, a local Bugis businessman. He has over 1,000 cattle, mostly Bali cattle, the pretty little cows most Australians would be familiar with if they have been to Bali. These cows are popular throughout eastern Indonesia because they are docile, easy to feed and breed and not too large: and they are also the preferred animal for slaughter at the time of the annual Sacrifice Day (Idul Adha) in the Islamic calendar. But Haji Kamaruddin also employs an "inseminator" to produce larger cross breeds for meat supply, using Brahman, Simmental and Limousin sperm provided by the regional agricultural service.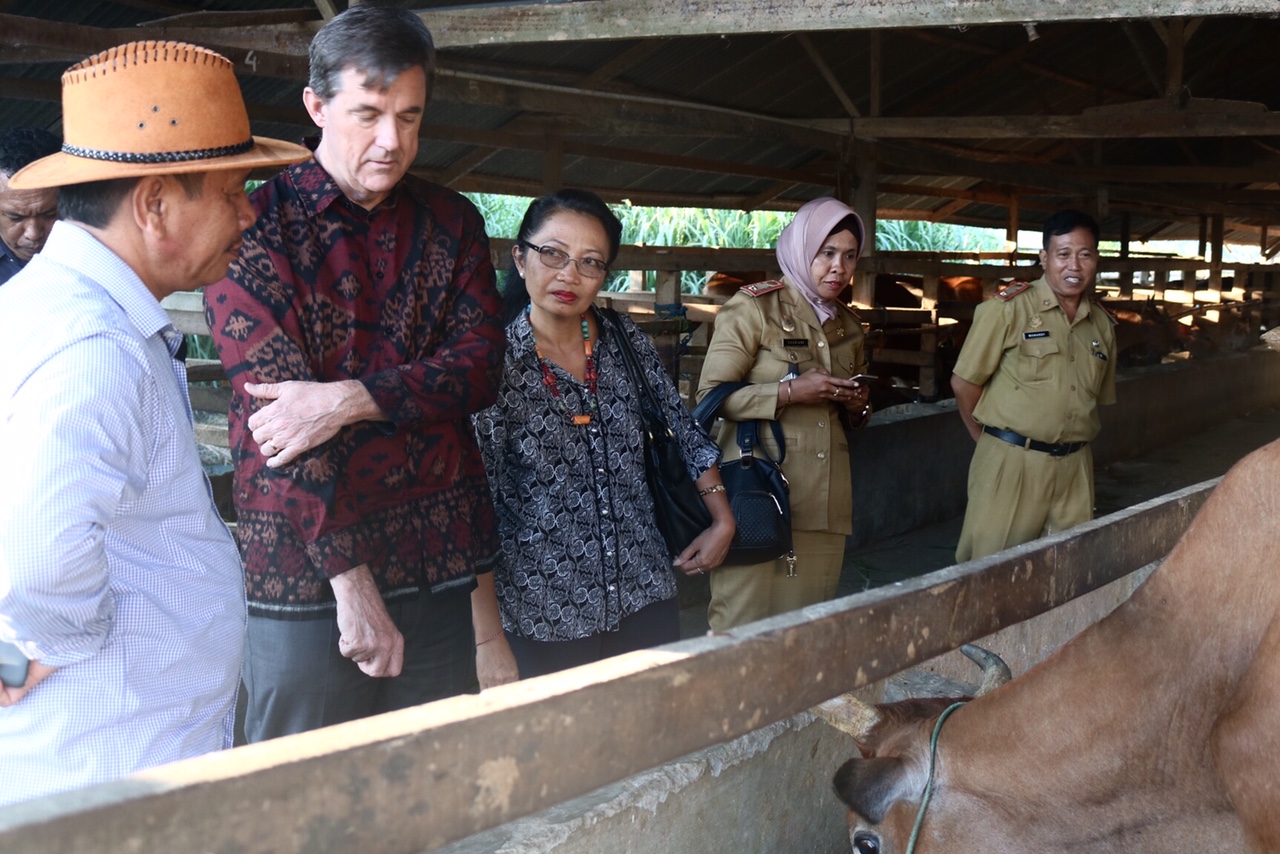 Haji Kamaruddin and I discuss cow breeding
In Haji Kamaruddin's yards were around 100 cows with calves in fair conditions, feeding off a mix of plant material, mainly elephant grass - which he also grows. He contracts out the remainder of his herd to local farmers to fatten the cows and produce offspring: he splits the profit from sale of the calves with the farmers, or if two calves are born Haji Kamaruddin takes the best one. The cows remain Hj Kamaruddin's property.
Haji Kamaruddin also owns three supermarkets in Bone, and took us to his "home" which turned out to be the upper floor of one of his supermarkets. Not very homely, but practical. He asked me if I thought it would be a good idea to get into running a petrol station. I ummed and ahhed, noting that there seemed to be a scarcity of petrol stations in Makassar, then he told me that he already had two! He said he wanted to talk more about business opportunities with Australia and I suggested he might import some more cattle from Australia.
Haji Kamaruddin is a successful Bugis businessman. He has three wives, and is religious but practical, and has been running the cattle business since the 1970s. He clearly has business acumen, and is following the practice that many Bugis businessmen follow: spreading his risks by slowly diversifying his businesses. He is also successful because he has little competition in the fields he is playing in. Like many Bugis businessmen he is very cautious and is mostly self-financed. He uses his political connections when he needs to. This model is very different to the western concept of focusing on your strengths in business and avoiding getting distracted into other avenues that may prove risky. The big Bugis conglomerates – Kalla Group, Bosowa Group, Fajar Group – have all become highly diversified, like many other Indonesian businesses.
By the time we left Haji Kamaruddin's supermarket on the outskirts of Bone it was already dark. Pak Hilman, our driver, took us carefully through the streets of this small country town, and I thought how quiet and peaceful it all seemed. I could imagine that the young people of Watampone like to get out to the big lights of Makassar as often as possible.
But back at our hotel - the best in town - we discovered that on the same floor as our "suite" there was a karaoke bar, which even on a Tuesday night was in full swing at 7.00pm. Tone-deaf renditions of recent Indonesian pop songs greeted us.
We had been given the "suite" at the front of the hotel because most of the other rooms in the hotel were windowless. Only rooms at the front and rear of the building could have windows because the building was basically a large shop-house on a main street.
As we discovered when we entered our room, a wedding party was also in full swing across the road in a curtain material shop. For a moment I thought a windowless room might not be such a bad thing. But by 10.00pm all the wedding guests had gone home and we were able to get a reasonable night's sleep.
***