On our second day in Bone we visited State Junior High School Number 5 (SMPN 5) in Palakka. The school is surrounded by fertile gardens and rice fields, about 45 minutes out of Watampone. It is now mango season in South Sulawesi and many trees were heavy with fruit.
This school is one of 110 in South Sulawesi that have been assisted under the Australia-Indonesia Education Partnership, mostly in outlying rural areas. In 2012 Australian funding supported the construction of a "one roof" (satu atap) school consisting of three classrooms for years 7, 8 and 9, a teacher's room and toilet block. Also chairs, desks and other teaching materials, and a small supply of books. The standards and quality of construction were high compared to previously built classrooms on this site: the older primary school next to the junior high school is dilapidated, open to the elements and in need of serious repair.
The headmaster of SMPN 5, Pak Marten, told me that his school now has 131 students. As a result they are running out of space, so have begun building a new classroom block using funds secured from the regional government. Construction is following the same quality and standards set by the Australian project. Pak Marten highlighted the solid reinforced concrete construction and raised tiled floors to prevent flooding when it rains - buckets down - during the monsoon season. The new schools no longer use asbestos sheeting for roofing.
This Australian schools construction project has ended but will have a long lasting legacy: Australian assistance has set a standard that the local community now demands, and the regional government is providing funding for further classroom construction. The next challenge will be to upgrade the primary school building.
I quizzed the students on geography (what's south of Indonesia? What's south of Australia? No Madagascar answers this time.) and encouraged them to study hard. We gave Pak Marten a box of books including an atlas, encyclopaedia and science books.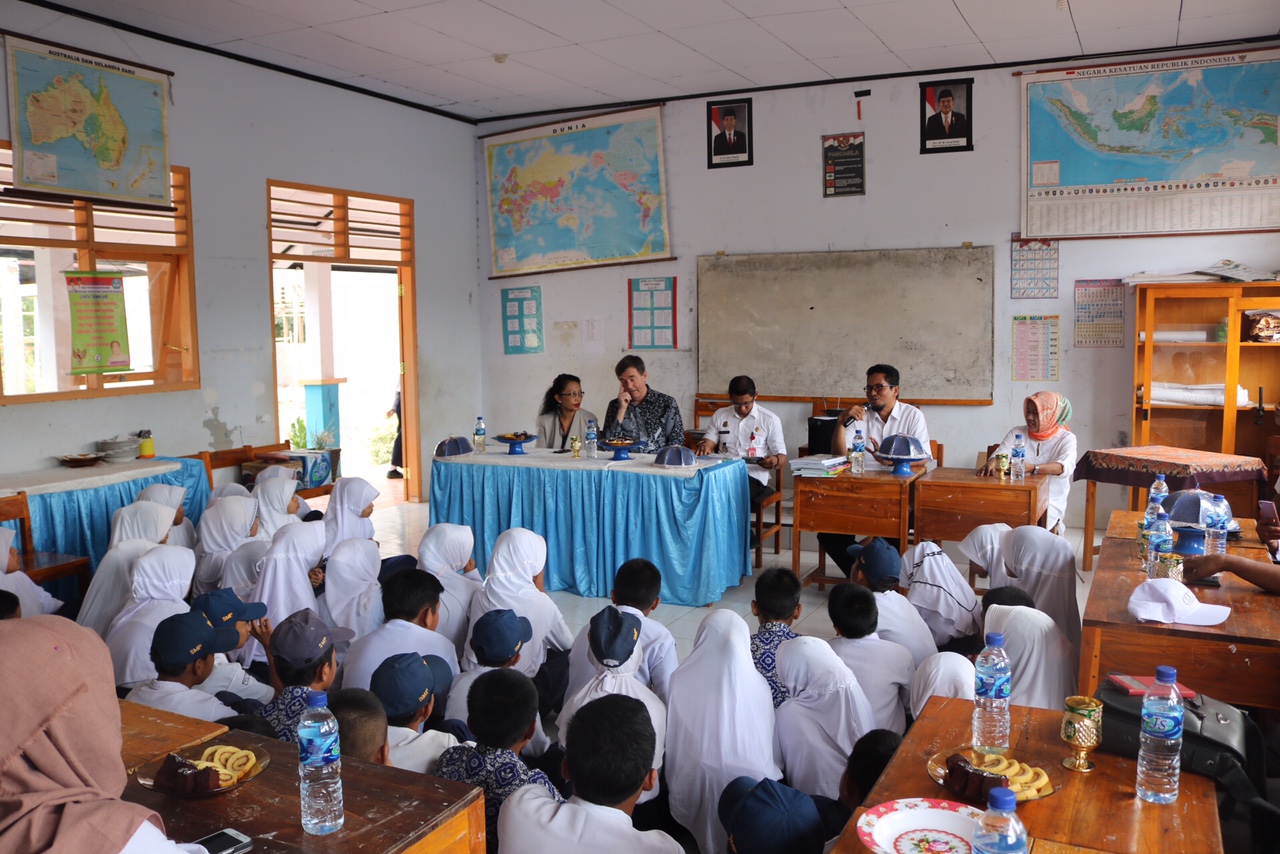 Donating books to A🇺s-built SMPN5 Palakka
Our next commitment was to visit the Kampoeng Sapi in Desa Tanah Tengnga, Palakka sub-district.
Kampoeng Sapi is a cooperative of cattle farmers. The former village headman Andi Unru is the driver of this project, which brings together 11 farmers groups. Each farmer cares for a few cows and in total Kampoeng Sapi accounts for around 800 head of cattle. Around half are the Bali Cattle (Sapi Bali) breed, which weigh around 150 – 170 kg at full growth. The other half are cross-breeds, with higher weights at full growth.
When we arrived there were around 200 cows mewing and stomping in some dry rice fields, with their farmers, waiting for us. A range of officials were there too, including the head of the Agricultural Department of Bone and the head of the Regional Planning Agency, Pak Abu Bakar. I was introduced to some of the farmers groups, including an all-women group. All the farmers were thin and tough and had rough hands.
We stood around and discussed various aspects of cattle farming, including feed, and how to care for the different breeds of animals.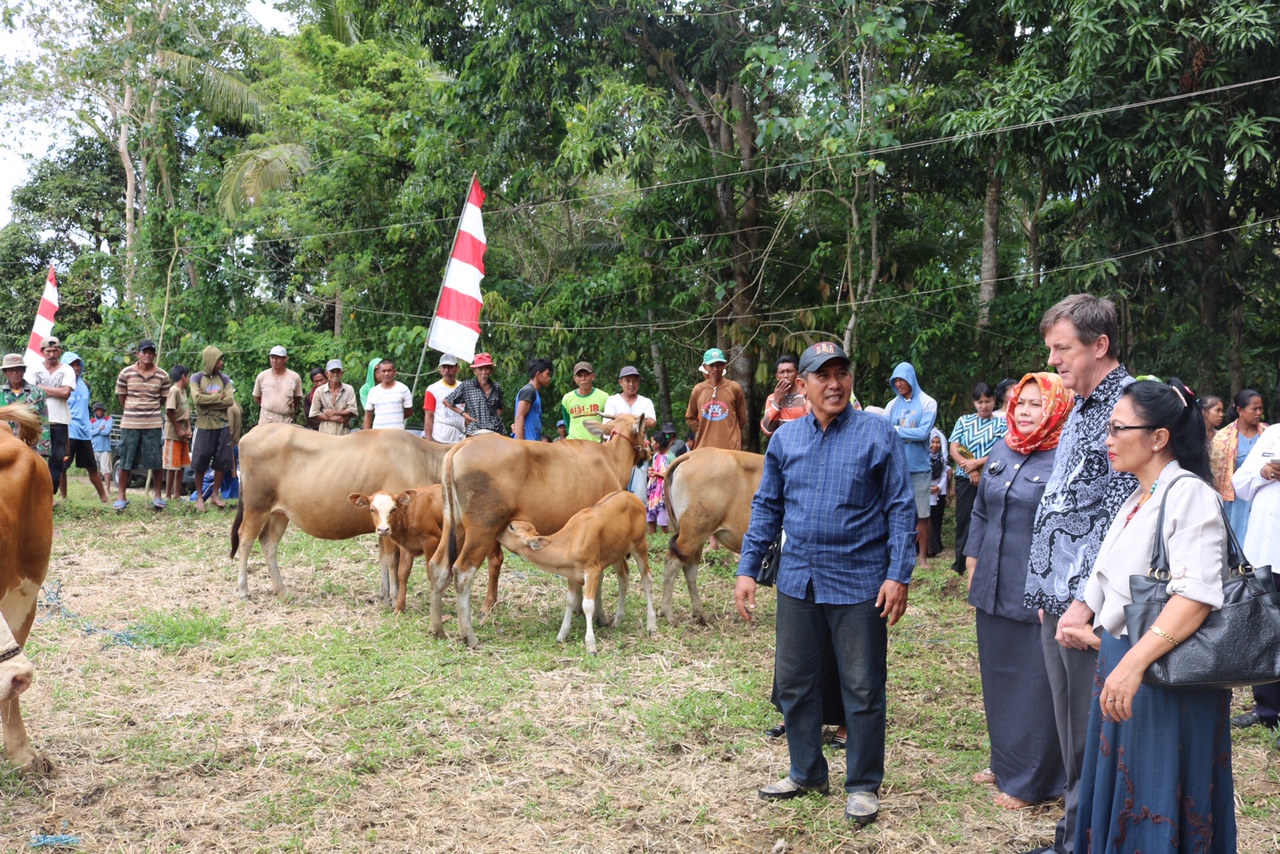 200 cows and their farmers were waiting for us
At around 10.00 am we moved to at Pak Andi Unru's house - a traditional Bugis wooden house on stilts - for lunch. This was our second "lunch" for the day – at the school the teachers and staff had already put on a magnificent spread for us. I could see I would have to pace myself on the food front.
Pak Andi told me that the farmers needed training in animal welfare, how to keep their stalls clean, how to know when an animal is sick and needs veterinary attention, how to provide good feed and so forth. He wondered if Australia could help. I said I would look into the possibility of a volunteer, for example an ex-cattleman who could help with those sorts of basic training needs.
One of the agriculture department officials told me that the provincial government is looking at developing the sapi bali brand for the "slow-food" movement. He thinks that organic, sapi bali beef would be popular in the slow-food world.
We then moved on to the village of Malari in Awangpone sub-district, to meet the ladies and members of the local branch of PEKKA, an NGO that is supported through the Australian-funded MAMPU project to help empower poor women, disabled people and other marginalised groups to access government services and to achieve social acceptance and support. We entered a hall with about 50 people waiting. Ibu Ros from PEKKA Makassar was there to MC the proceedings. But first Pak Abu Bakar (head of Bone Regional Planning Board) announced that it was my birthday, and a group of ladies brought out a birthday cake! The ladies sang me happy birthday, then we started our speeches.
A number of persons spoke, including a young blind and disabled girl who said that Peduli project (also funded by Australia) had helped her gain in confidence and demand her rights and ask to be treated equally with others. A young man from the PEKKA constituents group spoke about his support for gender equality, and the need to stamp out child abuse, violence against women and sexual exploitation of women and children. I was impressed by their enthusiasm and that men were joining the movement too, and told them our support for their projects would continue at least until the end of 2018.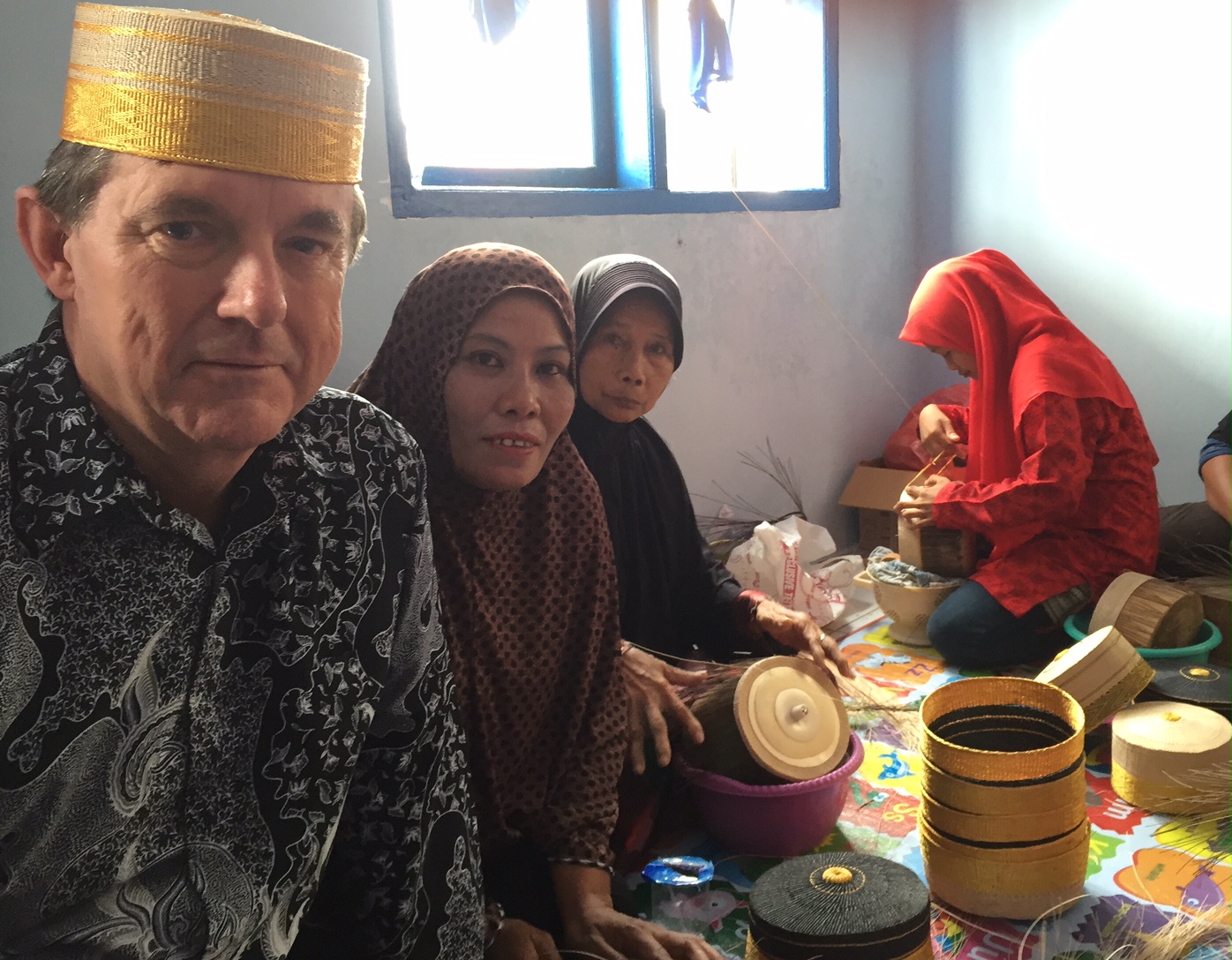 With Pekka women collective hat makers, Malari village
We then faced our third lunch for the day at the nearby village head lady's house - beautiful fish lawar, fried fish, crab, followed by traditional cakes including my favourite, barongko.
We stopped briefly at the local health clinic (Puskesmas) because Ibu Ros from PEKKA Makassar wanted me to see how they had embraced the Peduli program. The local Puskesmas had agreed to actively service the disabled in the local community, as well as the young and the old (legislation only mandates Puskesmas to provide free and active service to the latter two groups). As a result the number of registered disabled persons in Desa Malari had risen from 4 or 5 to around 40. The doctor and health clinic staff regularly visit to check up on them.
Out next engagement was in Desa Watu, on the outskirts of Watampone. There we met a small group of ladies and a few men who form the Women's' Empowerment Foundation (Lembaga Pemberdayaan Perempuan - LPP), supported by the Australian Mampu project via an NGO partner called BaKTI. The head of LPP, Ibu Ratna, lead a group of ladies in telling us about how the project had helped increase their confidence and access to various government services. The village headman sat next to me and showed me his village plans, which were very nicely bound, and he said he had involved women in the planning process. As a result his village had received an award from the provincial government for best planning documents.
I said it was great they had greater confidence in accessing government services and demanding their rights. Now they had to be more active in advocating for solutions to women's issues and the problems of the poor, disabled and the marginalised.
Our final task for the day was to visit the LPP office in Watampone. It was the upper floor of a shop house which also was the office of a small credit union that Ibu Ratna runs to provide capital to women for small businesses. Around the table were some ladies from BaKTI in Makassar who had come across for my visit. Also Ibu Ros from PEKKA was there, and the staff of the LPP. We discussed Mampu, Peduli and the coming of Kompak (another project that focusses on sub-district level officials) to Bone. Ibu Ros emphasised that the synergies between these various projects and programs and between the several NGOs involved, were having positive effects on communities.
We returned to our hotel after a long, tiring day filled with speeches, a birthday cake and traditional sweets, hundreds of photos and handshakes, and three lunches.
***