I made a flying visit to Ambon on Wednesday 1 June 2016. This was in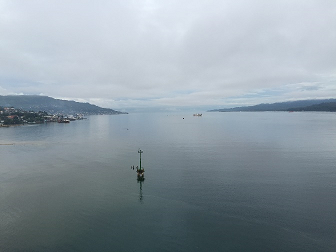 Ambon Bay from the new bridge
response to the Embassy in Jakarta asking me to represent the Australian Government at the launch of the first seminar conducted in Maluku province of a very successful Australian aid project, a community development project which we fund, called Saya Perempuan Anti-Korupsi (SPAK - I am a Women Against Corruption), and which is conducted by the Indonesian Government's Corruption Eradication Commission (KPK). This project aims to train up to one million Indonesian women by the end of 2016 in how to identify corruption and stand up to oppose it.
I caught the 4.00am Garuda flight to Ambon, arriving just after sunrise (Ambon is one hour ahead of Makassar). My immediate impression was that Ambon town is a very pretty place. The airport is reasonably modern, and located on the north side of Ambon Bay. I was met by my driver for the day, Pak Nixon, who gave me a few brief tips about the island on the way to Ambon Town, the capital. The island is part Moslem, part Christian, and the two communities have finally found peace after the tragic riots and troubles that began in 1999. Along the road I saw what I thought were graves – but Pak Nixon told me they were Christian shrines. The scenery was incredibly green, and cows, chickens and pigs were happily roaming free in fields along the side of the road.
We passed Pattimura University, a lovely campus on the shores of Ambon Bay, then we came upon the newest big thing in Ambon. The Jembatan Merah-Putih, the Red-White Bridge, crosses the bay at a narrows and cuts travel time from the airport to Ambon town from one hour to 30 minutes. It was opened by President Joko Widodo in April 2016.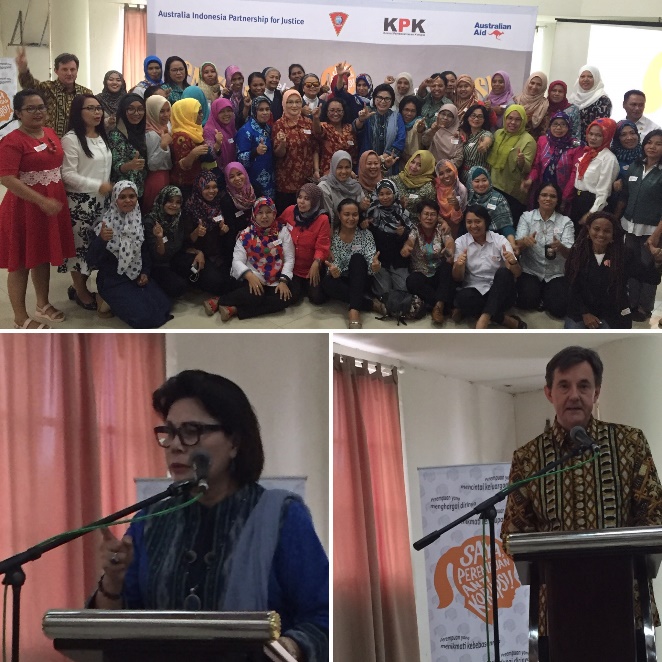 I didn't quite know what to expect at the opening of the SPAK seminar. I arrived early to find myself directed to the top floor of an old hotel where everything was set up and the sound men were checking levels, but no participants. I came back 30 minutes later to find the room full of women, and I met one particular women who can only be described as amazing. Ibu Basaria Panjaitan is Deputy Chair of the Corruption Eradication Commission (KPK), and the KPK's first women commissioner. She was previously the first women to reach the two-star rank of Inspector-General in the Indonesian Police. She is a frank and determined defender of democracy, freedom of speech and justice.
I gave a short introductory speech to the SPAK seminar saying how important it was for women to become champions against corruption because a country free of corruption would grow faster and benefits would flow more effectively to women and children. This was a priority for the Australian and Indonesian governments. I said all the right things (thanks to the Embassy speech writers).
Ibu Basaria started off dour and serious, but soon had the women laughing and cheering. She said women had to keep an eye on government funds. They had to learn how to speak out against corrupt behaviour. For example, if they knew the village headman had acquired a new car with village funding, when facilities for pregnant women in the area remained deficient, they had a responsibility to speak up. This course would teach them how to do that. And if they were threatened or ignored, then they should talk to the KPK. She told these women they were pioneering heroes and should be proud and determined, and pass on their knowledge from this course to many other women in their villages.
It was inspiring and awesome. These women were from villages all over the vast island province of Maluku, and some had travelled from as far away as Flores in NTT, and Papua.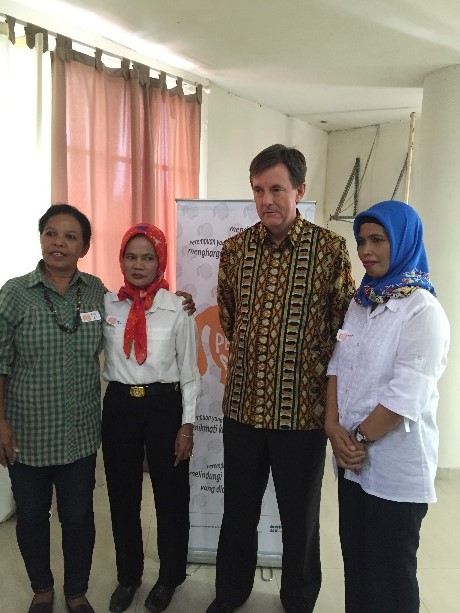 After the speeches we had the obligatory "foto-foto", and then I was chuffed at having almost every women in the room queuing up to have their photo taken with the Australian Consul-General. I hadn't realised I was so good looking. Or maybe it was something to do with the fact that our government had funded this activity?
All the media attention was on Ibu Basaria, who was grilled on why she thought educating women against corruption would work. Her argument was that women provide 80 percent of the care and education of Indonesian children, so it was worth doing for that reason alone. But women also are in the best position to question men – who still hold most of the power – when they acquire unusually large amounts of money.
Only one lone male TVRI journalist cornered me and asked me why Australia was supporting this program. I repeated the explanations I had put forward in my speech, then I left the seminar and headed for my next meeting.
My afternoon was spent chasing up officials who had agreed over the phone to meet me. The Governor, Vice-Governor and Mayor of Ambon were all in Jakarta, so the number three in the Governor's office met me but then handed me over to the Head of Tourism, and an officer from the Regional Planning and Development Commission (Bappeda) when my questions became too detailed.
The Bappeda official turned out to be Yunus, an Australian alumni who had spent ten years with his wife and children studying at Flinders University. He qualified in environmental science, and now runs the area of Bappeda in Ambon responsible for planning development of the tourism, agriculture and fisheries sectors. Yunus explained that Maluku had many beautiful potential tourism destinations, but the key constraints were distance and accessibility. Ambon could only be reached form Jakarta, Makassar or Bali by plane. In the 1990s there were direct flights from Darwin, but these have not yet started up again.
Islands close to Ambon are easily accessible by fast motor boat. All of Ambon and its nearby islands have the trifecta of great natural beauty, rich and interesting history, and communities with fascinating cultures. But they have a shortage of good accommodation facilities, and people who can serve tourists.
Getting to Ambon and other great destinations such as the Banda Naira islands also requires a determined effort. As a result the number of foreign tourists visiting Maluku remains very low. In 2015 less than 15,000 foreigners came to Maluku, compared to over 20,000 in 2014. The largest group of tourists are consistently the Europeans, mainly Dutch. And more Americans visit Maluku than Australians. In 2015 only 671 Australians visited the province compared to 1,197 Americans.
Yet Australia has very strong historical links with the island province. There is a Commonwealth War Graves cemetery in Ambon where over 1,000 Australians from World War II are buried, and where hundreds more who died in the eastern islands of Indonesia are commemorated. Ambon, with a population of just over 330,000, is a sister city to Darwin, and the Darwin to Ambon yacht race continues to run each year around August. Many Ambonese have visited or studied in Australia.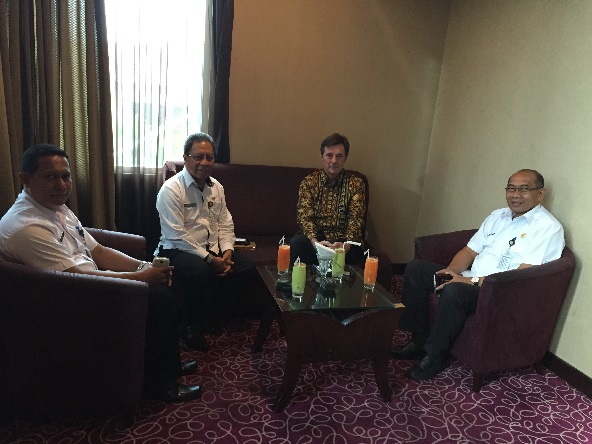 Later in the day I met three officials from the Mayor's office who told me of the rich range of festivals that Ambon town hosts each year. One that particularly attracts me is the Ambon Jazz Plus festival in October: Ambon has declared itself the "City of Music". Certainly some of Indonesia's greatest crooners are from Ambon – for example Broery Pesulima, Harvey Malaiholo, and now the romantic Glen Fredly.
Another interesting festival is named "In the Footsteps of Pattimura". This is a cultural and historical festival commemorating the struggle of Thomas Matulessy against the Dutch in 1816-17. Matulessy who also became known as Kapten Pattimura, lead a rebellion in which he captured a major Dutch fort on his home island of Saparua, just near Ambon. He became leader of the Maluku people, but in late 1817 was captured by reinforced Dutch forces, then executed. The Festival in May commemorates Pattimura's struggle and takes place in Ambon, then on the island of Saparua.
Ending my day in Ambon, I met an Australian academic and one of her students in the hotel bar (where else do Australians meet each other in exotic places???). Dr Amanda Reichelt-Brushett from Southern Cross University and her student Kate are studying artisanal mining in eastern Indonesia. In particular, the damaging effects of unregulated mining in isolated islands where mercury is used to separate out gold from the ore, and the long-term impact this has on the environment, local community and economy. It is a fascinating field of study, and very important too: small scale mining has its benefits to local communities, but also carries great risk if done inappropriately. Amanda works closely with experts from Pattimura University and is looking for ways to help these experts acquire laboratories and equipment that will enable them to better analyse the effects of artisanal mining, and develop strategies to minimise the associated risks.
Australians doing great work in eastern Indonesia.
***