My previous blog described the remarkable visit of an Australian "Goodwill Ship" in 1933 to Indonesia: a KPM ship carrying 50 Australian business men and their families to exhibit Australian products in several ports throughout what was then the Netherlands Indies, Singapore and British Malaya. I believe this was the first Australian business mission to Indonesia, and its first port of call after leaving Australia was Makassar.
Last week we had another Australian "Goodwill Ship" visit Makassar: our first visit by a Royal Australian Navy warship since we opened the Consulate-General last March. The HMAS Yarra, a high-tech minehunter built in Newcastle, New South Wales and launched in 2003, transited Makassar following visits to Malaysia and Singapore, where she participated in mine hunting exercises with regional navies. She spent three days in Makassar providing rest and recreation for the crew and spreading goodwill as only the navy can.
HMAS Yarra is not a very big ship as warships go, with a displacement of only 732 tonnes and carrying a crew of just 50. But she has some very special capabilities. HMAS Yarra and her sister-minehunters can detect mines at the bottom of the sea or in the water column and then using remotely operated vehicles can destroy the mines making the sea safe for shipping. HMAS Yarra is also the biggest ship made from fibreglass that I have ever been aboard: her hull and much else of the ship is made from special non-magnetic materials, so as not to set off mines.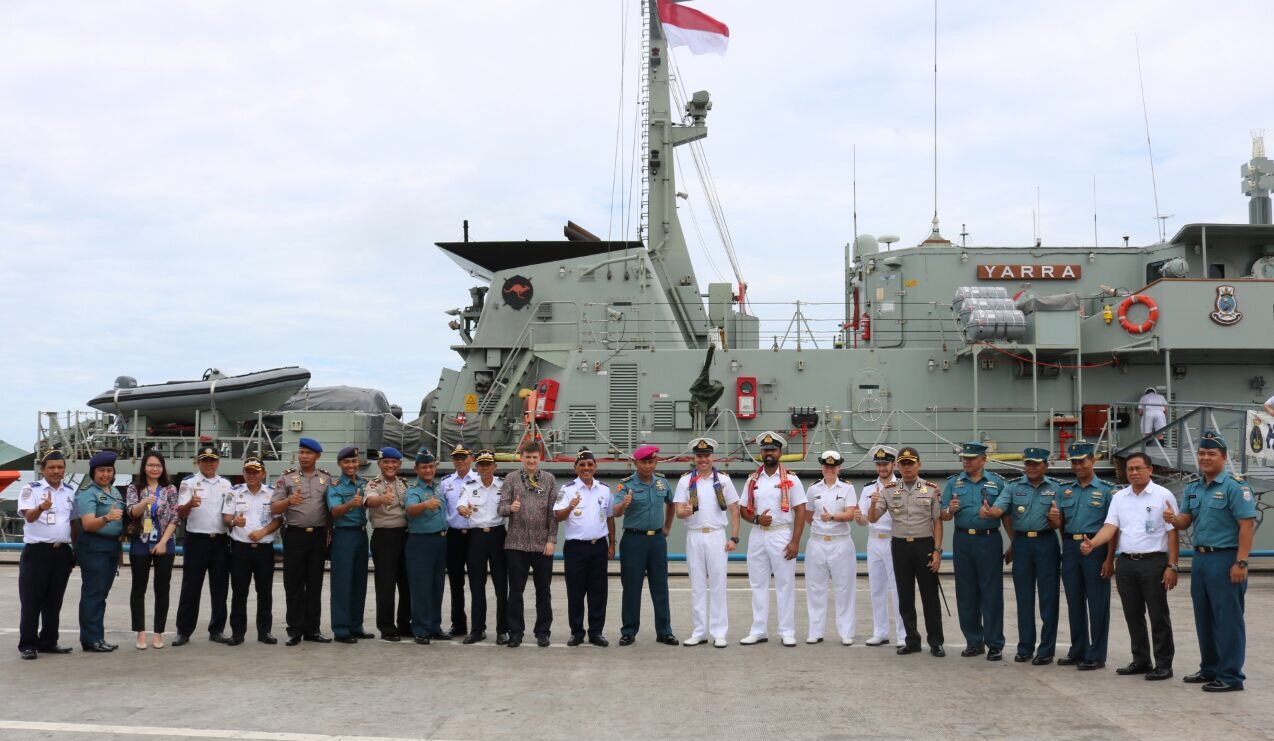 A warm welcome by the locals
But as her Commanding Officer, Lieutenant-Commander Jason McBain explained to me, she is not a fast ship. At a maximum speed of 14 knots (about 25 kph) she will take four days to get to Darwin after leaving Makassar. Her relatively slow speed is deliberate: minehunters need to be able to move slowly and very precisely to detect mines. These ships protect our ports and harbours during wartime and they usually only operate around coastal waters. But Australia's minehunters are also occasionally deployed to detect and destroy mines left over from World War II in the Pacific Ocean. The Indonesian navy also sometimes finds old WWII mines around the archipelago.
We at the Consulate-General were quite excited by the visit of an RAN ship to Makassar. We were told "while the Yarra is in Makassar, she is basically yours to do with what you will", very generous of the RAN! Unfortunately that invitation ruled out the idea of say, a leisurely trip out to the islands for a spot of diving or fishing, so instead we organised a fun program of guided tours of the ship for local officials, media and key contacts; some courtesy calls for the Commanding Officer on the local navy commander Commodore Yusup, and the Mayor of Makassar Pak Danny Pomanto; and a reception for the crew at our Residence.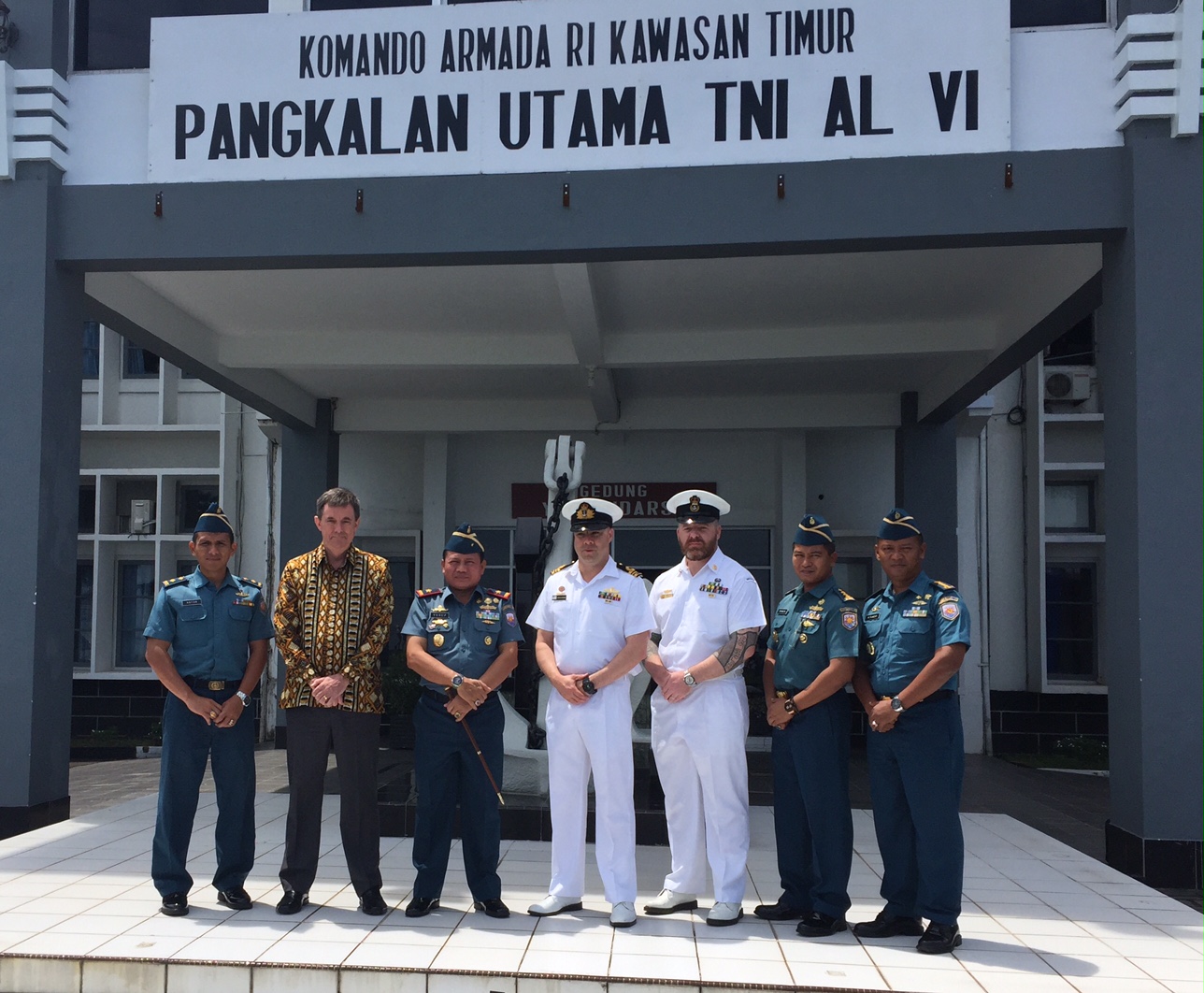 Call on the local navy commander, Commodore Yusup
The CO Jason McBain also hosted a group of local VIPs for lunch in his wardroom. Five rather rotund middle-aged gentlemen - two from the Governor's office, two from the Mayor's office and I - joined Jason around his economically-sized wardroom table and tucked in to a delicious meal of salmon and fresh cheese cake. I had the lamb rack, which equated to about five lamb chops. Their ships are small, but the navy eats well when at sea. We left the ship far more rotund than when we boarded her.
The crew were without exception, courteous and extremely tolerant of the "invasion" of their ship by our local tour groups. They explained their equipment clearly, and we were impressed by their professionalism and high level of readiness. A young lady lieutenant welcomed our Consulate-General staff aboard and gave a very detailed tour of the ship. She was clearly proud of her ship, her crew and loved her job. The HMAS Yarra's cruise sounded to us like a great adventure, but we learnt that living aboard a navy ship is - as it always has been - a challenge because of the confined spaces, the need to be ready for action at a moment's notice, and the constant training and exercising that keeps the crew busy.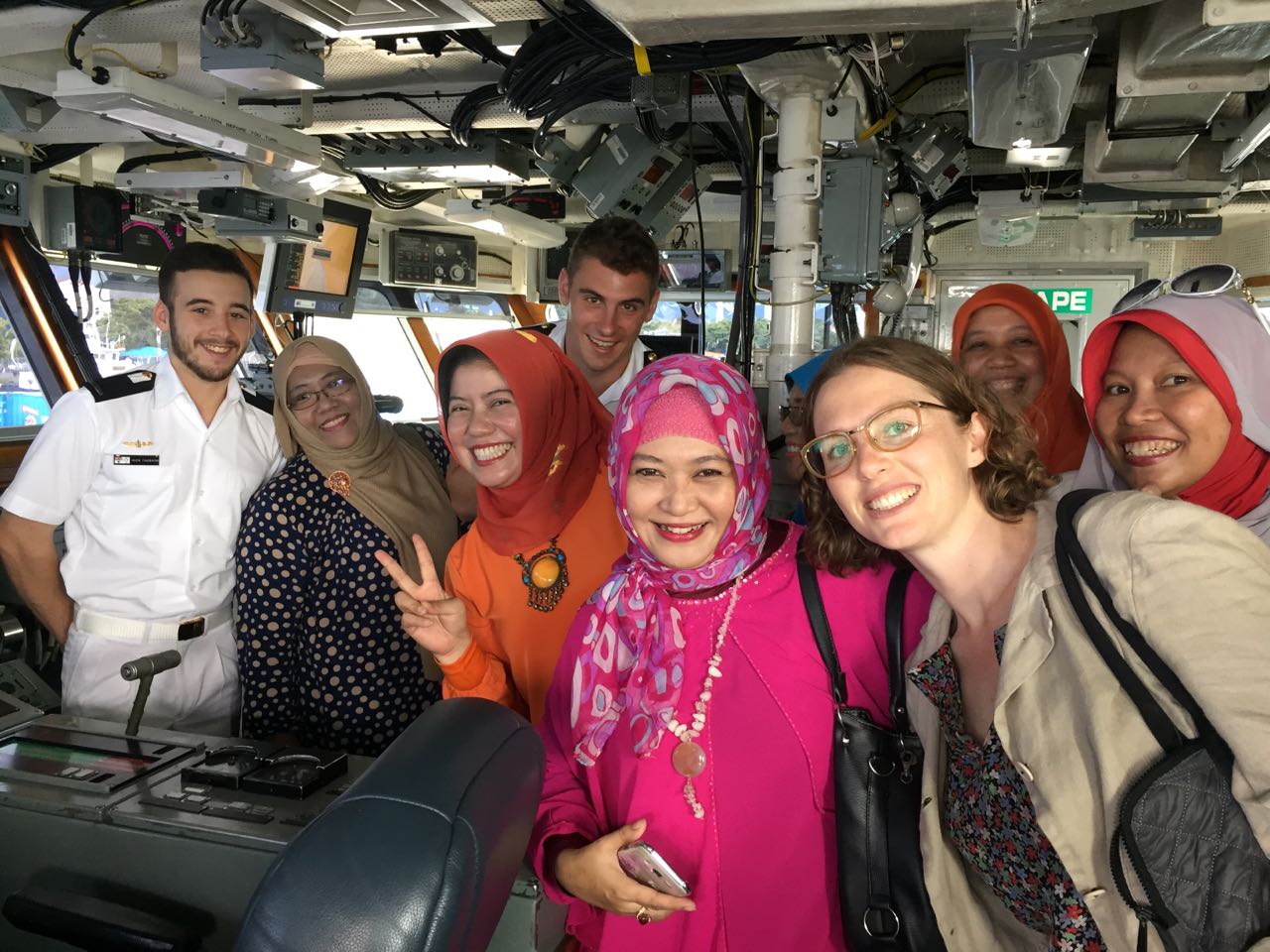 Happy guests on the bridge of HMAS Yarra
During HMAS Yarra's visit to Makassar we also had our first official trade mission in town since we opened the Consulate-General. An RAN ship and a trade delegation: two firsts in one week!
This was a maritime services delegation from Perth, organised by the West Australian government assisted by Austrade. With our local Austrade officer Pak Aris, I took the delegation to the head office of the Indonesian Port Authority (Pelindo IV) at Makassar port for briefings, which included Pelindo IV's plans to build the Makassar New Port on reclaimed land north of the current port, increasing container capacity fivefold. As we were listening to the briefing we saw a grey hull shape emerging out of the mists of the Makassar Strait through the windows of the Pelindo IV office. A former RAN officer in the delegation announced with alacrity, the Yarra was arriving.
Shortly after the briefing we drove down to the south end of the Makassar port and found the HMAS Yarra safely berthed and protected by heavy security: we walked aboard and were welcomed by the CO and crew and given a short tour. Stories were swapped on the bridge, and bonhomie abounded. A bonus for the visiting business people from Perth.
The WA business delegation found Makassar very interesting, a good fit for their companies' capabilities and interests. This supports my argument that the second tier cities in Indonesia such as Makassar are where real business opportunities exist for Australian firms. If you are willing to chance your arm in a smaller but fast growing location such as Makassar, the rewards are likely to be satisfying. We hope to see some of the Perth delegation back in town in the near future, chasing up trade and investment opportunities.
The young crew of the HMAS Yarra spent a few days ashore, experiencing what this city has to offer. Many of them had never been overseas before this voyage, and none could speak Indonesian. But they managed, and we hope, also enjoyed themselves in Makassar. Certainly those that came to my Residence said they had enjoyed themselves in Makassar. A very young midshipman in his first year in the navy told me this experience had helped him decide that life in the navy was right for him. We hope that the crew's experience will lead to more RAN ships choosing to stop in Makassar for rest and recreation, and to spread more goodwill.
***