Sultan Babullah airport is situated on the flattest part of the island of Ternate, a sort of lip at the edge of the perfect cone that is the still active volcano, Mount Gamalamma (1,715 meters). The town of Ternate sits at the southern edge of the volcano which erupted a few years ago - but to the north, so the 100,000 or so residents of this old Sultanate felt reprieved.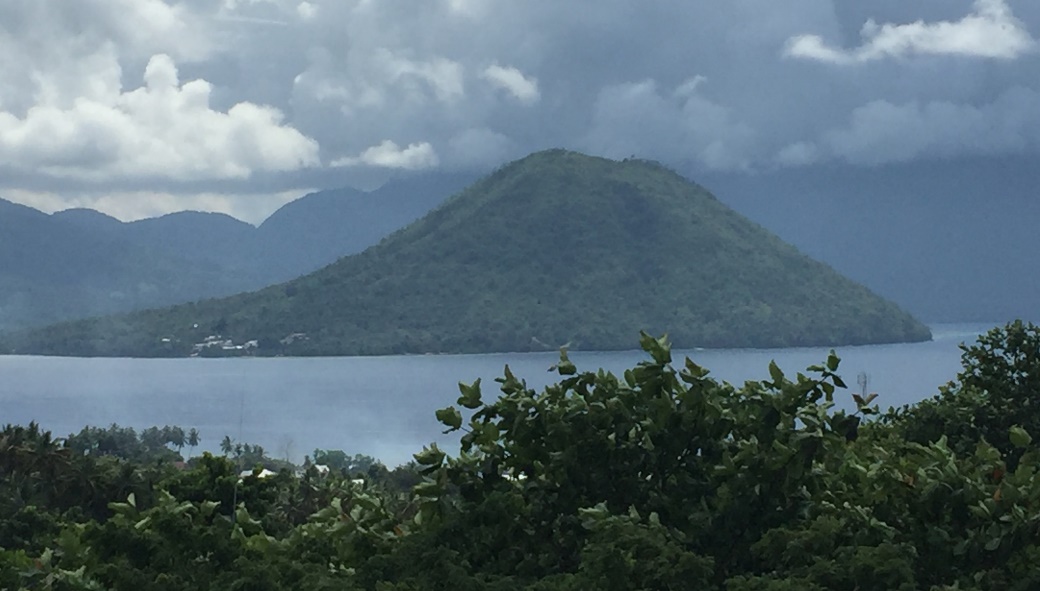 Maitara Island near Ternate
This little airport was bustling. We were met by a senior officer from the Mayor of Ternate's office who told us his boss, Burhan Abdurachman, was waiting for us.
Driving into town we passed the quarantine department, and a huge cage filled with big, fat, white cockatoos. (Just like the ones that come to our garden in Canberra, but a tropical version no doubt). These birds were waiting to be taken back to the forests of Halmahera. They had been taken off bird smugglers caught at the ports of Ternate. Clearly, white cockatoos fetch a good price overseas.
Pak Burhan and his senior officers received us amiably in his offices in downtown Ternate. For such a small place the town, remarkably, had traffic jams. Narrow roads, lots of cars and motorcycles, and not too many places to go.
My spiel on education and the new focus of our Australian Awards scholarship program on North Maluku province, was well received. I even suggested that senior Ternateans might like to go to Australia for their holidays. They all nodded when I said Australia was very close, and that the cost of flying from Bali to Perth was much the same as flying from Ternate to Jakarta.
Pak Burhan's staff supplied some local sweets while we were chatting. Also on the table in front of us were small bottles of a yellow-orange liquid, which after a while Pak Burhan invited us to try. This was "nutmeg syrup", a new product that local businesses were developing. It was mainly sugar water with some nutmeg or mace flavour added. Pak Burhan assured me that it had health-giving properties, although no proper research had yet been done. Anecdotally it was good for curing a range of illnesses. His nephew had overcome a difficult skin problem through drinking nutmeg syrup.
Ternate and Tidore are fascinating places with a long and rich history. The family of the Sultan of Ternate is one of the oldest royal lineages in Indonesia, claiming its origin in 1257. Together with Tidore, sometimes in competition, the Sultanate ruled over areas as far as Sulawesi and Papua. These two Sultanates, and two smaller ones of Bacan and Jailolo, struggled to maintain their independence when the Spanish, Portuguese, Dutch and English came to this part of the world from the 16th and 17th centuries on, to fight over the valuable spices these islands produced – cloves, nutmeg and mace (other lesser spices such as cinnamon and pepper are also abundant).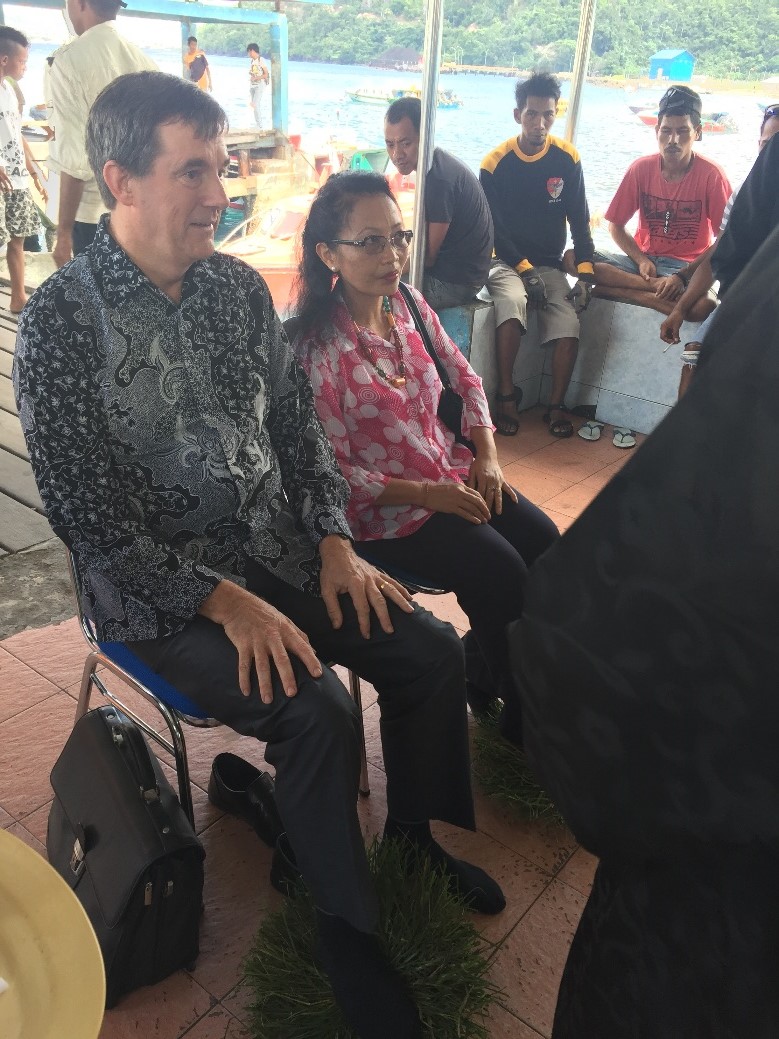 The following day we met the Mayor of Tidore, and his staff. Tidore is just a ten minute speedboat ride across from Ternate (BYO life jackets though). From our hotel on Ternate we could see the perfect cone of Tidore's mountain – but its volcano has long been asleep. In fact, as we discovered, the island of Tidore (pronounced Tid – or- ray) is a very sleepy place. One of the drivers that accompanied us on the island said it was nicknamed "tidur sore", which means "sleep in the afternoon". Just my sort of island, I thought!
On arrival at Tidore we were escorted to two chairs at the end of the jetty and told to sit down and take off our shoes. We were to be given the traditional joko hale welcome ceremony, which means "stepping on the ground". Two clumps of grass were placed on the ground and we were told to put our right feet on them. Then a gentleman later identified as the Sultan's Prime Minister, said some prayers.
Putri and I were then lead to a vehicle and driven half-way around the island to the Mayor's grand offices. Along this quiet and pretty road we were escorted by a frequently hooting police car, to scare off the sleeping population. And the odd goat.
At the Mayor's office we got another welcome I much appreciated: Captain Ali, a jovial man who was a former harbourmaster, invited us to have lunch before we had our formal meeting. We dined and relaxed on the Mayor's veranda, looking out to the southeast towards fabled Halmahera, land of birds of paradise and great forests. I recall a delicious spread, finished off with bananas cooked in coconut milk.
Traditional welcome to Tidore
Our formal meeting was not too burdensome either. I gave my spiel, and a lady from the planning department showed some slides about wonderful Tidore. Captain Ali said some nice words about our visit and hopes for cooperation with Australia. I questioned the audience about their plans for tourism development and was told, yes we are open to investors in tourism, maybe. I asked if they could cope with loads of foreigners walking about in bathers, and they said, why not? We accepted hundreds of foreigners into our homes for the recent solar eclipse, they told me.
But I sensed they were all quite happy with the way things were. There are fascinating and beautiful places to visit on Tidore, but nowhere to stay – except people's homes. You might as well stay in the hotels on Ternate. Captain Ali suggested that I might like to build a private villa up on the slopes of Tidore's mountain with great views towards Ternate. But not a hotel.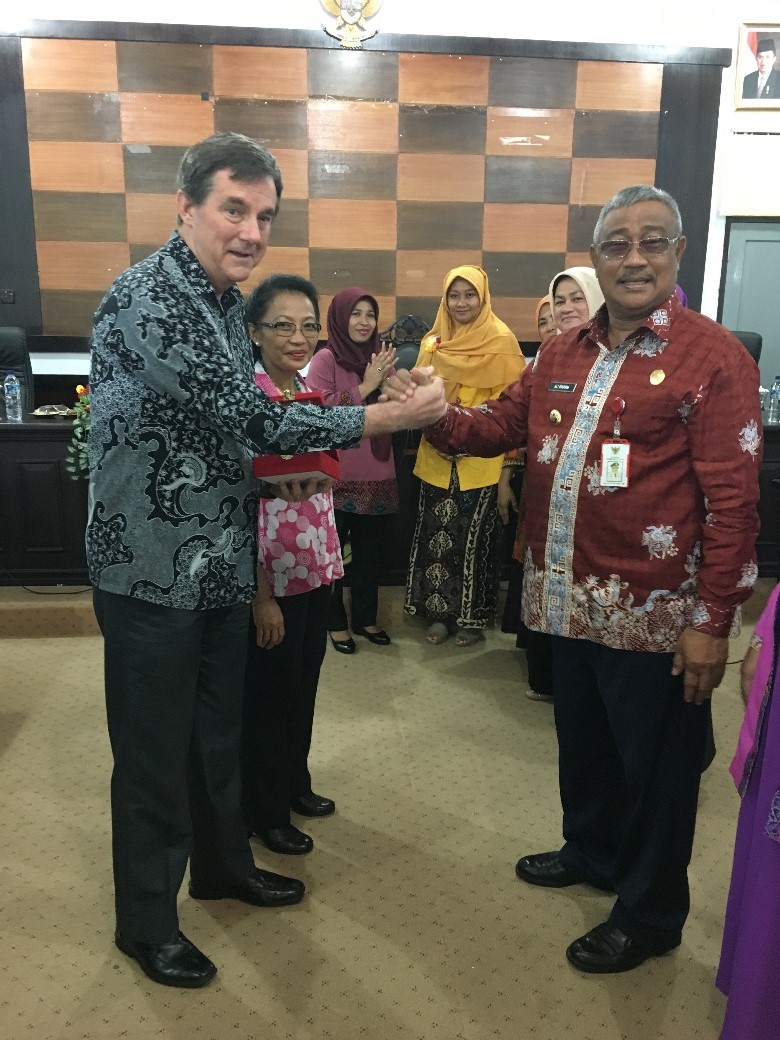 Later I had a conversation with the Deputy Governor of North Maluku, Mhd Natsir Thaib, about tourism development. I had invited him to a dinner for Australian alumni I hosted at our hotel on Ternate.
Pak Natsir said he wanted to turn North Maluku into the next Maldives. He saw ecotourism as the future for his province. North Maluku has around 1,400 beautiful islands, like Maluku to the south but with fewer people. Many islands are unpopulated, some have fascinating histories and WWII links with Australia. Pak Natsir mentioned a few promising potential investments, including one from Australia. A Dutchman has already set up an ecotourism dive resort on Halmahera. These investments are in very isolated places which are difficult to get to. But the big, upmarket investments tend to build their own airstrips with direct charter flights from Bali or Singapore.
I told Pak Natsir that the Governor of Maluku, Ir Said Assegaf, was pushing Garuda to open up a flight from Darwin to Saumlaki in southwest Maluku (see my previous blog). Pak Natsir said he would like that route to include North Maluku, ie Darwin-Saumlaki-Ambon-Ternate. It could even fly on to Davos or General Santos in the southern Philippines. It sounded possible, but I wondered if there was yet enough demand to justify such a route.
At our alumni dinner I met most of the Australian alumni in Ternate. Many are lecturers at the local state-run Khairun University, and a few others work in the local provincial administration. It never ceases to amaze me how the graduates from Australian universities occupy such senior positions in local government and universities. They will help build a great future relationship with Australia. With Captain Ali, Mayor of Tidore
As in Ambon, I gave my lecture on Australia-Indonesia relations to students at Khairun University, modified to suit my new audience. But this time I gave the lecture at 8.30am. I had learnt my lesson in Ambon – avoid lecturing after lunch in hot, tropical university campuses.
The students at Khairun University, as at Pattimura University, were interested in study opportunities in Australia. But some also asked me questions about the bilateral relationship and how we can guard against future downturns in bilateral relations. I said a key goal of the Consulate-General was to build people-to-people relations in the eastern provinces and broaden the base of our links such that each time we have high level political disagreements (which may be unavoidable), at the working level we can keep working.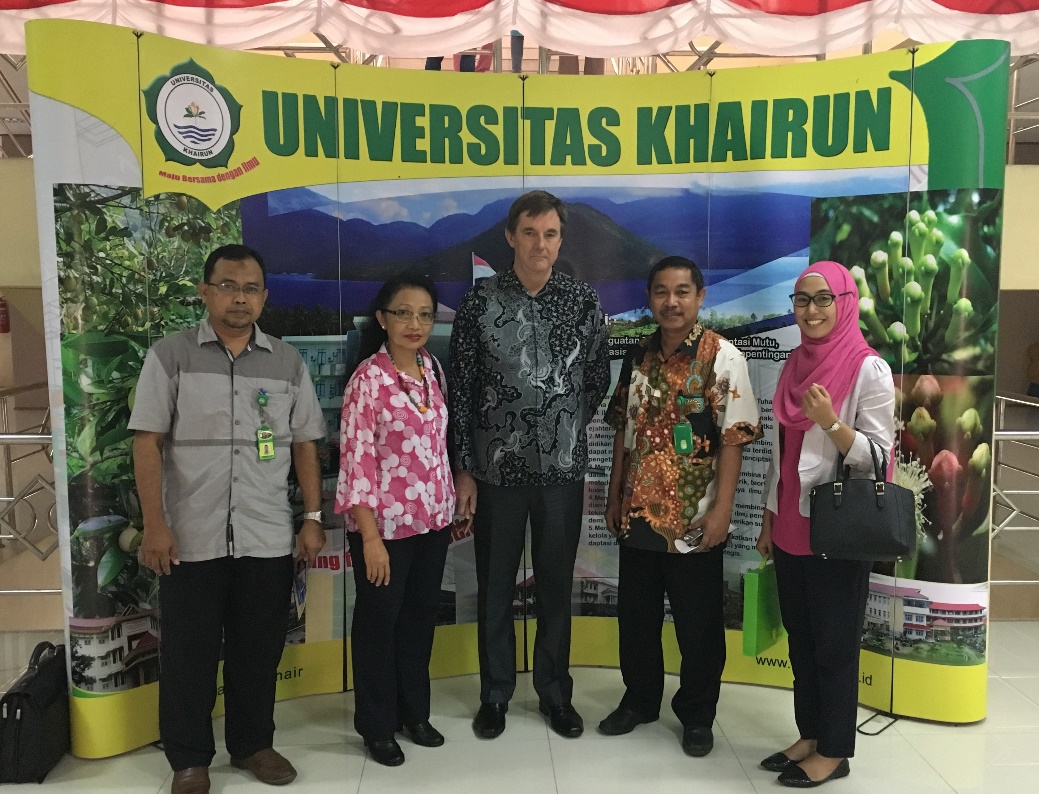 Khairun University is a few kilometres out of the town of Ternate, looking out over the Maluku Sea, and a quiet, lovely place to study. The Vice Rector for Academic Affairs, Prof M Ridha Adjam, asked me if Australia could provide a volunteer English teacher. He also suggested that Australian university students might like to visit Khairun University for informal language exchange, in return for free accommodation at the university guest house. I said I would explore both options: a placement in such a stunning and historic location would be an unforgettable learning experience for an Australian student. Any takers?
***