We had an early start to our journey from the island Sultanate of Ternate to the town of Tobelo, the district capital of North Halmahera regency. Our plan was to drive to Ternate's Kota Baru harbour and catch a speedboat to Sofifi, a 30 minute race across the open sea to the larger island of Halmahera, then meet up with our driver Pak Ridwan who had taken the car over the night before on the ferry. Pak Ridwan would then drive us to the Newcrest gold mine at Gosowong, about two hours from Sofifi, where we would meet some of the Australians working there and tour the mine. From Gosowong we would drive another few hours to Tobelo to meet the Deputy Bupati of North Halmahera regency, then we would backtrack about 20 minutes south of Tobelo to a small losmen, Kupa-Kupa Beach Cottages.
We had been told the road from Sofifi to Tobelo, a distance of around 190 kilometres, was in good condition. The road time should be only around four hours. We aimed to get to the losmen by nightfall, so left our Ternate hotel around 7.30am.
Sofifi is a small town on the middle arm of the strangely stretched-K shaped island of Halmahera, the largest island in North Maluku, and officially replaced Ternate as the provincial capital in 2010. We could see the grand, newly-built Governor's office on the hills overlooking the town as we sped into Sofifi's little harbour. But most officials prefer to live on Ternate and commute daily across to Sofifi by speedboat.
It was pretty obvious why senior officials prefer the big smoke of Ternate: Sofifi is quiet, isolated and small, with little developed infrastructure. But this preference among government employees has established a good business for dozens of fast 15-seater speed boats which can cross the 20 kilometres of open sea in around half an hour, each powered by three big outboard motors. The journey was exhilarating and the scenery stunning: active and dormant stratovolcanoes all around us, and a big sea rich with fish. But near Ternate the sea was also thick with plastic refuse, washed out of the town by recent rains. Several times our boatmen had to raise one of the outboards to unravel plastic bags from the props.

Pak Ridwan was waiting for us at Sofifi's harbour. The road to Gosowong was indeed in good condition and our drive was smooth with very little traffic. The scenery was gorgeous, little villages scattered between stretches of forest and farmland – plantations of nutmeg, cloves and other spices - and a road that hugged much of the shoreline of the Bay of Kao which separates the northern arm of Halmahera from the middle arm.
Halmahera island was wracked by social conflict in the period after the fall of Soeharto from 1999 – 2001. Thousands of people died in conflicts between communities and between tribal groups, and many thousands more fled to Manado and Ternate. The roots of the conflict were complex, based on religious and ethnic divisions, land and border disputes and political struggles for regional dominance. As recently as April 2016 rival groups of Christian and Muslim youths came to blows near Tobelo. Throughout North Halmahera we noticed numerous military check points which now, we were told, are primarily focused on catching smugglers of illegal "cap tikus" (rat brand) bootleg liquor, which is popular among young men.
The gold mine at Gosowong, PT Nusa Halmahera Minerals (PT NHM) is owned by the Australian company Newcrest (75 percent) and the Indonesian government mining company PT Aneka Tambang (25 percent), and is one of Indonesia's most profitable and well-run mines. The mine has been operating since 1999 and for the year ended June 2016 produced 197,463 ounces of gold. The company employs around 700 locals as well as many Indonesians from around the archipelago: only a small proportion of employees are foreigners, including a handful of Australian miners.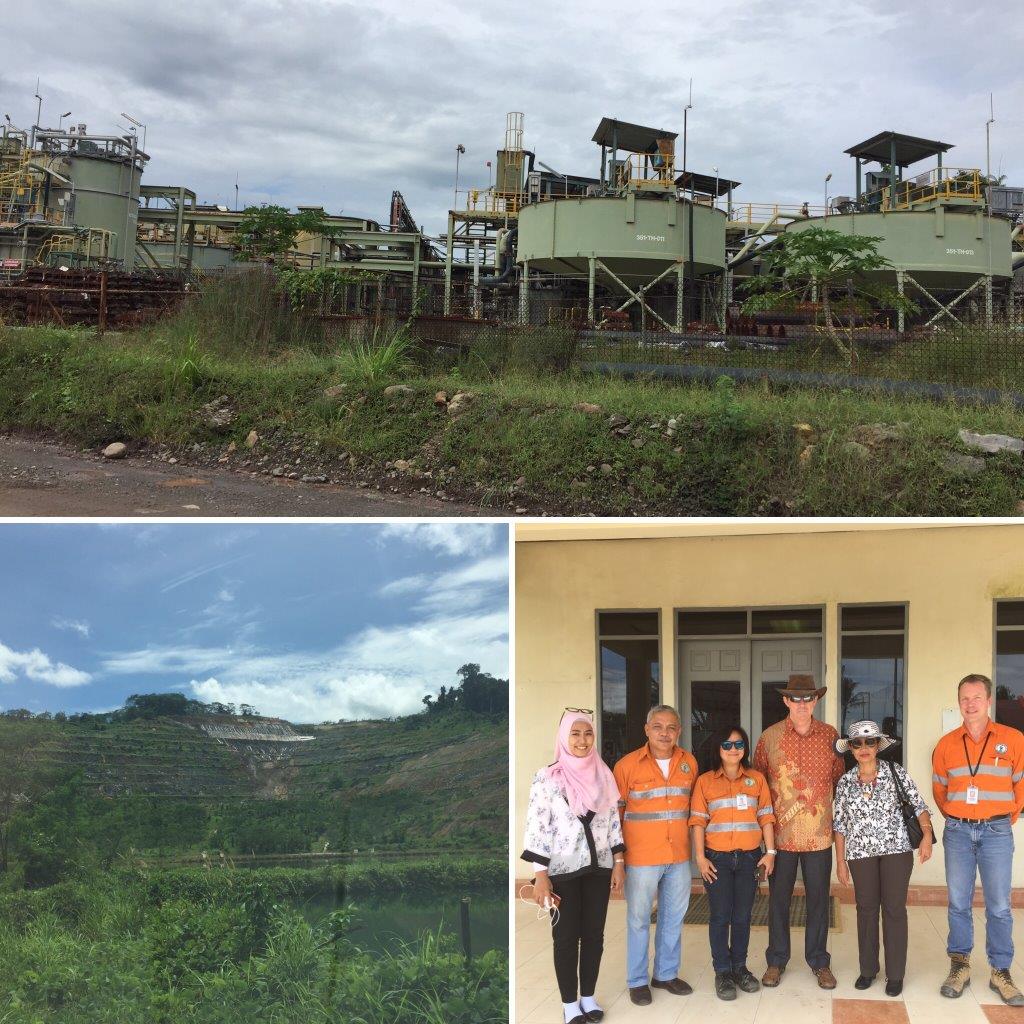 The Australians I met do not live in Halmahera – they work on a fly-in, fly-out basis. One lived in Townsville, another in Jakarta and one more lived in Bali. Their expertise is in getting gold out of rock. And they are good at that. They are also quite happy with the facilities at the mine which include an airstrip and helipad, basic accommodation and a good canteen that serves international and Indonesian food, and a jetty some distance away for exporting mine-finished product. Mark Kaesehagen, the Deputy Director of Operations showed us around and pointed out that the first open pit mine dug back in the 1990s is now being rehabilitated to international standards. All mining since has been underground.
Ibu Rani, the manager of PT NHM's corporate social responsibility (CSR) program, explained to us how the mine interacts with the local community. CSR programs are important in Indonesia because they give companies the "social licence" to enter poorly developed areas and carry out their activities. Local communities want to know what will be the long-term legacy that the miners will leave behind once the ore runs out. PT NHM has contributed towards local schools, cattle projects and sago palm industries and aims to spend one percent of annual revenue on its CSR programs (see http://www.nhm.co.id/images/FactSheet/PT_NHM_Factsheet_CSR.pdf ).
This is good stuff. I was impressed by the CSR program and high standard of safety and international practice at the mine. But that question – what long-term legacy will the mine leave behind for the local community - remains important.
A three hour drive later we arrived at the Bupati's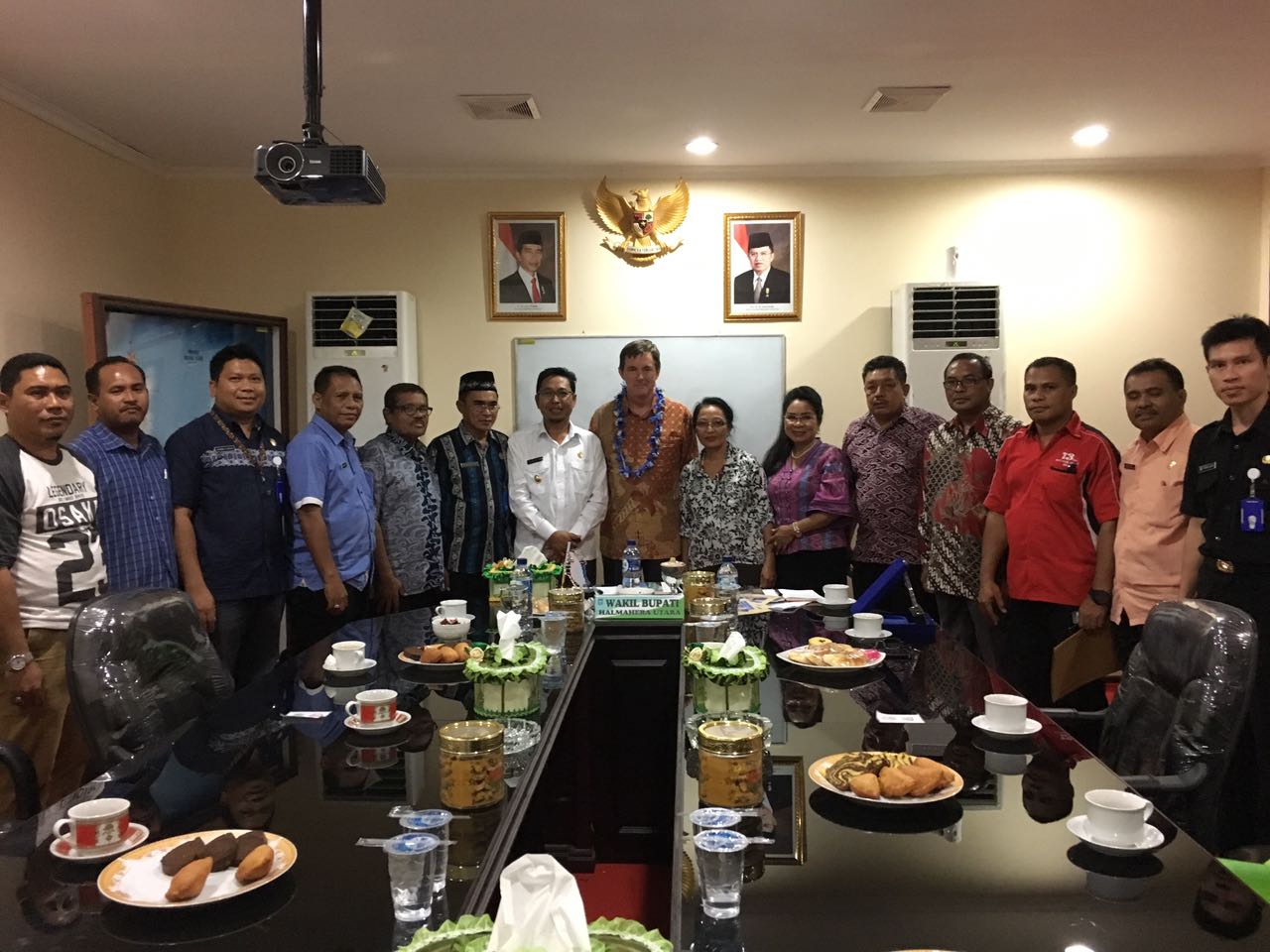 office in Tobelo. As Putri and I stepped out of the car we were treated to a traditional welcome, a version of the cakalele dance where a young man danced with a sword and elongated shield as we walked up the driveway, and a young woman moved gracefully beside him. The Deputy Bupati, Muchlis Tapi-Tapi greeted us and escorted us to a meeting room where I addressed around twenty of the local government's senior officials about education and tourism development opportunities.
Our accommodation that evening at the Kupa-Kupa Beach Cottages was basic but pleasant, just like the typical losmen that I used to stay at in the 1980s when travelling around eastern Indonesia. A few wooden cottages set back a little from a white sand beach, gently lapping waves, and a dining area with great views across a small bay. Idyllic, except for the new Pertamina oil terminal right next door. And the distant beat from an all-night party going on at a village across the bay.
The following morning around 30 ladies from the local group of the Female Head of Households Empowerment Foundation (PEKKA) arrived at Kupa-Kupa Cottages to meet us and discuss how the Australian aid-funded PEKKA program in North Halmahera was going. The local PEKKA leaders said they had been helping ladies apply for birth certificates for their children, but then one mother told me she had yet to register the birth of her two-year old, who was happily bouncing on her knee. Many women see little point in going through the process until they need to – usually when they register their children for primary school.
Many of these women face real problems with the local bureaucracy. One women said she had paid for her quota of subsidised raskin (rice for the poor) over a month ago, but Bulog (the Rice Logistics Agency) still hadn't delivered her allowance. Other women said that Bulog officials often substitute the basic subsidised rice for raskin applicants with worm-infested rice from the floor of the warehouse. One village in North Halmahera had returned their Bulog rice as it was inedible.
Another woman said that her husband had died two years ago and since then she had been trying – so far without success – to access free health care for her children under the government's social security support program (BJPS).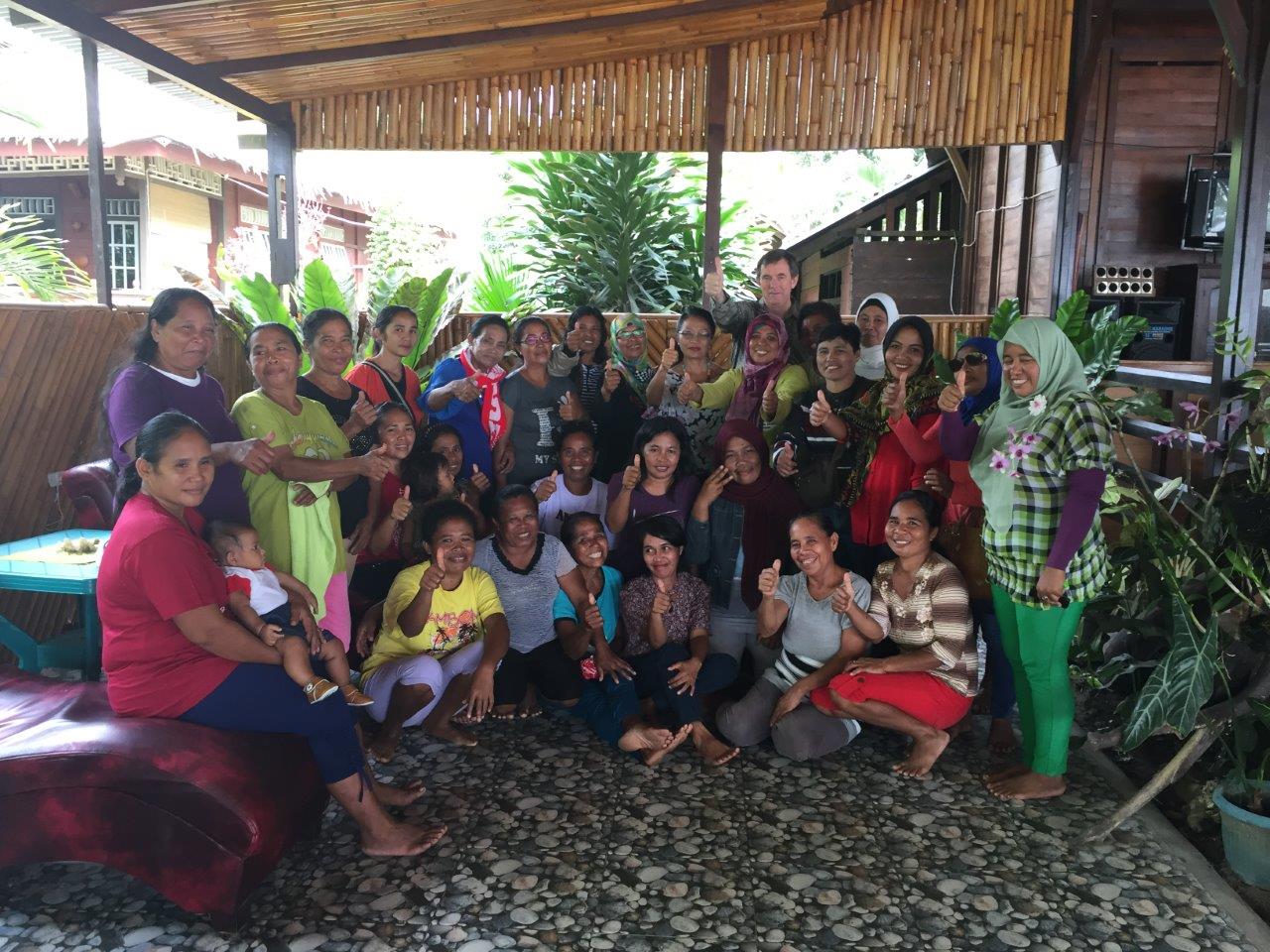 These were sad stories, and we encouraged the women to work together, as with united voices they had greater influence on their community leaders. The PEKKA leaders present also committed to renew their efforts to help these poor women, all of whom are managing a family on their own. This Australian-funded program will bring long-term benefits to poor women and their children across the archipelago, but it needs constant support and the participants need continuous encouragement.
Later that morning we drove to the nearby Hohidiai Foundation, run by local community leaders and supported by Christian groups from Australia and America. An Australian couple run the facility which includes an orphanage for around 50 children, a school and a 21-bed clinic which provides support for local patients of all religions. The clinic also assists people suffering leprosy, HIV-Aids and tuberculosis, and for these three diseases they get free medicine from the Indonesian government.
The location was very beautiful, a lovely, safe and caring environment for the children. Initially the orphanage was established to care for the many children who had lost their parents during the troubles of 1999-2001. It continues to provide care for orphaned children from all over North Maluku.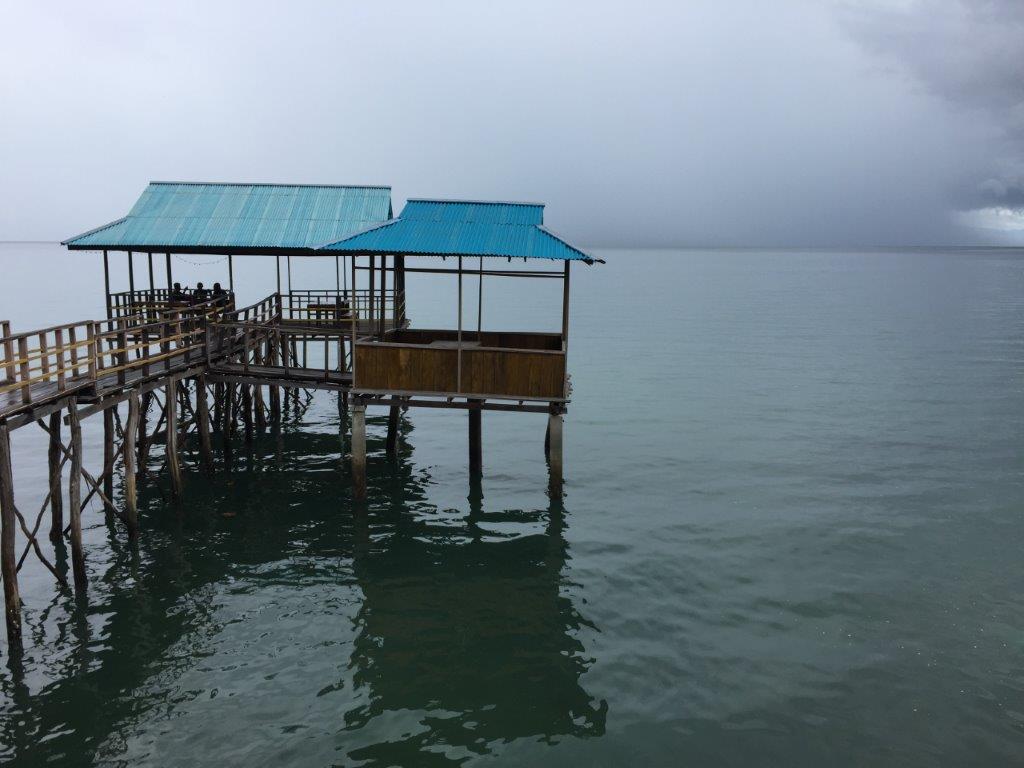 Our drive back to Ternate the next day was again along the coast and through beautiful farmland, and quaint villages. We stopped at a cafe teetering on wooden stilts over a quiet little bay and watched as fish swam up to nibble at crumbs we dropped into the crystal clear water from above. Behind, a cliff rose up, thickly vegetated, where according to the cafe owner, hundreds of big white cockatoos roost in the late afternoon.
The cafe owner said he was looking to sell his little spot of paradise. It needed quite a bit of work, but the location was stunning and also being on the main road from Sofifi to Tobelo it could have potential. Anyone interested?
***