From 6 - 10 September 2017 the City of Makassar held its second International F8 Festival along the Pantai Losari waterfront, a 1.3 kilometre stretch of open public space famous for its great sunsets. The F8 festival is an eclectic mix of themes created by Makassar's dynamic Mayor, Danny Pomanto, which include: fashion, film, food and fruit, flora and fauna, folk, fine arts, fusion music, and fiction writers and font (see http://f8makassar.com ). The festival is the largest of its kind in Indonesia – it was described as such by the Head of Indonesia's Creative Economies Agency, Triawan Munaf, when he officially opened the festival.
The key feature of the festival is its eclecticism: there is something to please and entertain almost everyone. Each theme has a separate range of activities; and to add to the "busyness" of the event, hundreds of stalls are set up along the waterfront selling food, drinks, cloths and handicrafts from across the archipelago.
The Australian Consulate-General this year had a stall where we promoted education and tourism in Australia – and to fit in with the theme of fine arts we put on a display of some Indigenous bark master paintings. We also contracted a local firm to install their "Peeko Selfie Box" in our stall (fotografi), where visitors could stand in front of a photo booth and take instant, printed "selfies". This old technology was incredibly popular – appealing to the "selfie" craze among Indonesians of all ages. Mayor Danny Pomanto was gracious enough to join us for a "selfie" at our stall on the second night, and India's Consul-General Sunil also joined in – the photo needs no comment!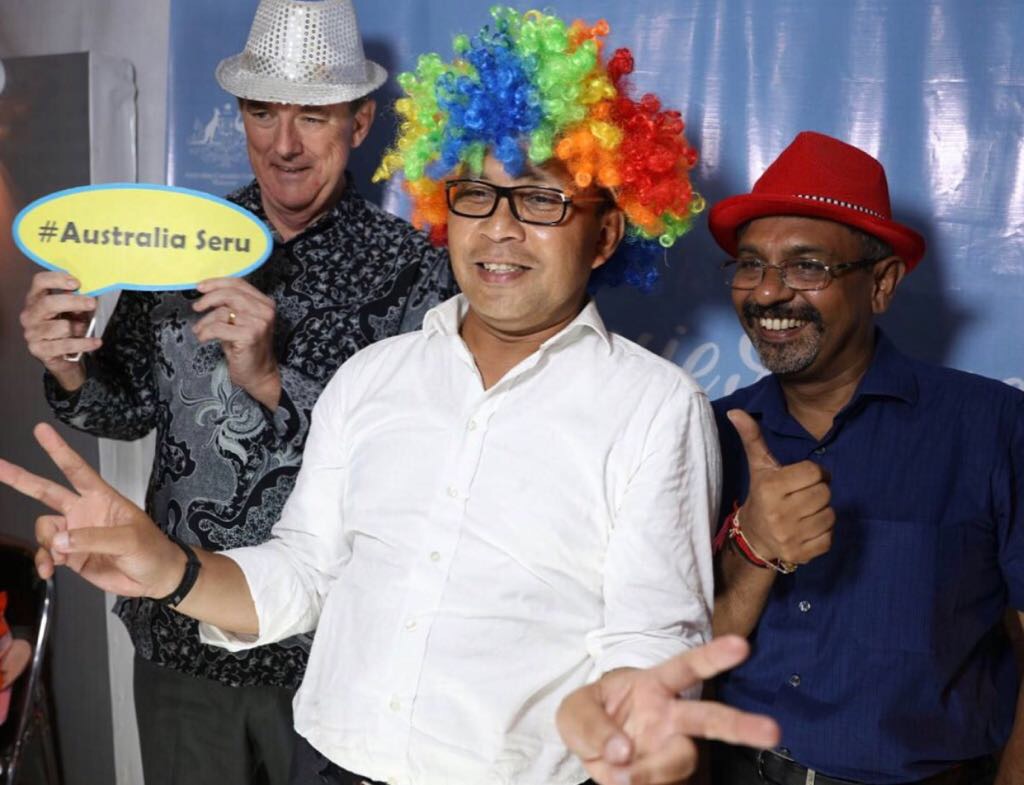 On the opening night on the main stage we were treated to 1,000 schoolchildren in traditional Makassar/Bugis costumes performing local songs and dances, then all standing to sing the national anthem, Indonesia Raya. I have heard the national anthem sung at hundreds of events, but never so movingly as this, and all the children sang in tune. The children were followed by a beautiful performance by the disabled community of Makassar.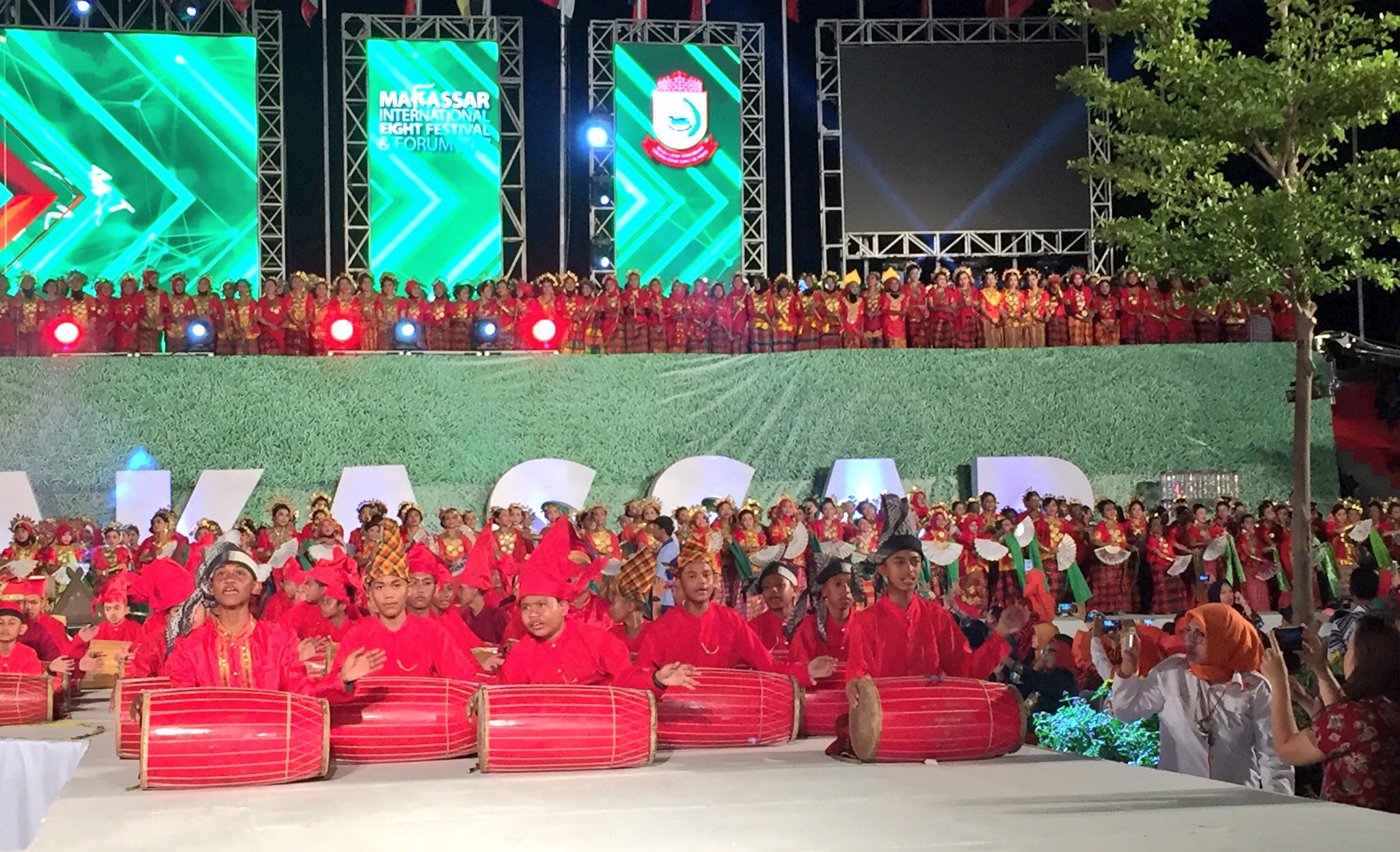 There was also a range of modern fashion paraded around the "figure of eight" stage. Indonesian fashion shows accompanied by incredibly dramatic music, are not to be missed, and the styles are coming of age. The evening then was turned over to the musicians and celebrities, and they were good. But alas, I couldn't last the distance so we had to retire at around 11.00 pm.
Last year was the first Makassar International F8 Festival, and it was, as you might expect, a bit of an experiment. I was the most senior foreign diplomat at that first festival, but this year I was jostled aside by seven Ambassadors, including from France, New Zealand, Thailand, and Afghanistan. International interest is growing in participating in this festival. France supplied some DJs who wowed the crowd with their technique.
I was asked to open the fine arts component of the festival at the "Mandar Zone" at the northern end of the waterfront, as I was last year. This area was relatively quiet and provided local artists with the opportunity to show off their works. The opening included a performance by young male dancers from the State University of Makassar's fine arts faculty, in which they danced with black cloths, then daubed their smooth brown torsos with various coloured poster paints; finally they brought out some bamboo torches and waved them around their bodies, while doing a bit of fire-breathing. This was to the accompaniment of a traditional Makassar music group. And a performance in the sky above, as the sun set, by the Jupiters, the Indonesian Air Force's acrobatic team!
Some 61 works were on display by artists from around Sulawesi, in a range of traditional and modern styles.
As I have noted in a previous blog (see http://makassar.consulate.gov.au/mksr/Blog_10.html ) festivals are taking off around the eastern provinces of Indonesia. Communities see them as a means of attracting tourists (domestic and international) and giving a boost to the local economy. These festivals also develop "branding" value for the city or region, and can help attract attention from possible investors. And I suspect communities naturally want to reinforce their sense of identity by developing local cultural activities.
Mayor Danny Pomanto said a few weeks ago that he was targeting one million visitors over the five days of the second F8 Festival. Early figures show that target was easily achieved as the people of Makassar turned out in droves to visit Pantai Losari. All the hotels near the waterfront were booked out, and the estimated gain for the local economy was around six billion rupiah (AUD600,000 – significant for local small businesses). Several thousand visitors passed through our Australia (#AussieBanget) stall. This festival is likely to grow in popularity, so managing people flows and crowd numbers will be important in future planning.
As Australia's Consul-General in Makassar it would be remiss of me not to promote Australia's festivals: our cities and regions hold hundreds of festivals every year (see http://www.australia.gov.au/about-australia/australian-story/festivals-in-australia). Our cities and regions are masters at organising grand and impressive festivals, and have been doing so for at least seventy years. We have much experience to share, from planning and people-flow management, to branding and promotion, to world-class public performance groups. Our events managers can advise on how to scale-up and finance large events.
I look forward to our continued collaboration with the City of Makassar in participating in the Makassar International F8 Festival. I am sure that in 2018 the third Makassar International F8 festival will be bigger, better and more brilian than ever!
***