To get to Baubau you can fly from Makassar, but by far the more interesting way is to catch the fast ferry from Kendari. As you glide out of Kendari Bay you round an island with the curious name of Bungkutoko, edged with mangroves. But this island will in the near future be completely redeveloped and the areas off shore reclaimed as the Kendari New Port: the government in Jakarta has allocated some AUD64 million for the infrastructure required, and the national port authority region 4 (Pelindo IV) has the responsibility for making this happen. Meanwhile, Kendari Bay is silting up, and the city government is looking for help in stopping that from happening.
After you pass Bungkutoko the journey is pure beauty: one perfect white beach and coral reef after another, little idyllic islands with stilt house settlements clinging to the shore, and then a long slow passage between Buton island on your left, and Muna Island on your right.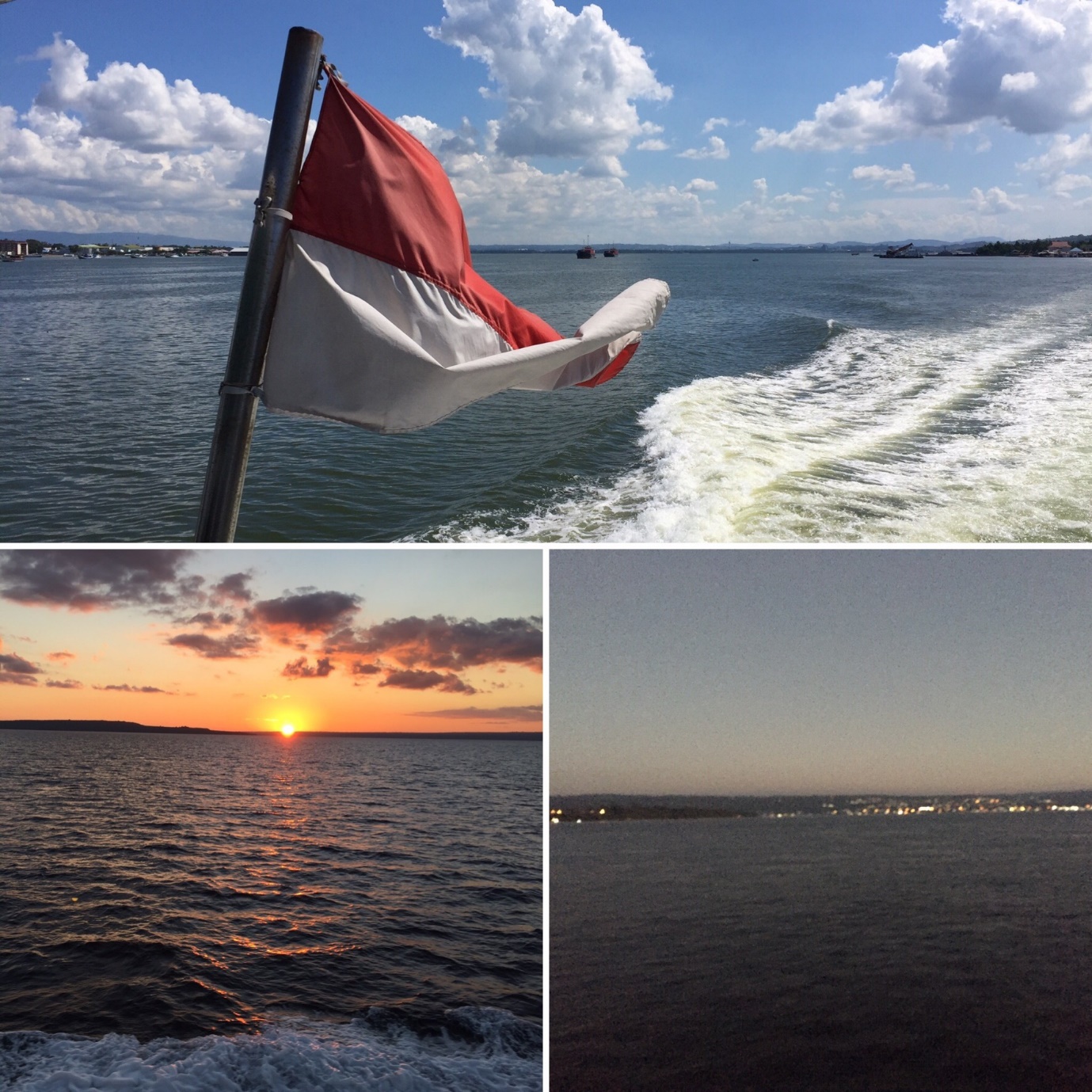 Baubau is a town of around 140,000 which climbs up the slopes of Buton island at a narrows between Buton and Muna. At the top of the slope is a remarkable fort, made from coral rock by the Butonese some five hundred years ago. Most of Baubau seems to sit on upraised coral and limestone. Local authority claims this fort as a Guinness world record for its size. It is certainly extensive, and inside the walls the construction of anything but traditional stilt houses is supposedly forbidden.
The fort which we toured with a descendant from the former Sultanate, was impressive. The palace of the last Sultan is a large wooden building on stilts and now is kept as a museum displaying relics of the last Sultan's reign, including photos of his life as the local political leader. His role in the Republic of Indonesia as a local ruler ended with his death in 1960: his descendants today have no inherited power. But the Sultanate claims descent from Genghis Khan; or in modern interpretation also possibly from Arabia.
I met the Mayor of Baubau, Drs AS Thamrin MH, with his departmental heads in his grand offices atop the hill not far from the fort, with fantastic views of the town and the narrows towards Muna. We discussed education: he is keen for his staff to study tourism management in Australia. We also discussed the development of tourism in Baubau. He highlighted that his town has the magic trio: natural beauty, great history and a friendly people.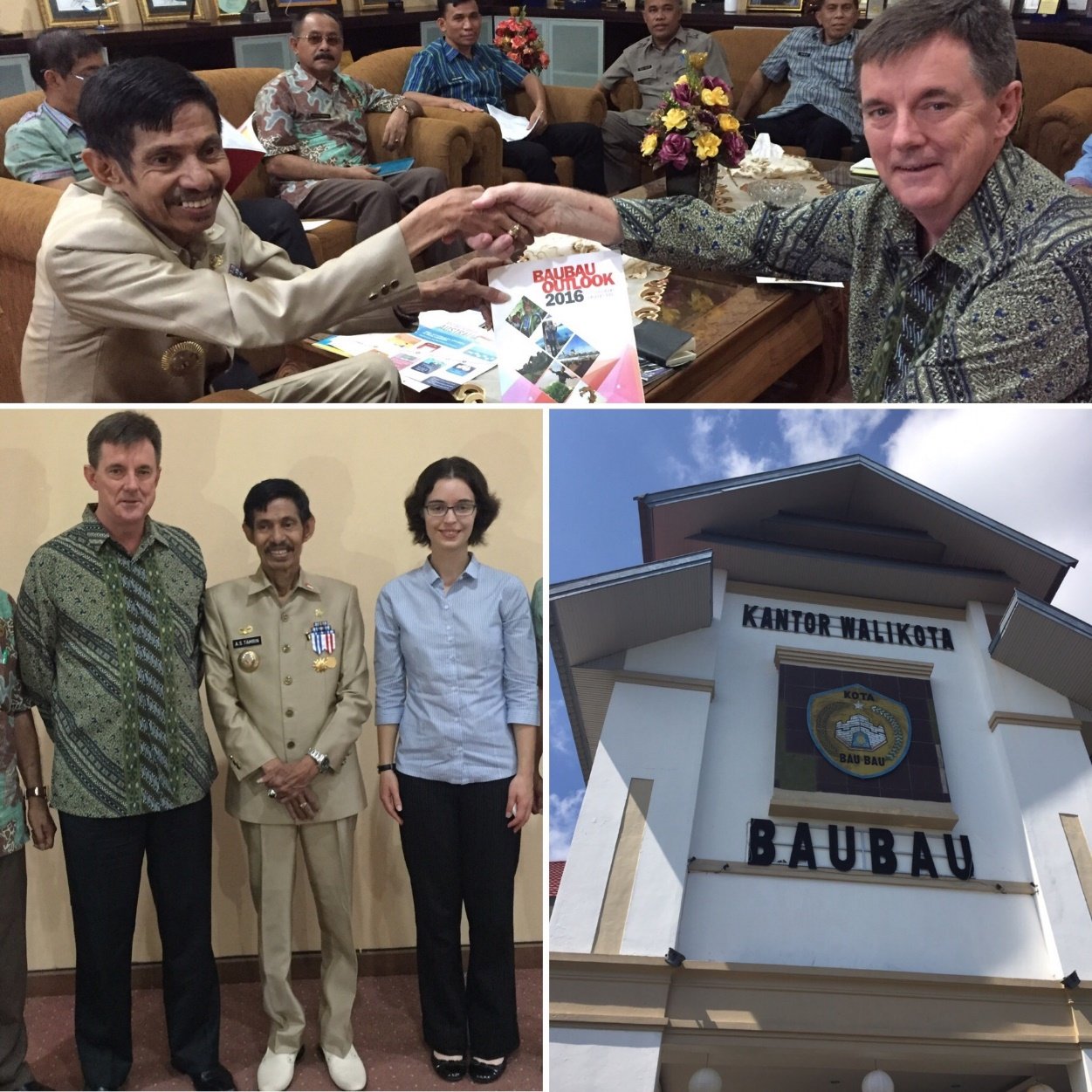 But I really liked his response when I asked if there were plans to build more hotels in his town. All we need, he said, are a few more homestays.
The main ambition he and his officers have is to establish Buton and the Wakatobi islands to the southeast as a new province called Kepton (Kepulauan + Buton). Getting set up as a new province would facilitate local people's access to provincial level government services. At present everything has to be done through Kendari, a five hour boat ride away. Despite the current national government moratorium on setting up new provinces, the Mayor and his officials are convinced they will succeed.
Later in the day I discussed the Wakatobi islands with local business people from the chamber of commerce (Kadin). They said these islands were recognised for their great beauty, but also were very sensitive to any development activity. They said the President's recent listing of the Wakatobis as one of Indonesia's top ten tourist destinations means governments must act quickly to control such developments.
Where is SMPN 9?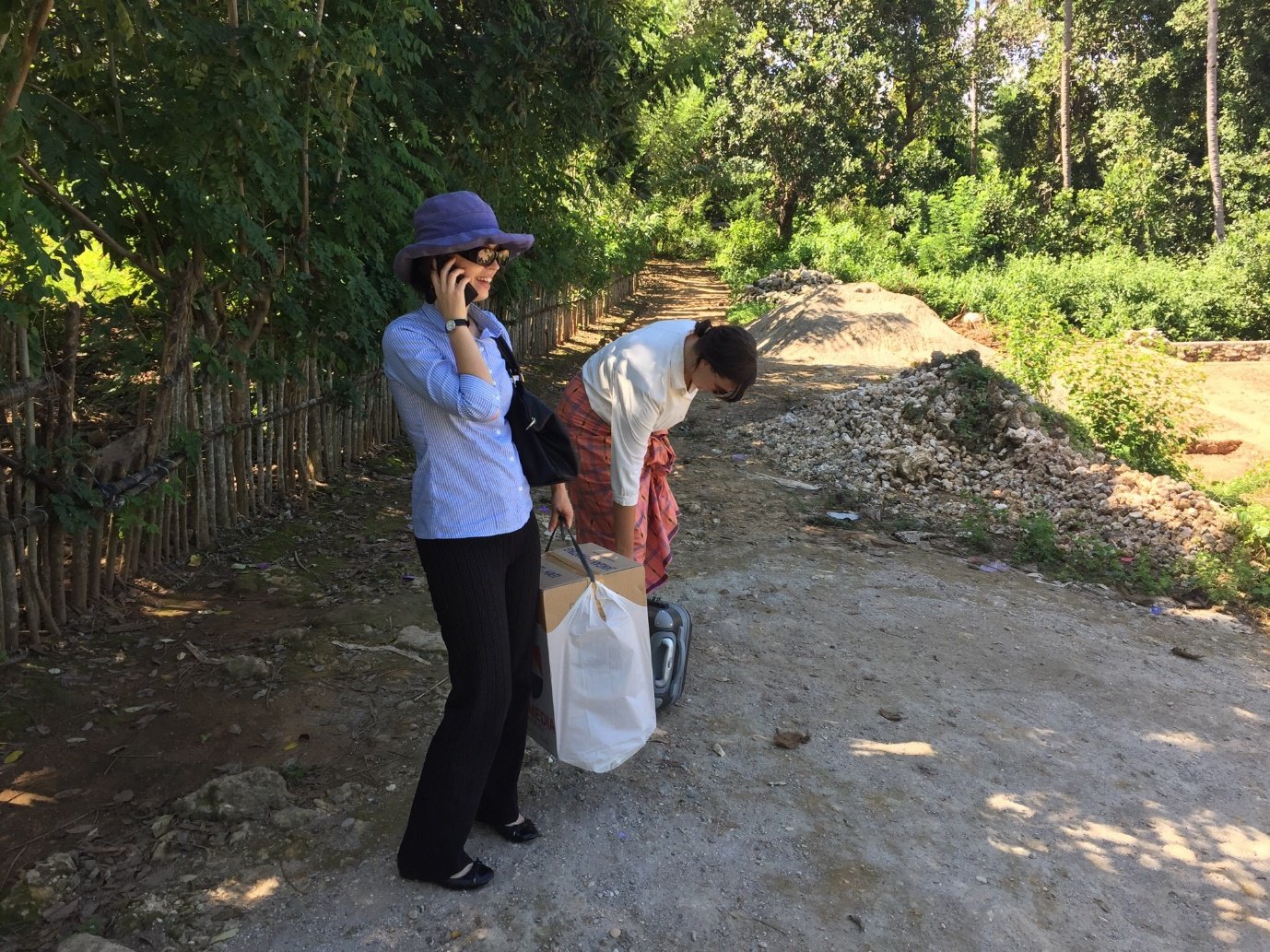 My next key engagement on Buton was a visit to another school that Australia has supported, on the east coast near the major natural rock asphalt producing region: State Junior High School No. 9 (SMPN 9) in Pasarwajo. This town is incredibly lovely, with clean rivers flowing down into a picture-perfect bay. It took us some effort to find SMPN 9, located on a hill above the main road along the east coast of the island. But it was worth the trek.
Our visit was the first by Australians. The school had been completed with Australian funding and is one of over 3,000 schools that Australian aid has helped build across Indonesia. It was located on a flat slice out of the hill, and backed onto farms and a bit of forest. Such an idyllic place to go to school!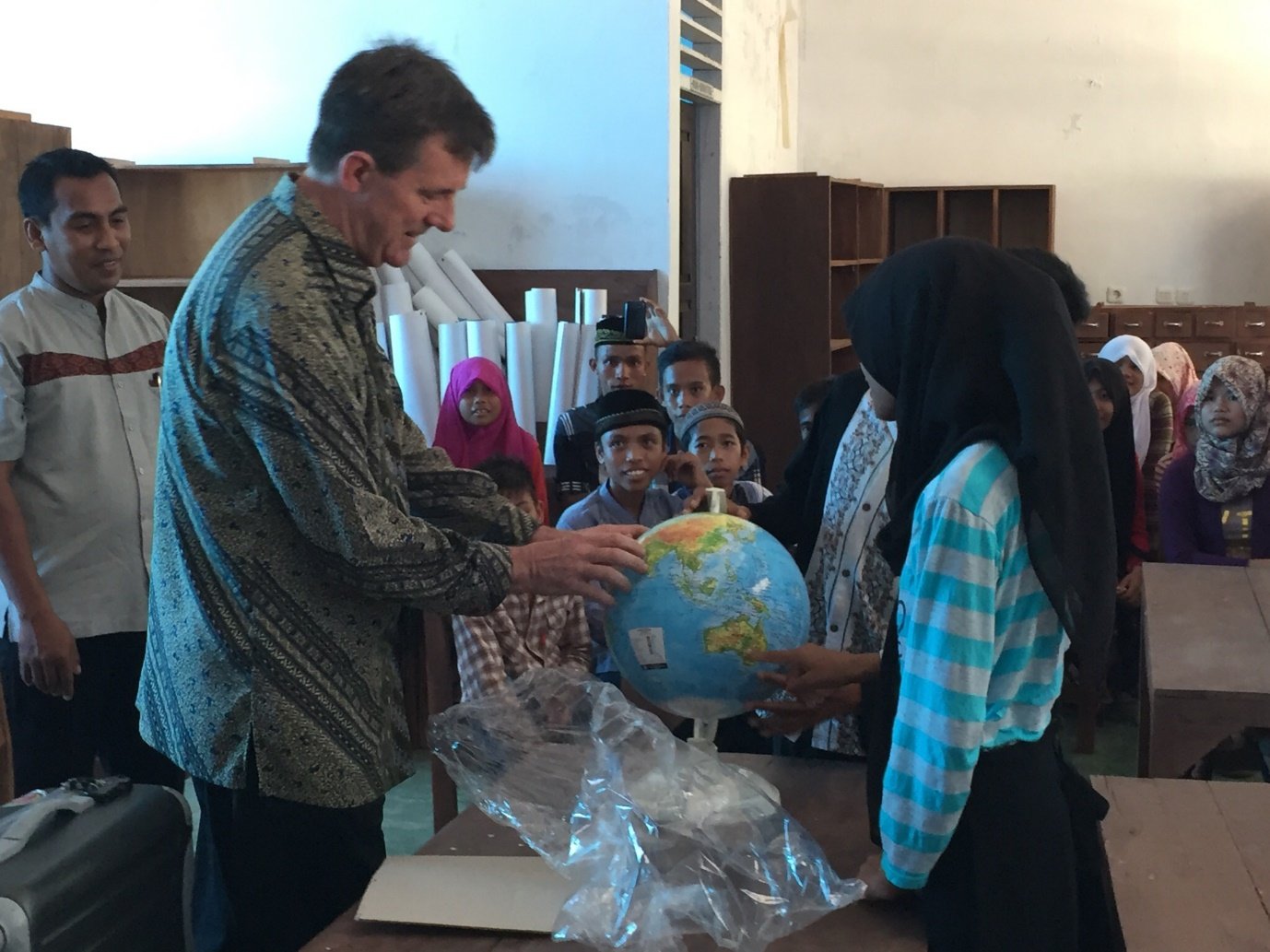 But the library had only a handful of books. I had bought along a suitcase full of reference books, plus what I think is an indispensable tool for the junior high school teacher: a world globe. Using the globe I was able to show the children that Buton is closer to Darwin than Jakarta. Geography opens minds!
After the school, we visited a group also supported by Australian aid, the Walowa PEKKA (Women Headed Family Households). This is a group of women who have worked together to help poor single mothers and village women to learn how to access existing government services. PEKKA is a national movement that has been around since 2000 supporting women–headed households, and sponsored by the National Women's Commission (Komnas Perempuan). The women's stories are always inspiring, and as in previous meetings with women's groups in Sulawesi, I felt humbled by hearing how at the local level these women have built support for their efforts to empower local mothers and other women.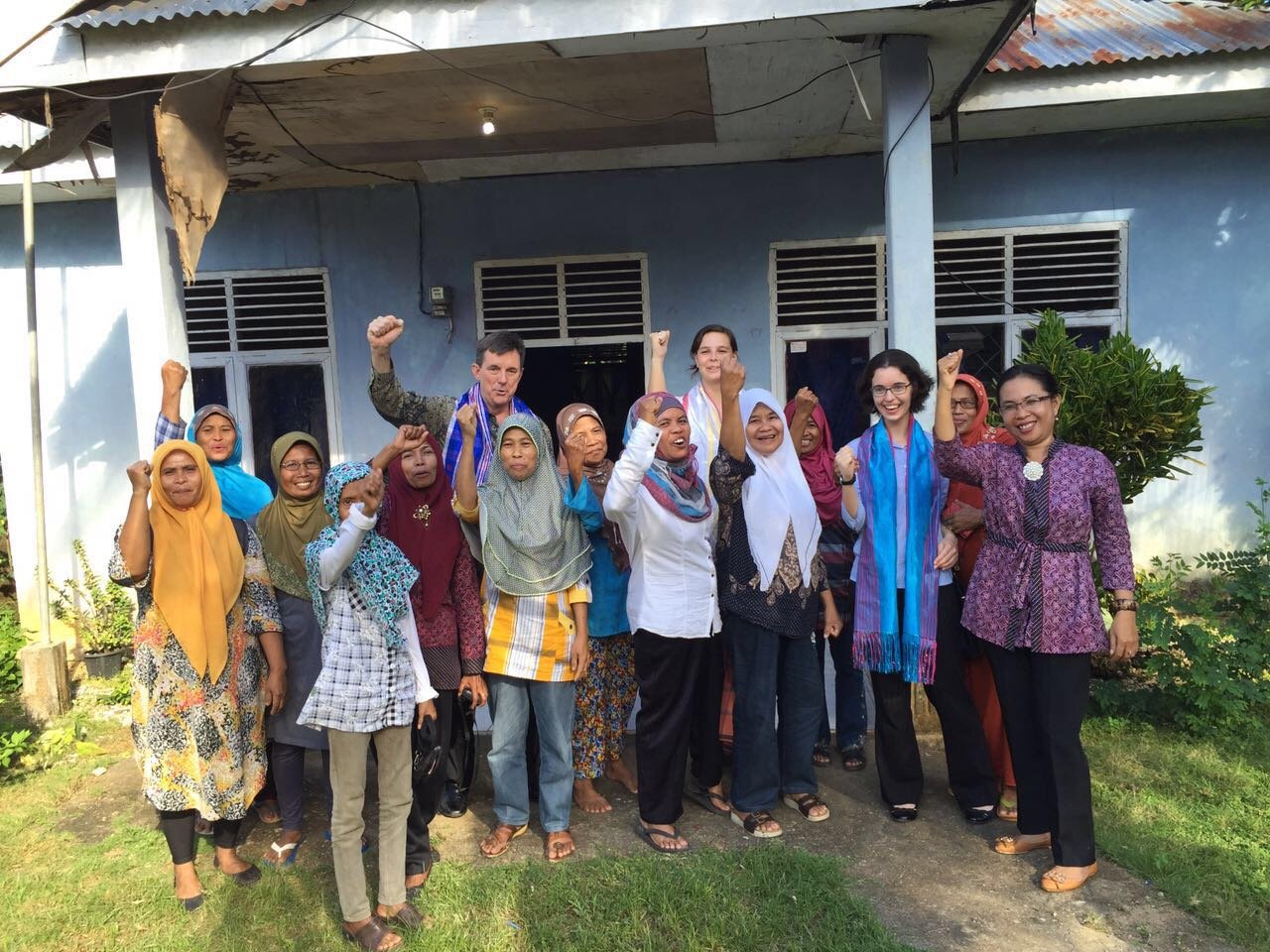 Buton Walowa PEKKA Womens' Group
It all comes back to education: these women are educating their village counterparts on how to access the help to which they are rightfully entitled. The kids we help with books are thirsty for knowledge of the world. The local government officials to whom we provide short courses are keen to learn how to improve development outcomes for their districts. Education, education, education….
***