Recently the Conference for Australia-Indonesia Youth (Causindy - https://2018.causindy.org/) held their annual meeting in Makassar, and we supported them. Thirty one young leaders from Australia and Indonesia took part in a four-day program of seminars, panels and visits focused around the theme of "Connected by Sea". Causindy's goals align very much with our objectives at the Consulate-General – to strengthen the bilateral relationship, and seek opportunities for further mutually beneficial engagement.
I was invited to deliver the keynote address to the Causindy Gala Dinner, and due to popular demand, I am including my speech in my blog, below. With groups of smart young people like Causindy exchanging ideas and planning the future of Australia-Indonesia relations, I think that we are in good hands!
Causindy Gala Dinner Speech
Richard Mathews
Australian Consul-General Makassar
Friday, 7 Sep 2018
Ibu-ibu, Bapak-bapak, sekali lagi selamat datang di Makassar, kota yang terbesar di Indonesia Timur, pintu gerbang kepada propinsi-propinsi timur, dan tempat tinggal kami selama dua setengah tahun terakhir ini.
Bagi saya, rasanya hanya kemarin kami membuka Konsulat-jendral ini di Makassar, dan sejak kami mulai petualangan diplomatik di Indonesia timur ini.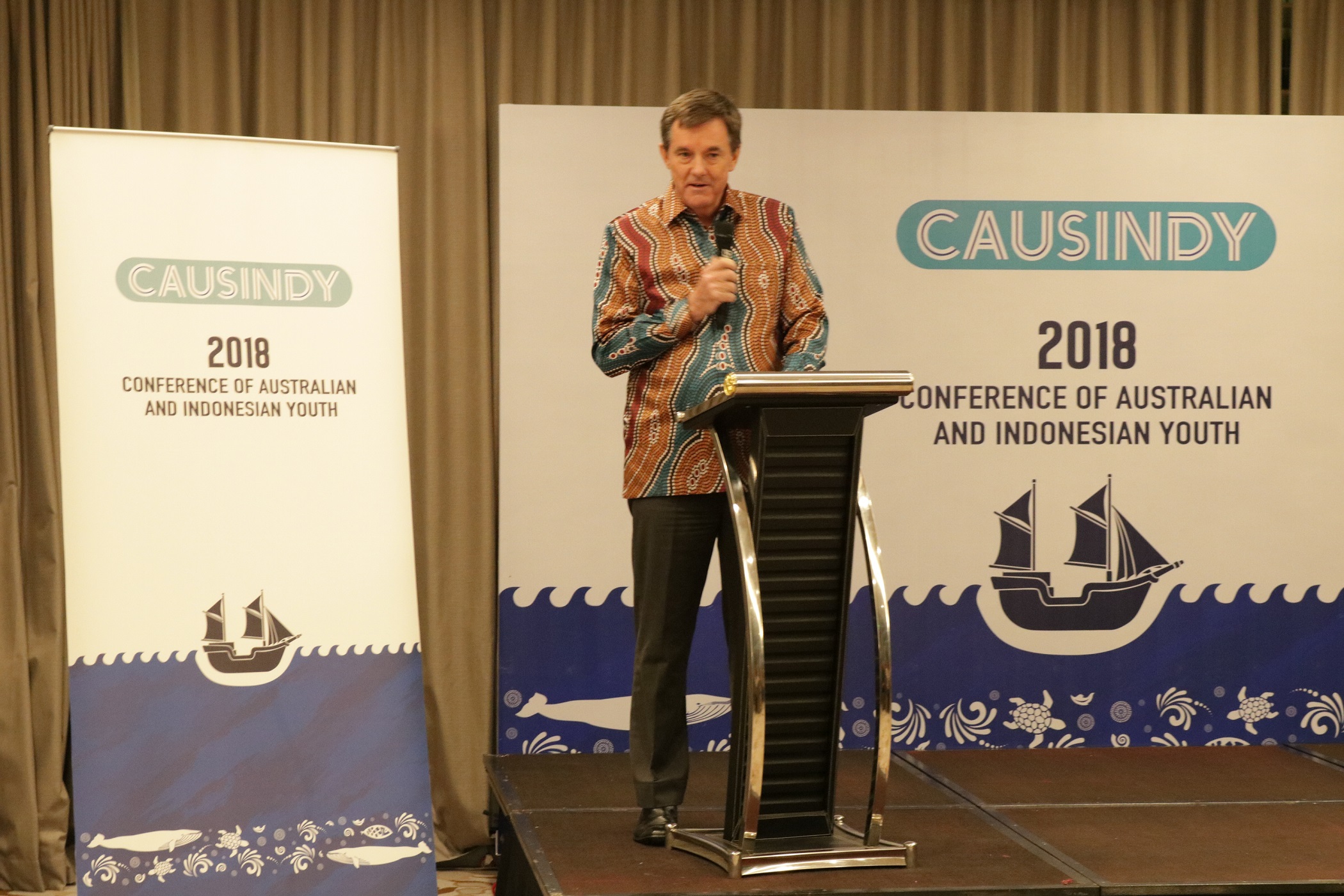 On 22nd March 2016, Australia's former-Foreign Minister, the Hon Julie Bishop MP, came to Makassar and formally opened our office. Our opening reception was held in the Wisma Kalla ballroom – where we were last night - and was attended by around three hundred guests. Ms Bishop gave a speech and introduced me, saying I had responsibility for representing Australia in the provinces of South Sulawesi, Southeast Sulawesi, West Sulawesi, Central Sulawesi, Gorontalo, North Sulawesi, Maluku, North Maluku, East Nusa Tenggara, Papua and West Papua. Then I gave my first speech as Consul-General to eastern Indonesia. It was a short speech in Indonesian, and I recall saying I would visit each of the eleven provinces we were accredited to as soon as possible.
This has proved not so easy. Eastern Indonesia, like the Australian outback, is a big place. So far, over the past two and a half years I have visited 7 out of the 11 provinces. My colleagues Sean and Aron have covered off on Papua and West Papua, which I have yet to visit. I also have yet to visit Central Sulawesi.
We have learnt that to give eastern Indonesia full justice you need a lot of time.
Ladies and gentlemen,
Eastern Indonesia is a big place, and is very different from Kalimantan, Java and Sumatra. The region we cover accounts for over 9,000 out of the 17,500 or so islands that make up Indonesia. The actual number of islands varies each year, and there is a little office in the UN which compiles an annual list from the Government of Indonesia of new islands named, and old ones that have disappeared.
Our eleven provinces have a population of over 31 million, mostly young people. This region includes some of the fastest growing provinces in the nation – eg South Sulawesi grew at 7.2 percent in 2017, well above the national average of around 5 percent. But it also includes the two poorest provinces in the nation – Papua and NTT.
The eastern provinces have long been Indonesia's backwater – Indonesia's outback if you like. During the Soeharto era these provinces received little funding support compared to the reformasi era. In the Dutch era they were extensively neglected too.
But 350 years ago these islands were among the most sought after in the world. In 1667, the Treaty of Breda which brought to an end the Second Anglo-Dutch War, involved a complex transfer of colonial possessions. Most famously the treaty involved the British conceding control over a tiny island in the Banda Sea called Pulau Run, in exchange for the Dutch territory of New Amsterdam – today known as New York. This secured total Dutch control over the nutmeg trade – then worth a fortune.
Today, these islands are becoming highly sought after again as tourism destinations, and things in the east are changing fast. Many people in eastern Indonesia live a modern lifestyle in the towns and cities. Connectivity is rapidly improving, with new air links to cities and towns across the eastern islands being announced each month. Sea connections have improved with the President's "toll laut" project, which subsidizes freight costs to some of the more distant provinces. Most cities have 4G access and with the forthcoming operation of the Palapa Ring broadband network, internet connectivity will steadily improve. The government is spending big on infrastructure across the eastern provinces. Under its National Strategic Projects plan, there are some 50 major projects slated for eastern Indonesia including new roads, bridges, ports and tourism infrastructure.
Just last week the State Owned Industries Minister, Rini Soemarno, launched 16 new port projects across eastern Indonesia. These are substantial increases in capacity for some existing ports, several billion dollars in national investment. For example, the Makassar New Port project when completed in 2032, will see some 228 Hectares of land reclaimed and turned into a modern container terminal and port. This new port will be built around one kilometre north of Makassar's existing Soekarno-Hatta port, and will increase container throughput fivefold.
Other ports are being expanded in Kendari in Southeast Sulawesi, Bitung in North Sulawesi, Parepare in South Sulawesi, and the port for the province of Gorontalo. In Papua, ports are being upgraded in Jayapura, Biak, Sorong and Manokwari. Ambon and Ternate will also get new ports.
The infrastructure drive also includes new airports, new bridges and even a railway. In what will be a first for eastern Indonesia, the national government is funding the construction of a railway line from Makassar to Parepare, 145 kilometers to the north. This railway line will traverse some spectacularly beautiful countryside, including passing through the Karst Mountains of Maros and Barru. At a cost of around Rp8.25 trillion it is not a small project. When completed this project will be a major stimulus for the agricultural and mining sectors of South Sulawesi. It will also be a great passenger journey, improving connectivity all along the west coast of Sulawesi.
Ladies and gentlemen,
Yesterday the business panel discussed the current challenge Indonesia is facing with the fall in the rupiah exchange rate. Pak Noke Kiroyan said he didn't think the current challenge was anything like the one that Indonesia faced in 1998. The economy today is very different, and Indonesia has the capacity today to get through these challenging times.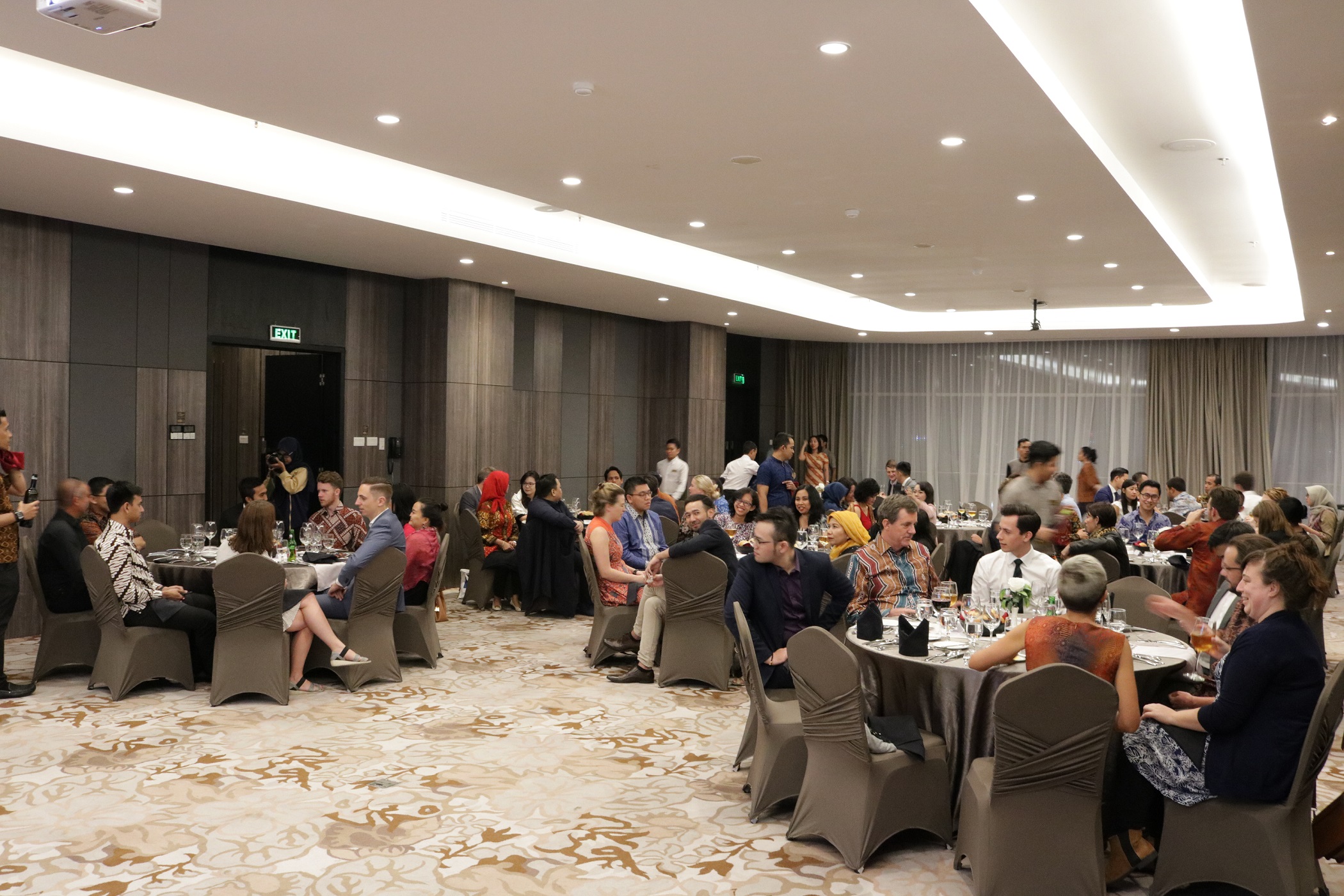 So what about the IA-CEPA, which we discussed yesterday? This agreement is the beginning of a long journey together for our two economies. Nothing about the current rupiah concerns should undermine the agreement's long-term value to our bilateral relationship. Over time this economic partnership will benefit both Indonesia and Australia, particularly by better positioning us to combine our strengths to export elsewhere and tap into global value chains.
For example, look at the benefit to the Indonesian economy of Australia's wheat exports. In 2017 Indonesia imported round USD3.6 billion worth of wheat, making it the world's largest importer of wheat. Of this around USD one billion came from Australia. Most of this wheat is turned into flour for Indonesia's domestic market, but a significant portion is made into instant noodles and exported to third markets. Some is exported back to Australia! There is great potential to grow this export market, for example in China, which is the world's greatest consumer of instant noodles.
Here in Makassar the Eastern Pearl Flour Mill located at the port in Makassar imports Australian wheat and turns it into flour for the eastern Indonesia market. PT Eastern Pearl is 50 percent owned by CBH holdings, the farmers' wheat cooperative based in Perth.
The trade in wheat and production of instant noodles is modelling the success of the trading relationship that existed for nearly two hundred years between the Makassans and the north Australians. As you may know, in the 19th century Makassan traders every year would seek good quality teripang, or sea cucumber, along the north coast of Arnhem Land and the Kimberley coast, then dry it and ship it back to Makassar. They paid royalties or in kind benefits to the local aboriginal communities for the rights to seek teripang in their waters.
Neither the aboriginal people of northern Australia nor the Makassans consumed teripang. But in Makassar they would sell the teripang to Chinese importers from Guangzhou and Xiamen, making good money from the trade. The Chinese sold it as a delicacy in the inns and taverns of imperial China. This was Australia and Indonesia working together to add value to a product exported to a third market.
Ladies and gentlemen
Australia has much good will in eastern Indonesia that we are doing our best to build on. The good will is based on history, and on the good work that has long been done through our aid program, which has focused heavily on the eastern provinces.
For example, wherever I go in the eastern provinces, I can usually find a local junior high school that has been built with Australian funds. Over ten years to the end of 2016 Australia helped build 2,725 junior high schools across 30 provinces of Indonesia, mostly in isolated parts of the country. For the Indonesian government the aim of this program was to help increase school participations rates, which it has done. In South Sulawesi alone there are 106 schools that were built under this joint education partnership.
Australia is now now continuing our education partnership with Indonesia through a new program called Inovasi, which is helping teachers in some of these isolated areas to increase skills and focus on improving literacy and numeracy rates among school children. Earlier this year I visited Sumba in East Nusa Tenggara, one of the poorest islands in the country, where kids leaving primary school often cannot read or do basic arithmetic. Inovasi is being piloted in Sumba. It was great to see teachers learning the basics of good teaching: how to inspire kids to read, how to develop good lesson plans, how to set up reading corners in their classrooms. The four Bupatis of Sumba have formed a local literacy and numeracy committee to back up the project: this is a result of Australian support.
In other areas of education we are also adding value to Indonesia's national development effort. The Australia Awards program will provide some 250 scholarships this year, for studying at Masters and PhD level in Australia, and many of those scholarship winners will come from eastern Indonesia.
In addition we have a diverse and popular Australia Awards short course program. Two courses that the Consulate-General in Makassar has strongly supported have been the Sustainable Tourism short course, and the Renewable Energy short course, both of which focus on building up a network of professionals in those two sectors across eastern Indonesia. Over the past three years of the Sustainable Tourism short course, many of our alumni have set up successful local tourism ventures. For example, Kris Syamsuddin from the Tourism Bureau in Ternate joined the course last year, and for his course project established a tourism village on the slopes of Mount Gammalama – the volcano of Ternate. His project centres on the world's oldest clove tree, and enabled the local villagers to preserve this tree and develop cultural and culinary tourism based on clove and nutmeg farming. Ternate, in the centre of the ancient Spice Islands, is famous for its cloves and nutmeg. Within six months the village had gone from zero monthly visitors to over 3,000 tourists per month.
We are also establishing Australian Corners at some of the leading universities across eastern Indonesia, to promote awareness of study and research opportunities in Australia, We also are developing our Australian alumni groups. In Makassar alone we have over 470 Australia Awards alumni and many more self-funded alumni whom we are targeting. Our alumni groups are particularly active in Makassar, Manado, Ambon and Kupang, and smaller groups exist all over the eastern provinces. Our alumni are often in senior local government, business or NGO positions, so are an invaluable source of support and information for any Australians who want to do business in this part of the world.
Ladies and gentlemen
The visit of Prime Minister Morrison to Indonesia last week was important for raising awareness of the importance of the bilateral relationship. I am sure it helped wake up some of Australia's business leaders to the great prospects that exist for building strong commercial and people-to-people links between our two countries.
But we need to add ballast to our bilateral relationship if we are to grow in the future. Prime Minister Morrison's visit reminded many of us that we need to build stronger people-to-people links. Good friendships between Prime Ministers and Presidents are great, but we need deeper and broader relations between ordinary Australians and ordinary Indonesians. We need to understand each other better. Groups like Causindy are playing a vitally important role in that project.
I am confident that the future for our trade and investment and people-to-people links with Indonesia – and especially eastern Indonesia - is very positive. I know that all of you are keen supporters of the bilateral relationship, and you will all go forth and help build those strong people-to-people links we need.
As PM Morrison said in his speech in Jakarta last Saturday, "Ayo, kita maju bersama!" C'mon, let's go forward together!
Thank you.