The islands of Raja Ampat in the province of West Papua are well-known for their healthy and diverse coral reefs and marine life, making them a top destination for divers from around the world. The islands are also famous for their birds of paradise, tropical forests, fascinating history, communities and beautiful scenery. And I discovered that in this hard to get to, isolated part of the Indonesian archipelago, there is good 4G telephone connectivity. Even on tiny sand islets there is a good signal: the number of phone towers on these islands is keeping pace with the growth of tourism, meeting the demand to be able to instantly post your tropical paradise story on social media.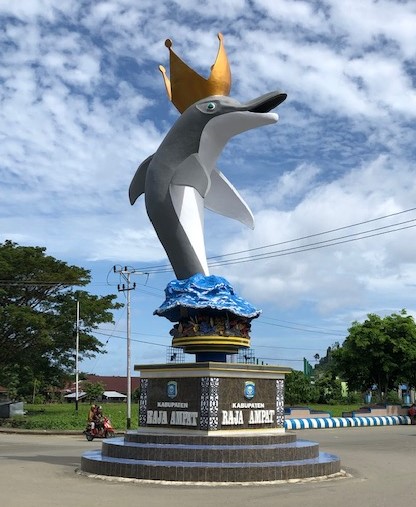 Still, getting to Raja Ampat takes time. We left Makassar at 4.00am on a two hour flight to Sorong, the largest town in West Papua province, then transferred to a ferry to Waisai, the capital of the Raja Ampat Regency on the island of Waigeo. The ferry was a modern and solid vessel with an air-conditioned VIP section, so the two hour journey across the Dampier Strait was comfortable. There are plenty of dive resorts, eco-resorts and homestays on Waigeo Island. To get to good diving or snorkelling sites is another speedboat ride from Waigeo.
On arriving in Waisai we went straight to meet the Bupati (Regent) of Raja Ampat, Pak Abdul Faris Umlati. Driving through the town we passed some interesting maritime-themed public art. My favourite statue was a dolphin wearing a crown, symbolising the "four kings" of local mythology who once occupied the four largest islands of the region. We also saw a local church built in the form of a turtle, and the Bupati's office had two-storey conch shell structures framing its façade.
Pak Abdul Faris was joined in our meeting by Fikri, an officer from the tourism department and a graduate from the Australia Awards Sustainable Tourism short course (2016). They told me that tourism is growing fast in Raja Ampat, with around 25,000 foreign tourists and 20,000 domestic tourists visiting in 2018. Australians were the fifth largest foreign tourist group at about 1,100. Most tourists come to dive or snorkel the reefs; many also arrive on live-aboard luxury yachts and modern perahus; and some go out to the islands to stay in homestays run by island communities. The local government works with the Raja Ampat Homestay Association to ensure that islanders meet basic accommodation, health and hygiene standards. In anticipation of potential diving accidents a four-person hyperbaric chamber has been installed at the Waisai public hospital. To boost local skills in conservation tourism, the University of Papua has opened an Eco-tourism College in Waisai.
Clearly, the people of Raja Ampat are doing their best to conserve the reefs and natural environment because they know this is what the tourists come for. Their islands are clean and tidy. Bupati Abdul Faris has issued a declaration "inviting" the community to only use tumblers or reusable drinking vessels and most accommodation in the Raja Ampat islands no longer use single-use plastic bottles. This conservation approach is catching on: in 2015 the Governor of West Papua province declared the province a "conservation province"; and in October 2018 the Governors of both West Papua and Papua provinces issued the "Manokwari Declaration", committing to conserve 70 per cent of Papua's forests.
***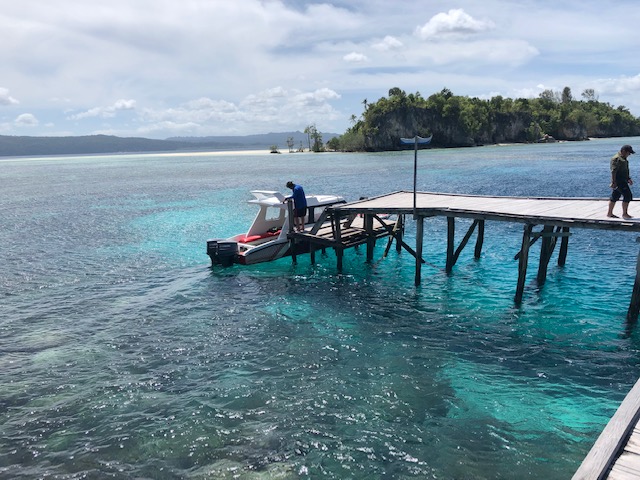 The next day was a Saturday, so we took a trip out to the islands on a speedboat, accompanied by Fikri from the tourism department. It's not cheap chartering a speedboat from Waisai because all fuel and supplies must be imported into these remote islands, pushing up costs. If you do charter a speedboat, check that it has life jackets and ask the captain to give you a safety briefing. Most of the year the seas around Raja Ampat are calm, but Pak Fikri told me that from June to August seas are rough during what is known as the Southern Wind season. Indeed, while we were in Raja Ampat a long-boat of 15 villagers disappeared while crossing from Sorong to Waigeo Island. Only two survivors were recovered.
We got a taste of the rough seas when the captain of our speedboat took us to Arborek Island, about one hour west from Waisai. In open water between the islands we encountered a one meter swell and drenching white caps. But on entering the lee of Arborek Island the water was calm and we came alongside the jetty, famous for its thousands of friendly fish. On the north side of the island we were protected from the southern winds and snorkelled among milk fish, parrot fish, angel fish, bat fish and I also saw a black tipped reef shark. We swam over over good healthy, coral and found two enormous giant clams embedded in the reef in only two meters of water. The islanders are justly famous for their commitment to preserve their reef and fish: no fishing is allowed around the jetty area.
On shore we were able to buy a cup of coffee – in a reusable solid plastic cup. Fikri showed me some signage that he had developed following his participation in the Sustainable Tourism course in Australia. He said that he had noticed that most tourism sites in Australia are very well signed, enhancing the visitor experience with relevant information as well as useful tips on what to do and not do (e.g. no fishing around the jetty). So he had applied that learning to Raja Ampat, and now his informative, weather-resistant signs can be found at most key tourism sites around the Regency.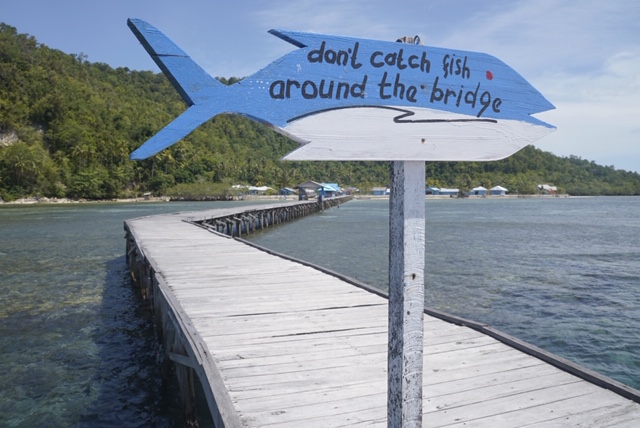 Later we lunched on fish and rice at Yenbuba village on Mansuar Island. Little homestays dotted the beaches of all the islands we passed, and I thought how idyllic it would be to spend a week lost on one of these islands, eating fish and rice, snorkelling, reading, contemplating life.
Our last stop was the Friwin Wall on the lee side of Friwin Island. Friwin Wall is a reef along the base of the island that is rich with corals and fish. We came alongside the jetty of a little homestay on the north end of the island. The owner was there with his sons, the boys cavorting in the sea. What a place to grow up, I thought.
The Friwen Wall was spectacular snorkelling, representative of the incredible biodiversity of this region. I have never seen so many different species of coral in one location. We found a family of "Nemos" hiding among the tendrils of some soft coral. I saw an unusual green coral with little triangular fish bite marks.
***
On Sunday in our hotel in Waisai I had morning tea with the Ketua Dewan Adat, or Chair of the Indigenous Peoples Traditional Council of Raja Ampat, Yohanis Arempele. Pak Yohanis used to work in the oil industry but has now retired and returned to Waisai to lead the newly reconstituted Dewan Adat which represents the traditional owners of the Raja Ampat islands, the Maya people. The Maya tribe are made up of some 15 sub-groups in 38 villages scattered across the four main islands (Waigeo, Salawati, Batanta and Misool islands) and many smaller islands of the Regency.
Pak Yohanis' key concern is that the traditional rights of the Maya people are being abused by unscrupulous investors, outsiders and others who want to profit from the growing tourism industry in the islands. Land ownership was a particularly complicated thing in the islands, with tribal groups and sub-groups often making conflicting claims over particular islands or parts of islands.
Later I met Edhi Yansyah, another graduate from the Australia Awards Sustainable Tourism course, who runs a small Nature Lodge on Misool Island. Edhi confirmed that land ownership is a touchy issue in the islands, with many communities unsure of how to deal with interest from investors in developing resorts or hotels on their islands. Edhi said the best solution for an investor and a local community was to establish a joint venture, thus involving the community in the project, employing and training locals and sharing the profits. Just buying or contracting the land from the local community would lead to problems down the track when people realised they no longer had control over their land, or when others disputed who actually owned the land.
Raja Ampat is a very beautiful place, one of the world's great marine tourism destinations with a very promising future. It has its problems, but the people are working through them while conserving their natural and environmental assets. Australia's support through, for example, the Australia Awards short course in Sustainable Tourism, is much needed and appreciated.
For more information on visiting Raja Ampat this website is very useful: www.stayrajaampat.com.
July 2019