The band stops playing a Muslim prayer set to music, and I am asked to address the gathering. Sixty young orphans from two separate Islamic Boarding Schools (pesantren) have been roused up by the MC and seem interested in what the Australian Consul-General (Pak KonJen) might have to say. Some of them have already proven they prepared for this event by correctly answering the MC's questions about Australia. They knew Canberra is the capital of Australia, for example.
Fortunately, I recite without stumbling the Arabic introduction to my comments: Assalamuailaikum, warrahmatulahi, wabarakatuh, and am applauded for the effort. The staff and board of the organisers of this event, the Indonesian Mosques and Mushollas Association in Makassar (IMMIM), are quite generous towards Pak KonJen.
"So kids" I say, "I see you know what the capital of Australia is – quite impressive. But do you know whether Australia is to the north or south of Indonesia?" They all shout out "south!" Too easy.
"OK. But what is south of Australia?" Silence. I explain that south is a lot of ocean, then the land of the penguins. What is that land called? An adult member of the audience shouts out "Madagascar?" Disney movies it seems are a powerful force for (mis)-education …
Good try I say, but actually if you go far enough south you reach the "kutub selatan", the South Pole. Australia is in between hot tropical Indonesia and cold frozen Antarctica, where the penguins live. Collective in-drawing of breath: OK, so?
I try to explain how we are all inhabitants of the same planet, we all share a common humanity even though we have different faiths, and are from different ethnic groups and countries. I emphasise how Muslims in Australia also celebrate Ramadan, and that "you young people, if you study hard and graduate from high school and go to university, then one day you too might be able to win a scholarship to study in Australia". And learn how Australian Muslims celebrate Ramadan and Hari Raya Idul Fitri!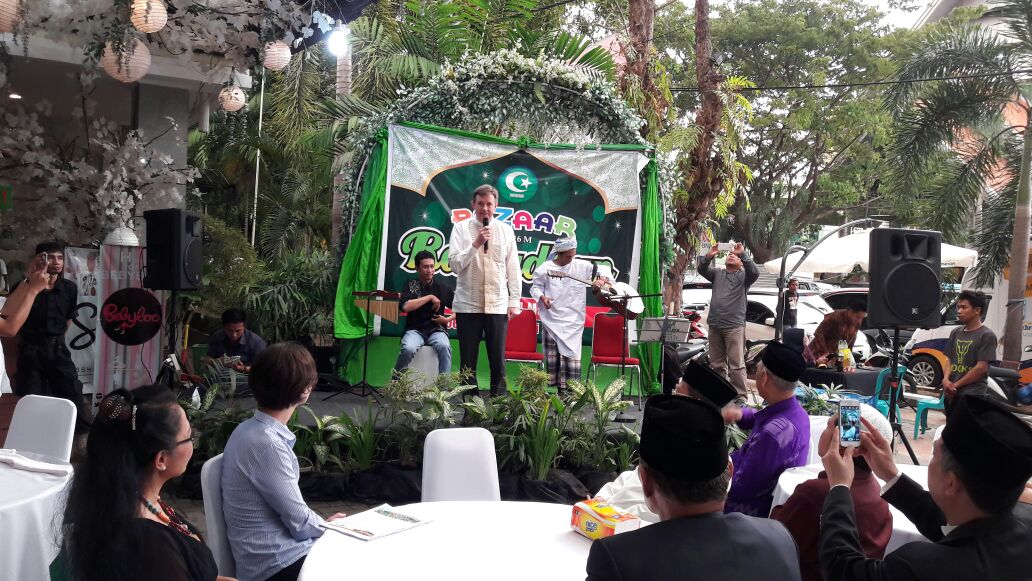 The end of the fasting month of Ramadan is fast approaching, and the atmosphere here is becoming ever more celebratory. Behind our office building are rows of stalls which from early in the afternoon begin selling snacks and food for buka puasa (breaking the fast) which happens at sunset - around 6.00pm. One of my favourites is a local delicacy called barongko, a mixture of mashed banana, coconut milk and sugar syrup wrapped and boiled in a banana leaf. And there are many other local savoury dishes.
Every day throughout Ramadan events to celebrate the breaking of the fast happen all over Indonesia. The event with IMMIM and the orphans was the fourth such event that I have hosted this month. These events are fun and relaxed occasions when we can mix with our friends and counterparts, and get to know each other in a positive and informal setting. They are also important public occasions, and an opportunity to spread good messages. My messages this fasting month have all been about the importance of education, and the key role Australia can play in helping Indonesia achieve better education outcomes for its young people.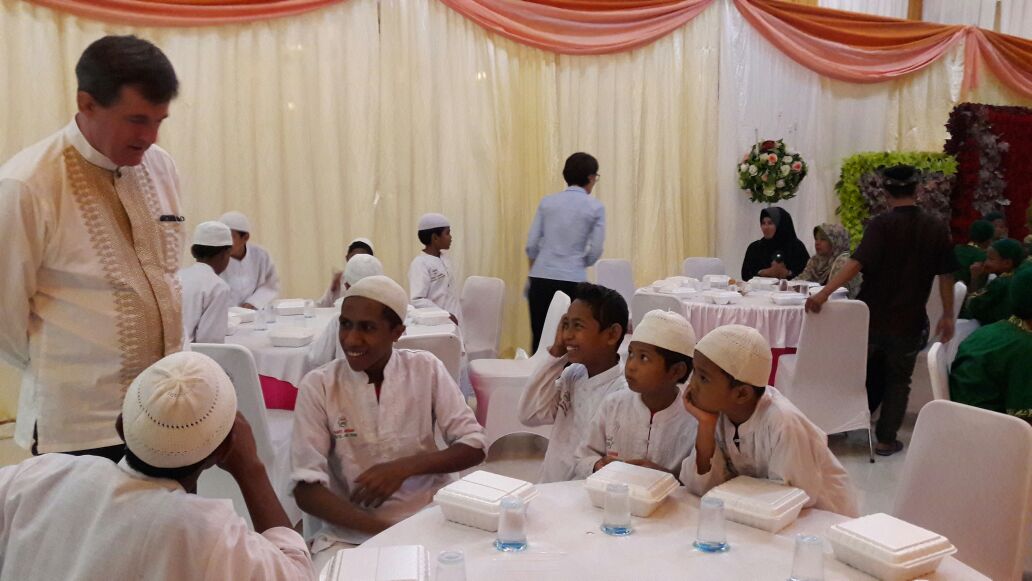 After my speech to the orphans we file into the dining hall and sit at tables, waiting for the precise time when we can start eating and drinking. Putri and I are seated next to the Chairman of IMMIM, Prof Ahmad Sewang, and others from the Board of Directors. At precisely 5.59pm we get the nod that we can break the fast. Light local sweets seem to be very popular for the initial breaking of the fast. Then everyone goes off to the mosque (upstairs at the IMMIM building) for the Maghrib prayers, then shortly afterwards return for a substantial meal. Over dinner, Prof Sewang gives a speech where he echoes my comments about the importance of education.
Later we do what all Indonesians do at the end of an event – in fact all people in Asia? – we have an extended photo session. I learn that many of the children from the pesantren are from the poorer provinces of eastern Indonesia, such as East Nusa Tenggara (NTT). A few boys from Kupang, gangly youths in their late teens, tell me they would like to become teachers. We take photos together.
Finally, we line up and as the children leave we handout books and pens that Putri has bought. The children press our hands to their heads in a symbol of gratitude and respect. It's very touching, and I wonder what sort of future these 60 kids will have.
***