It is now nearly three months since the Consulate-General moved to a system of red and blue teams, with each team alternately working in the office for two days then two days working from home. This of course, was in response to the Coronavirus pandemic, a means to ensure that if a staff member became infected then only that person's team would have been exposed to the virus and the other team could continue operating the office.
As for almost every other office on the planet it has been difficult. We have however, held frequent on-line meetings and are in regular contact throughout the working day and on weekends via communication tools such as WhatsApp and Webex. Using these tools our staff – for the time being located in Makassar, Melbourne, Jakarta and Canberra – have been able to continuously monitor and report on the spread of the virus across the eastern provinces of Indonesia, and to assist numerous Australians with the latest visa, travel and health information. We have also assisted many Australians to find a way to leave the country and return to Australia.
We are also using these tools to reconnect with our friends and stakeholders across South Sulawesi and other parts of the archipelago. In May we held a successful webinar with Australians still residing in eastern Indonesia to discuss travel restrictions and the Covid-19 situation in their particular locations. A number of Australians we connected with have decided to ride out the pandemic where they are: some are staying put on board their yachts in beautiful Tual and the Raja Ampat islands; other Australians are running businesses in places such as Sorong, Manado or Balikpapan; others are married to local Indonesians and have long lived in Indonesia. We learnt that many Australians in Indonesia are raising funds to support local hospitals and clinics in fighting the spread of the disease.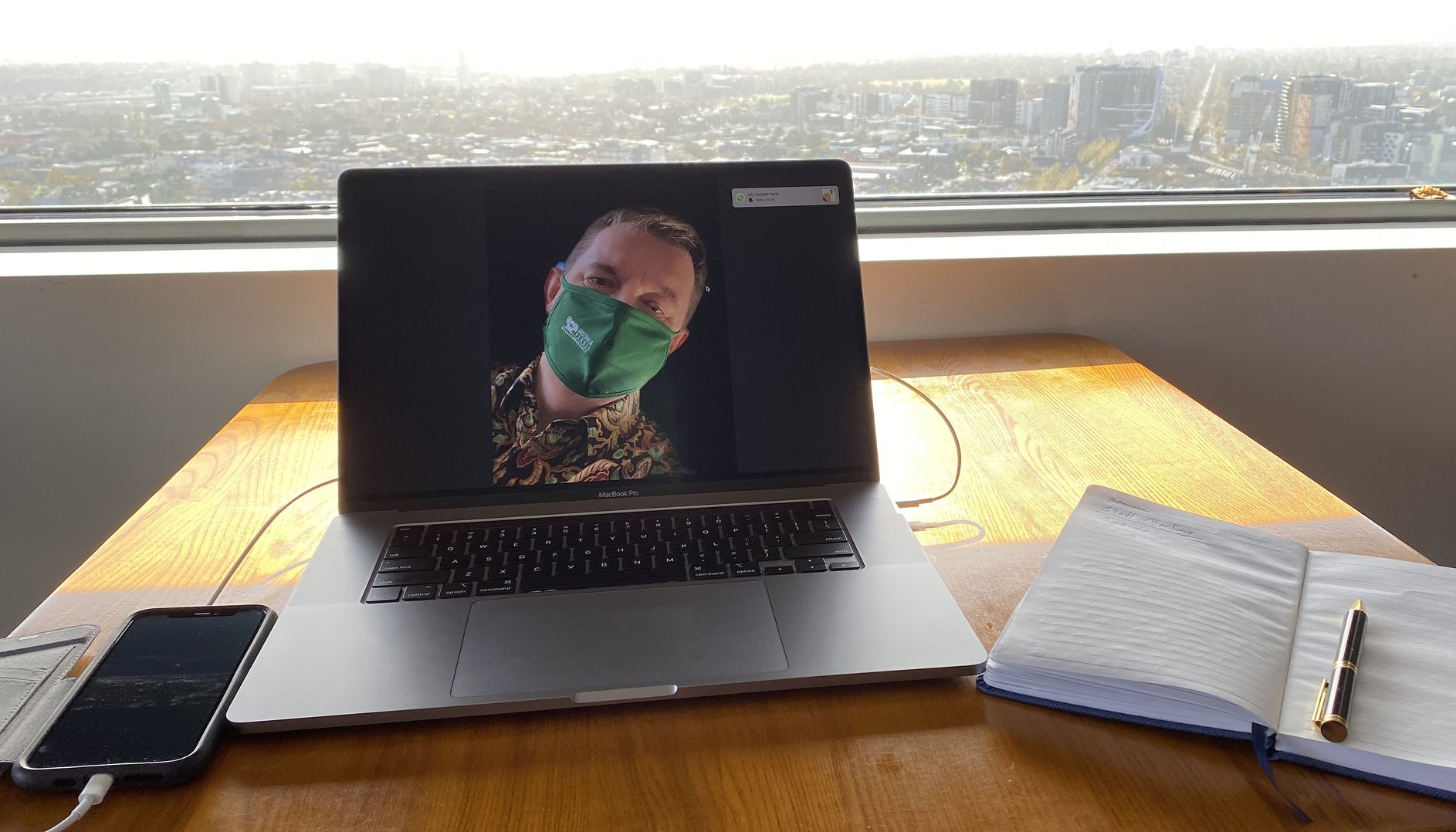 Recently I was very happy to reconnect with IKAMA (Ikatan Alumni Australia SulSel), the South Sulawesi Australian Alumni Association and also with the Rumata' ArtSpace, an artists' collective in Makassar. Both events were on-line of course, using Zoom. It was great to see the faces and hear the voices of good friends from Makassar and South Sulawesi with whom we have worked with closely over the past four years.
The IKAMA event was a halal-bihalal, a custom where people pay respect to their elders, family or colleagues after the idul fitri celebrations at the end of the fasting month. I connected from Melbourne where I have temporarily relocated, and this is the amazing thing: if it wasn't for this unfortunate pandemic it is unlikely the halal bihalal would have been held on-line.
The President of IKAMA, Professor Jamaluddin Jompa (PhD JCU), was chairing the meeting and welcomed me to the group. I thanked "Prof JJ" and all IKAMA members for the great support they have given to the activities of the Consulate-General and said that under new leadership the Consulate-General would continue to build and maintain close friendships with alumni across South Sulawesi and the eastern archipelago. I recalled some of our successes, including IKAMA's project to help the children of poor fisherfolk who often drop out of junior high school because of obligations to help their parents fishing at sea. IKAMA's project, which the Consulate-General supported through our Direct Aid Program (DAP) and in which I took a close interest, was later adopted by one of the Australia-Indonesia partnership programs called Kompak. The program continues to help many young students stay at school throughout the islands of Pangkep regency in South Sulawesi.
Another leader of the Australian alumni community in Makassar, Professor Hamdan Juhannis (PhD ANU), was invited to deliver "a few words" to all present. Prof Hamdan is renowned both as a writer and an entertaining speaker. He is the Rector of Alauddin State Islamic University, the leading Islamic University in South Sulawesi, and he has recorded his fascinating life story in his autobiography (now also a film) called Melawan Takdir (Against Fate). Everyone knew his speech would not be "a few words".
He recounted stories about his life in Australia and in Makassar, all delivered with a subtle moral message. For example, he said as a student in Australia he had experienced living as a "minority" and that was an eye-opening experience. Indonesian Muslims, the majority in their own country, should do well to appreciate the challenges faced by their own minorities, he said.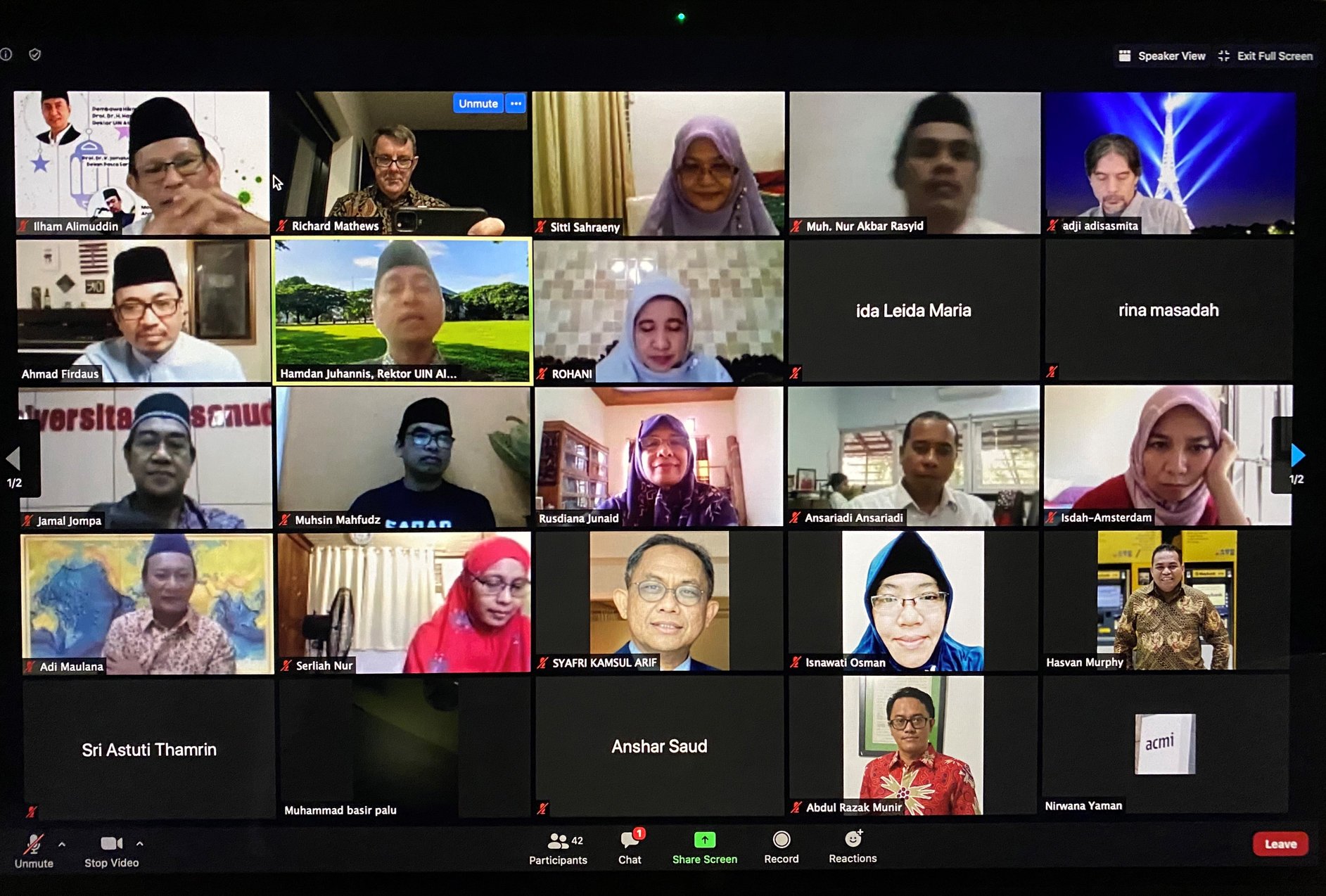 Prof Hamdan also noted how the pandemic had made many people more empathetic, more aware of the sufferings of others. Many community and religious groups were mobilising to help the poor and front-line health care workers. I said that in Australia I had noticed the same and I hoped this sense of empathy would continue after the pandemic was over.
As a religious scholar Prof Hamdan was also asked for his views on religious challenges, such as being required to pray from home rather than attend Friday prayers at the mosque (the government has urged people to avoid large religious gatherings). Prof Hamdan said that there was no requirement during a pandemic to attend the mosque, indeed he noted that there were so many mosques in Makassar that one didn't need to attend one to hear the azan or even listen to the sermon, which were still broadcast "at full blast" over loudspeakers. He even speculated about the "virtualisation of religion". He said if people could pray "virtually" from home, then why couldn't they do the haj "virtually"? A daring concept which I suspect might take many years to be accepted.
***
Our webinar with Rumata was chaired by Ibu Lily Yulianti Farid, the founder of the Makassar International Writers Festival and a dynamic supporter of cultural links between Australia and South Sulawesi. For two hours we chatted about building on the existing cultural links between our two countries, and Ibu Putri and I answered many questions from the audience about our time in Makassar. I said I was particularly keen to see the cultural, historical and people-to-people links between Makassar and northern Australia further developed. One questioner asked about my impressions from travelling about the eastern provinces over the past four years. I said I had felt privileged to visit some of the most culturally rich and beautiful parts of Indonesia as part of my official duties. I had wanted to share my experiences with fellow Australians, most of whom knew very little about the richness, beauty and friendliness of the people living just to our north. So, from the start of my posting I had written a blog about my travels – and this is my 52nd blog as Consul-General.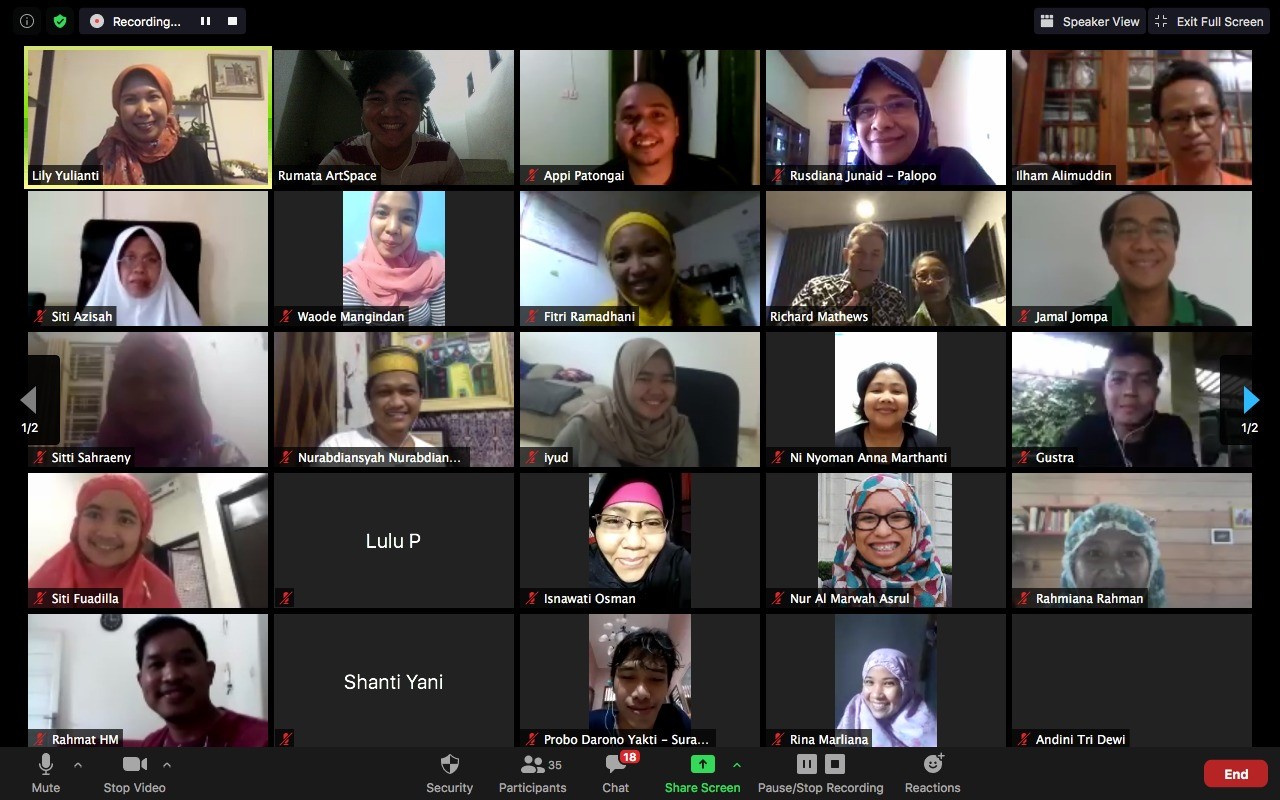 Ibu Lily, Prof JJ and all our friends made it clear that these webinars were not "selamat jalan" but "sampai jumpa lagi" as far as they were concerned: they knew Ibu Putri and I would come back to Makassar one day (of course we will, but I said I expected it would be a long time before the travel restrictions were lifted).
We might be in different parts of the world but during this terrible pandemic it has been relatively easy to stay in contact. Indonesia has very good internet coverage so by using on-line tools it is just like popping in to see the neighbours. Indeed, Indonesia is our most important neighbour, and many of us have very strong friendships with the folk next door. It might be some time before we can physically visit each other again, so we are fortunate that we have this ability to maintain our friendships in a time of corona.
June 2020 ***