In DFAT's small posts like the Consulate-General in Makassar we have peaks and troughs: periods of frantic madness when we are trying to juggle several different activities at once, then periods when we can sit back and write reports, plan future activities and – for example - write blogs.
The past few weeks have definitely been a time of "peaks" for us. It never rains but it pours.
It began at the beginning of May, with the opening of the Australian retail promotion month, organised by Austrade and based at Makassar's local Gelael Signature supermarket. Austrade frequently holds promotions like this in cooperation with DFAT posts around the world. We work with a local quality supermarket to put the Australian products on prominent display; maybe the supermarket chain will introduce some new lines from Australia too – for example, this year in Makassar, Gelael has introduced Bundaberg ginger beer and other drinks.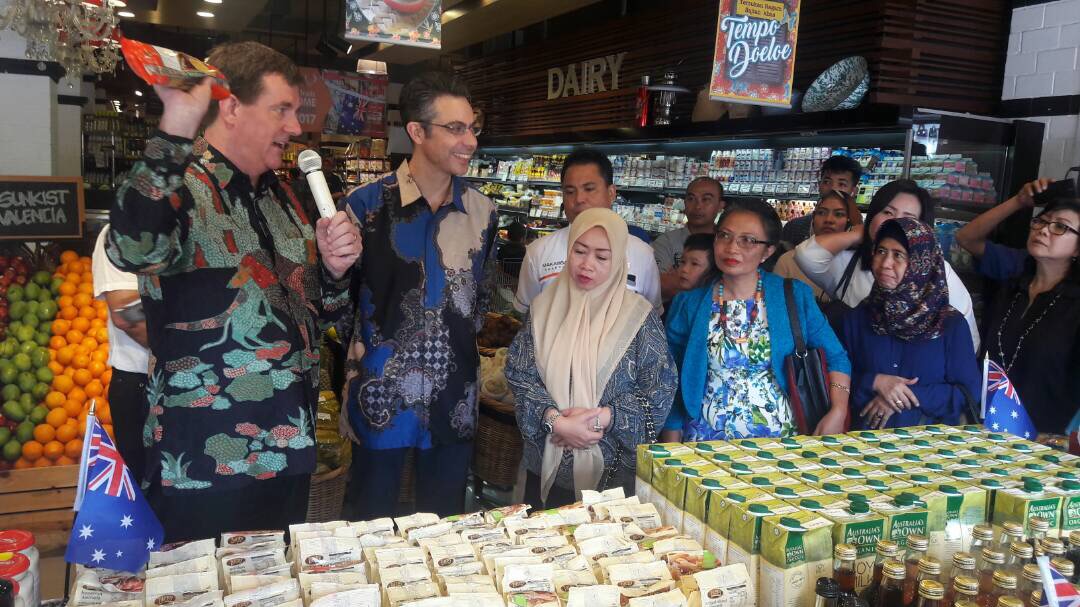 In addition we organise food and beverage related events. I spoke at a food and safety seminar that Austrade organised where two experts on food handling and safety - both Australian alumni from Jakarta – gave interesting presentations to a room of over 100 students and hospitality industry professionals.
We also hosted a cooking demonstration using Australian beef, an Australian coffee culture event, and a special dinner for local VIPs showcasing Aussie lamb and beef. The Mayor of Makassar, Pak Danny Pomanto and his wife, were my guests of honour at this dinner. Pak Danny, entertaining and unpredictable as ever, dropped a surprise on us in his speech: he wants to hold a "Makassar Day" in Australia where he will showcase dishes such as coto Makassar, but in this case he wants to use kangaroo meat rather than beef. I guess I should have seen this coming: I have been quietly popularising kangaroo meat as an alternative to beef at my functions in Makassar (check out the health and environmental values of consuming kangaroo compared to beef here: http://gourmetgame.com.au/nutrition/nutritional-facts/ ). I volunteered to try kangaroo as an ingredient first, to see if it works in coto Makassar.
In the middle of May two young alumni from the University of South Australia, Andi Mutiara Alwi and her business partner Francis Chow, organised International Entrepreneur Week 2017 in Makassar, based on a similar event Entrepreneur Story held in Adelaide in 2016: young (mainly) entrepreneurs gather to talk about their experiences, trials and tribulations in starting-up their firms. Mutiara and Francis were able to get 33 Australians to come to Makassar, including 10 entrepreneurs, to join a trade show and speak at seminars about entrepreneurship and innovation. They brought a larger Australian delegation to Makassar than many government organisations could! The Consulate-General contributed a stall displaying the products of Australian alumni in Makassar. Mutiara's father, Alwi Hamu, who is the founder and owner of the Fajar newspaper group, invited me along to the launch, and Fajar published detailed accounts of the event.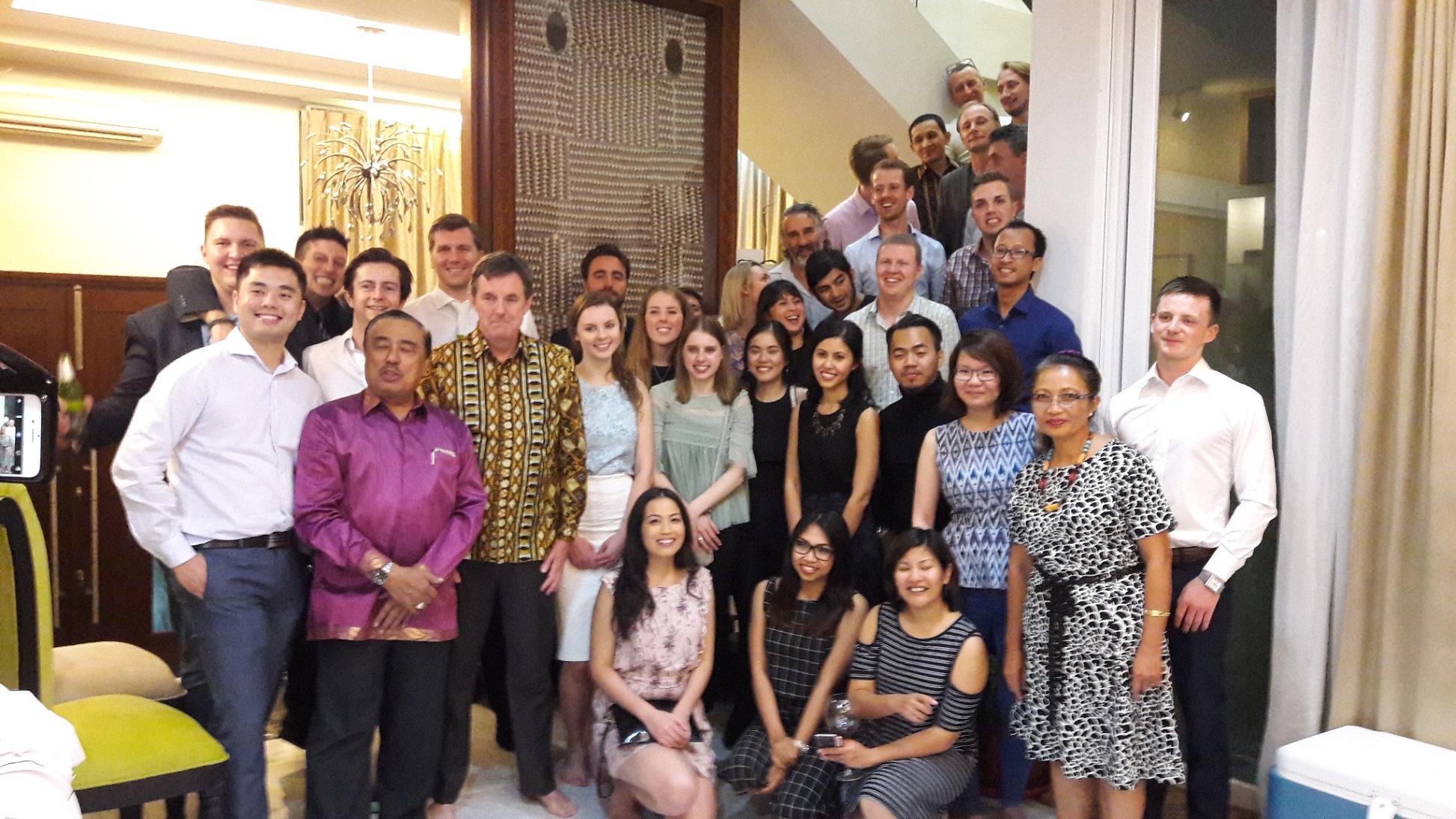 There is a lot of interest in Makassar in the concept of entrepreneurship. This is perhaps not surprising in a city where locals have been involved in global trade for centuries, and a city where a number of major Indonesian conglomerates – including the Kalla Group and Bosowa Group – have their headquarters.
That same week we were very happy to host a visit to Makassar by five young Australian Islamic leaders, under the Embassy's flagship Muslim Exchange Program (MEP). MEP has been running for several years and enables young Muslims from Australia and Indonesia to experience how Islam and other religions are practised in each other's countries. The group of Australians visiting Makassar were leaders in museum studies, nursing, community sports development; one was also a lawyer, another was a neuroscientist. They spoke eloquently about being Muslim in Australia to fascinated audiences of Islamic leaders in Makassar. These included a group I have frequently worked with since arriving in Makassar: the Mosques and Mushollas Network of Makassar Limited (IMMIM), a private foundation that supports improved education among Muslims, preachers and Imams in particular. IMMIM also supports activities to empower women and girls; and the foundation runs two Islamic boarding schools (pesantren) and some orphanages (my blog http://makassar.consulate.gov.au/mksr/Blog_5.html describes an IMMIM event we supported in 2016).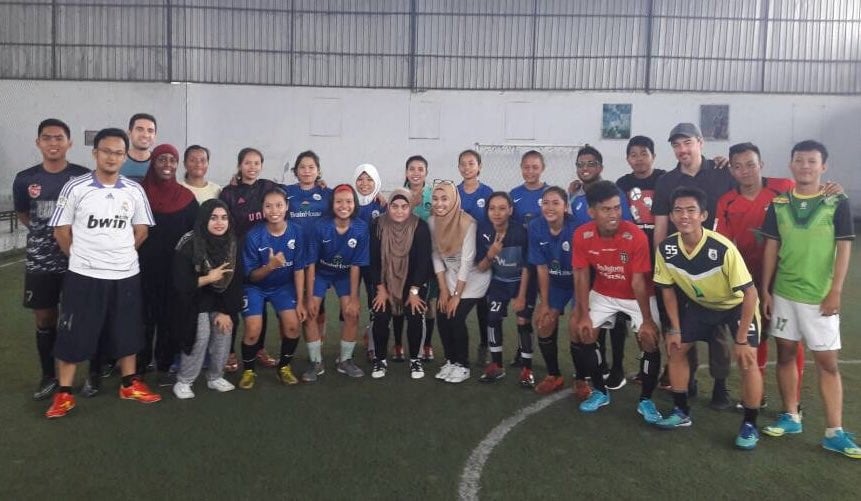 The MEP delegation also visited the largest private university in Makassar, Universitas Muslim Indonesia (UMI - the Indonesia Muslim University). Our host was the Rector, Ibu Prof Dr Hj Masrurah Mochtar – one of six female Rectors in Makassar.
The other event which has kept us busy in May was the Makassar International Writers Festival (MIWF), a community-based literary event held annually in beautiful Fort Rotterdam. MIWF was founded seven years ago by an amazingly hard-working woman from Makassar who now lives in Melbourne: Lily Yulianti Farid. Lily is herself a writer. The festival brings writers and performers from all over Indonesia and overseas to Makassar, putting this city on the global literary map. The Australian Consulate-General supported the festival: four Australian writers participated in seminars, workshops and celebrations over four days. We capped off the week with a dinner at one of Makassar's great seafood restaurants, where I was very happy to also have French ambassador Jean-Charles Berthonnet as my guest. We discussed how Makassar, Australia and France can collaborate on future projects.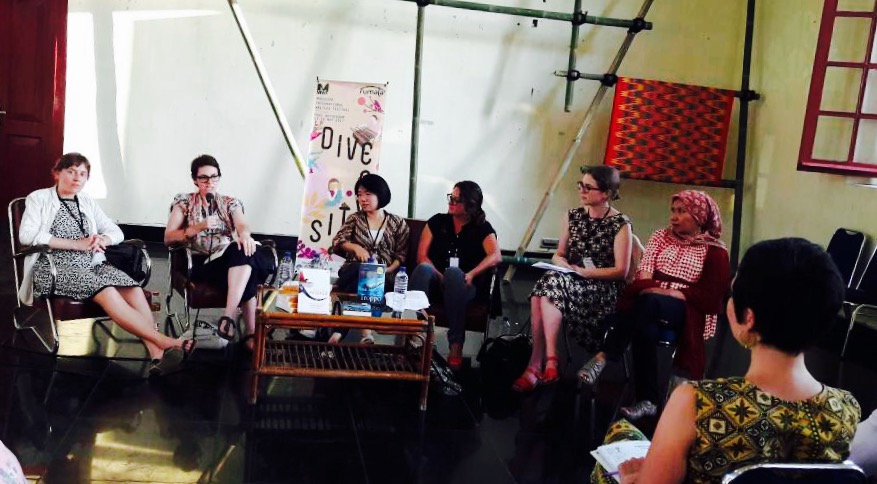 I have to admit that this has been a month of "functions", but functions with a purpose. We use our budget allocations carefully to support activities that bring people together, enable different groups to interact and explore new ideas, and hopefully, generate new activities and new business. Everything we do must pass the test: could we justify it in front of the Senate Estimates committee of the Australian parliament? At least Senate Estimates is a much better test than the so-called "pub-test" of populist politics.
We have a few more "functions with a purpose" coming up. The fasting month of Ramadan begins this coming weekend, and over the following three weeks we will host a number of buka puasa (breaking of the fast) events in Makassar. A buka puasa event will typically start around 5.30pm with a few short speeches, followed by the maghrib prayers. After prayers we will formally break the fast with sweets, drinks and a light-ish meal. This pleasant tradition is a chance to thank groups of people with whom we have worked over the previous year.
We will also support some traditional charitable activities, including a buka puasa for children from IMMIM's orphanages; and a buka puasa event for orphans at our local mosque. Ramadan is a truly holy month in Makassar, and an opportunity - for people of all faiths - to reflect on the rights and wrongs of the past year.
***