On my travels around the eastern provinces of Indonesia I am often asked by Governors, Bupatis and business people, "what can Australia do to help us develop our tourism sector?" All levels of government in Indonesia are promoting tourism with the expectation it will bring progress and prosperity to the long-neglected people of eastern Indonesia. And certainly the beauty of eastern Indonesia is a great national asset – for example, see my blog about Bajawa regency in eastern Flores.[1]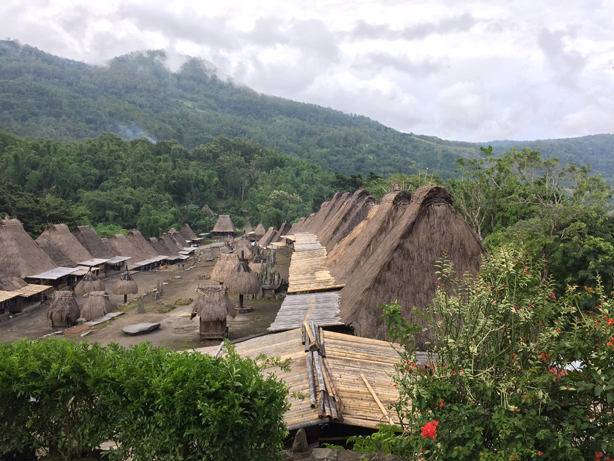 Bena traditional village, Bajawa, Flores
I think there is a lot that Australia can do to help. Australia has around 150 years of experience in tourism, both in developing our own environmentally and culturally sensitive tourism destinations, and in developing mass tourism destinations such as the Gold Coast. It makes sense that we share this experience with our neighbours in eastern Indonesia, to help develop destinations that will undoubtedly be visited by increasing numbers of Australian citizens.
Our businesses are also experienced in investing in Indonesian tourism. Since the 1950s Australians have invested heavily in Bali: from small scale losmen and villa projects, to major hotel developments; cool, hip cafe developments to leading restaurants; major tourist activities such as white-water rafting, trekking and bike-riding, marine tourism, and agro-tourism projects. Australian institutions are good at hospitality training too, and there is a huge and growing demand for well-trained hotel and hospitality staff across Indonesia.
Australian tourism businesses have told me they are already looking at opportunities in eastern Indonesia, and I think as good neighbours and frequent visitors, Australians make more sensitive and understanding partners in the tourism sector than others.
But major hurdles exist. For example, Indonesian central government and local government regulations on tourism investment are often contradictory; rules on the employment of foreign experts or tourism business managers are restrictive and cumbersome; burdensome import regulations for important inputs for the tourism sector make running a competitive tourism business difficult. The rules for foreign investment in tourism are much easier, for example, in Thailand and Vietnam. I hope that Indonesia's negotiators currently working on the Indonesia-Australia Closer Economic Partnership (IA –CEPA) will agree to relax these rules for Australian investors and business owners: it would benefit Indonesia to allow Australian investors better access to its own tourism sector.
***
You may have heard of the "ten new Balis" which the Indonesian government has been promoting as a way to surge growth in the tourism sector. According to the tourism ministry, the ten new Balis are: Lake Toba in North Sumatra; Belitung in Bangka Belitung; Tanjung Lesung in Banten; the Thousand Islands north of Jakarta; Borobudur Temple in Central Java; Mount Bromo in East Java; Mandalika in Lombok, West Nusa Tenggara; Labuhan Bajo and Komodo Island in East Nusa Tenggara; Wakatobi National Park in Southeast Sulawesi; and Morotai island in North Maluku.
Three of these "new" destinations are in eastern Indonesia, and some of the destinations are already well-known, others less so. For example, Morotai Island is far off in northeast North Maluku province, has little infrastructure, but is famous for its beautiful corals and potential for marine tourism. It was also where Allied Forces established their main forward base from which to free eastern Indonesia from Japanese occupation at the end of World War II: tens of thousands of young Australian soldiers passed through that part of the world in 1945.
The Minister for Tourism, Pak Arief Yahya, has been heavily promoting foreign investment in these ten new destinations, saying the government will put in basic infrastructure, including international airports, but the private sector is encouraged to build the hotels, tourism activities and other amenities.[2]
There are already many other eastern Indonesian destinations well-known among backpackers and independent travellers, such as the Raja Ampat islands in West Papua, Toraja in South Sulawesi, Bunaken and Manado in North Sulawesi. Some are difficult to get to, but tourism numbers are beginning to take off in Manado since direct flights to mainland China began in the middle of 2016. Maluku too has a wealth of lovely destinations which, with some targeted investment in improved transport infrastructure, hotel and destination development, and better training in hospitality and a focus on improved guest-experiences, could result in increased visitor numbers. Ambon, Ternate and Tidore, and Banda Naira have all the elements that could go into making a great visitor experience.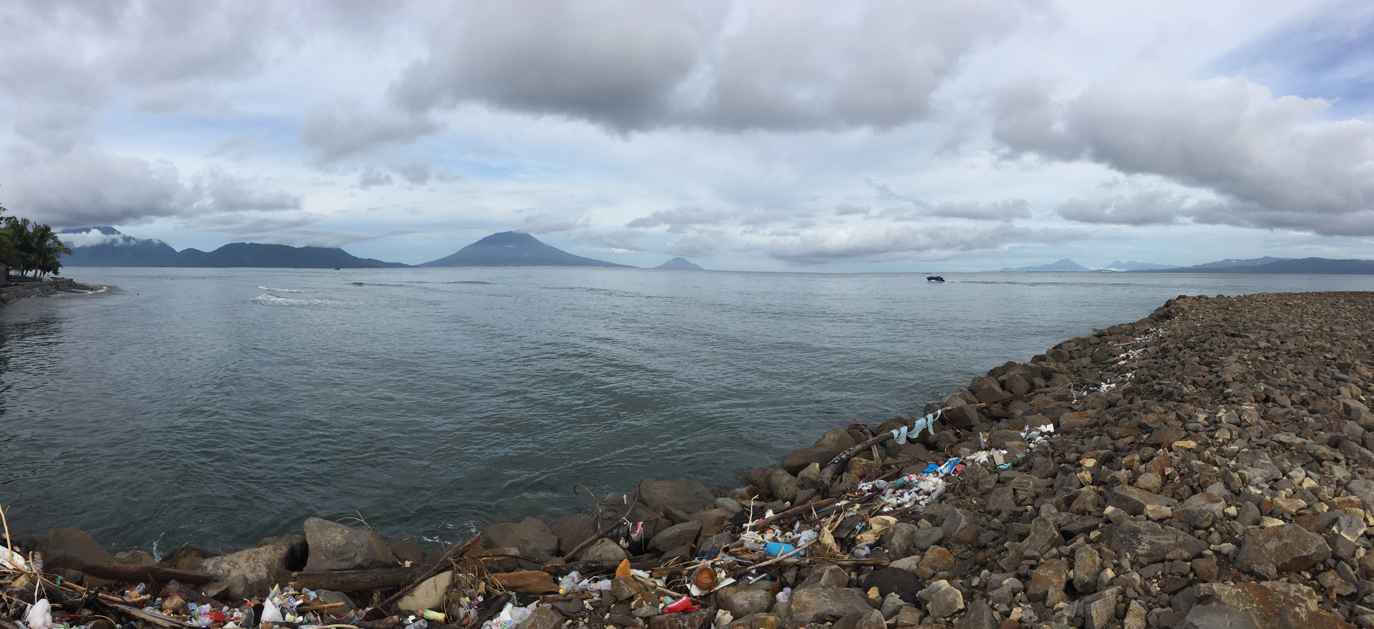 Sofifi, North Maluku
But what do the local communities want? I am sure they do not want to be turned into a "new Bali": each destination has its own cultures, traditions, history, special environmental characteristics and specific natural beauty. Each destination requires its own development and management plan. The risk is that tourism development in these beautiful and sensitive areas will accelerate without adequate local community consultation, without adequate concern for local environmental sensitivities, without adequate controls on development. There are serious challenges in such isolated areas: e.g. the logistics of food and water supply, sustainable waste management, provision of sustainable energy, supply of well-trained local hospitality staff.
Then controls need to be put in place to protect the local "obyek wisata" (tourism objects). For example, visitors need to be taught to respect local culture and not to litter – when you take a selfie, pick up your rubbish![3]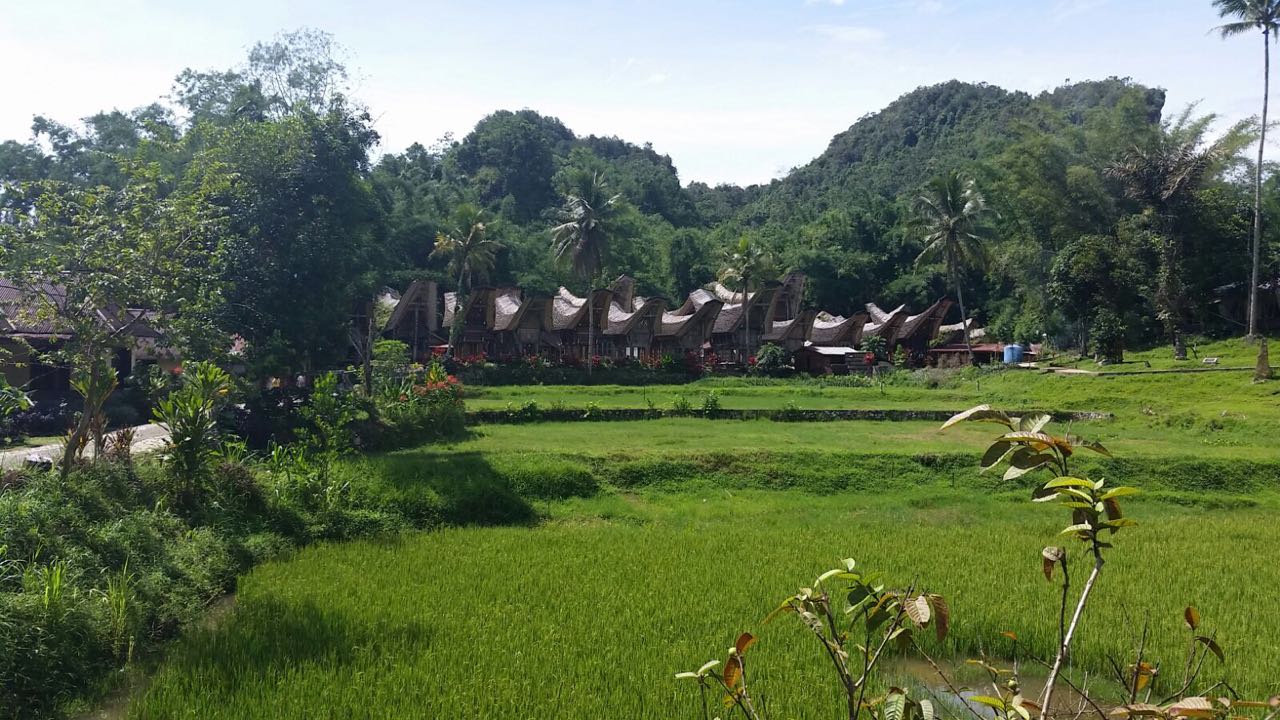 Traditional village in Toraja
One of the activities we are running to contribute to better tourism development in eastern Indonesia is an Australia Awards short course in Sustainable Tourism for Regional Growth, targeted at tourism professionals from eastern Indonesia. This course is open for applications until 31 July 2017, and we are looking for the best quality applicants from the eastern provinces: people who will return to their provinces and make a strong contribution to developing good, sustainable tourism programs. We hope they will also form networks with professionals from Australia and across the eastern provinces and keep plugged in to the latest and best practices in tourism.[4]
A three day pre-course workshop will take place at the Makassar Tourism Polytechnic in September. Participants will then travel to Queensland for two weeks of site-visits, seminars and courses. They will learn how Australia has managed to build a sustainable tourism sector.
A follow-up post course workshop will be held in Indonesia in January 2018.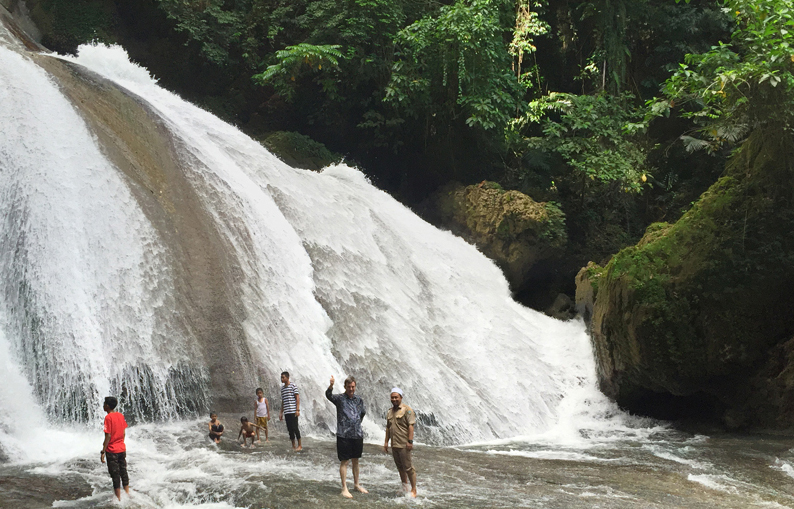 Bantimurung Waterfall, Makassar
***
Recently Putri and I were on holidays in Bali and the island was excited by the visit of former President Obama and his family. Friends on Facebook and other social media tracked their progress by the hour: the Obamas were staying at the Four Season hotel in Sayan; they had gone white water rafting down the Ayung River; they had been seen enjoying suckling pig in one of Ubud's famous local eating establishments. My cheeky brother-in-law said to me he was expecting Obama and family to visit his hotel (why? …to see our cows, we have very beautiful cows!). People attributed traffic jams to the Obama visit. I am sure many tourists tried to adjust their itinerary to cross paths with the Obama family.
Former world leaders and other celebrities often visit Bali because the Balinese have been in this tourism game almost as long as the Australians: the east-Indies shipping line KPM was advertising luxury cruise-ship holidays to Bali over 100 years ago. Bali is without doubt a world-class tourism destination.
But when will a former world leader take his or her family holiday in other east-Indonesian destinations? Let's work together to help make that happen!
***