I recently spent three days in North Sulawesi. I had three objectives: first to meet the management committee of the newly formed North Sulawesi Australian Alumni Association; secondly to join the closing workshop of the 2017 Australia Awards short course, Sustainable Tourism for Regional Development; thirdly to inspect a drinking water supply project we are supporting on a tiny island north of Manado.
North Sulawesi Australian Alumni Association
I have often mentioned in my blogs how important education is in our work to strengthen relations with the people and provinces of eastern Indonesia, and this is why we have a very active alumni engagement strategy.
Across Indonesia there are thousands of graduates of Australian universities working in senior positions in government, the private sector, universities and civil society organisations. In eastern Indonesia in particular we have a large cohort of former AusAID or Australia Awards scholarship winners, many of whom hold very fond memories of their time studying in Australia. There are also many more self-funded Australian alumni to whom we are reaching out through our alumni engagement strategy.
So last November, when we held our Eastern Indonesia Alumni Gala Dinner, I was delighted to also launch the newly founded North Sulawesi Australian Alumni Association.
This particular Monday I was in Manado to officiate at the appointment of the North Sulawesi Alumni Association's board led by Dr Rainy of Sam Ratulangi University in Manado, Pak Febri (Secretary-General) and Ibu Nitha (Treasurer). The new board are already planning various projects, and are also looking to work with the North Sulawesi provincial government to provide expert policy advice in areas of development importance, for example, how best to develop the tourism sector. Manado is taking off as a tourism destination, with thousands of visitors from China now filling the growing number of hotels in this city of 600,000.

Across eastern Indonesia we have supported the establishment of local alumni associations. Our biggest is in South Sulawesi: IKAMA (Ikatan Alumni Australia di SulSel – Australian Alumni Network of South Sulawesi) has a membership of over 300. Other smaller groups are active in Ambon, Kendari, Kupang, Gorontalo and Sorong, and I have met our alumni working in some very small communities such as in Bajawa (Flores). I encourage our alumni to access the various assistance programs we have (see www.australiaawardsindonesia.org).
Sustainable Tourism for Regional Growth
My second objective on my trip to Manado was to speak at the post-course workshop of the Australia Awards short course, Sustainable Tourism for Regional Growth, a course that I have been involved with since it was extended last year to cover all the provinces of eastern Indonesia where I represent Australia. I foreshadowed this course in my previous blog: http://makassar.consulate.gov.au/mksr/Blog_33a.html. This proved such a popular course that over 900 people applied: 30 of the best and brightest working in eastern Indonesia's tourism sector were selected to participate.
The pre-course workshop was held in Makassar in September 2017. A few weeks later the participants flew to Queensland where they studied Australia's tourism industry including destination development and management, guided by Professor Noel Scott from Griffith University and Professor Bill Carter from the University of the Sunshine Coast, both experts in this growing field.
We held the post-course workshop in February 2018 in Manado because of its fame as a major, growing tourist destination in eastern Indonesia. Part of the workshop included for example, comparing coral reef management and visitor experiences in Bunaken with the Great Barrier Reef.
Profs Noel and Bill had asked each student to develop a project in their home province and then report on it at the post-course workshop. We visited one of these projects: Marlon Kamagi, one of the North Sulawesi participants, had developed an agribusiness project on the cool, green slopes of Mt Klabat, about one hour out of Manado. It was a beautiful location, and all of us took part in a mass-tree planting event. The trees we planted were species endemic to North Sulawesi. I planted a local species of ebony which will almost certainly outlive me.
At the closing dinner for this course I said it would be offered again in 2018, targeted at eastern Indonesia. These are the provinces with greatest need for this type of training and network building. Furthermore, my experiences over the past few years have convinced me that eastern Indonesia has the potential to compete with the Caribbean or the Mediterranean as one of the world's great maritime tourism destinations. Eastern Indonesia has it all, from fantastic tropical islands and coral reefs, to amazing mountain cultures, to a rich trading history. Five hundred years ago this area was the centre of the world's spice trade. Before the Dutch took these islands they were ruled by ancient kingdoms and sultanates: all around eastern Indonesia there are crumbling royal palaces in desperate need of repair – but they are also great potential tourism destinations (how about a "royal tour of the east"?)
I also encouraged participants in this course to keep in contact with each other, and with the tourism professionals they had met in Australia, thus building up a network of professional contacts that will benefit the future development of tourism in eastern Indonesia.
Drinking Water for Nain Island Community
My third objective in North Sulawesi was to visit a project that provides clean drinking water to the fisher community of Nain Island, about 40 kilometres north of Manado. This island was not easy to get to. After a boat ride from our hotel's jetty we arrived at the fringing reef at low tide, and had to be escorted in by a local fisherman. Nain has a population of over 2,000; it has a church and a mosque, two primary schools and a junior high school, and lots of children. But it is very isolated, and has only a few potable water supplies.
This is why the NGO Learn to Live (https://learntoliveglobal.org) has targeted Nain and other islands in North Sulawesi as locations to set up rain water collection and filtration systems. Volunteers from Australia and America have been visiting the islands in the northern summer to build these projects, usually at a local school. The rain water filtration systems become focal points for the communities; the projects also include educating the children about the importance of clean water for drinking.
Our Consulate-General has supported Learn to Live's projects through our Development Assistance Program.
Dr Levi Golioth, Manado Director for Learn to Live, was our guide and escort to Nain Island. It was lovely walking through the little kampong past the church, then the mosque, calling at the village head's house; then viewing the water project and visiting the school.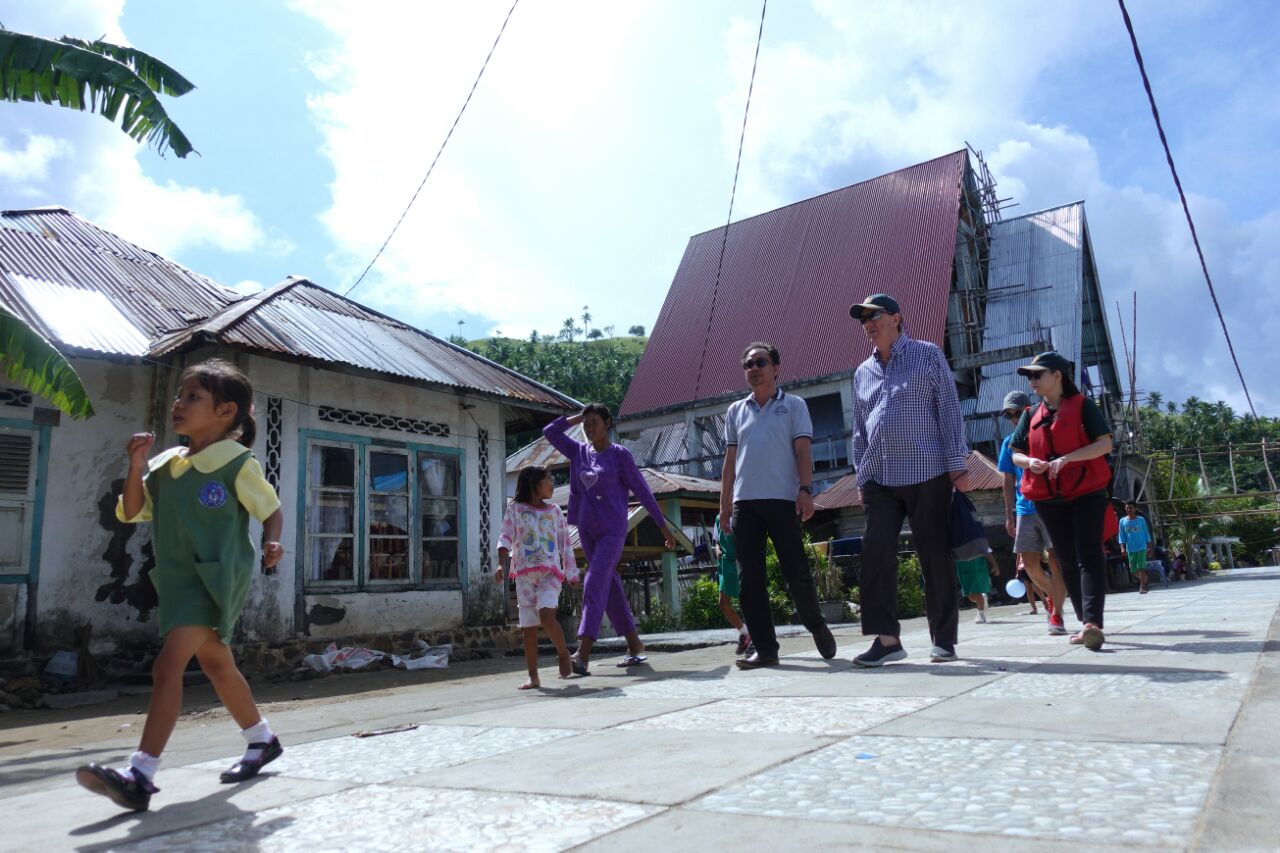 The schoolchildren treated us to an impromptu and very loud rendition of Lagu Pancasila; I handed out soccer balls and toy koala bears. A few of the children had heard of Australia, but no one quite knew where it was. Fortunately a map in a classroom enabled us to help put that right. They all knew that kangaroos came from Australia.
The Disappearing Island
On the way back to Manado we stopped for an hour or so at the "disappearing island", a sand bar in the Celebes Sea that only emerges at low tide. The tide was coming in so we had a short time to experience standing on this temporary island, then we went snorkelling over some delightful coral bommies and sponges; there were lots of fish, clams shells and cowries; but no big sharks or other large fish species.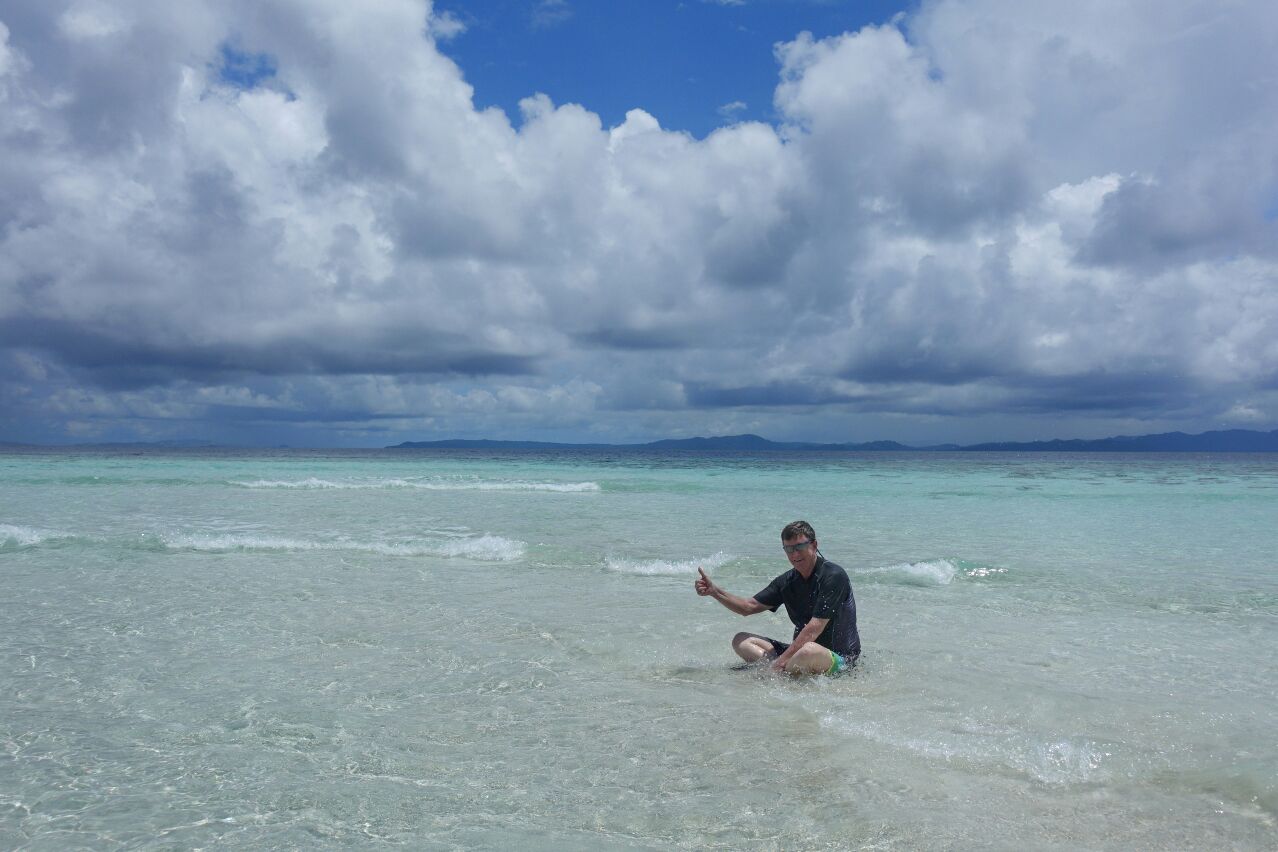 Life is not all work and no play in this job: moments like these are unforgettable. As I wrote above, eastern Indonesia has it all.
***