Feb 2019
Last week we made a quick overnight visit to Ternate, which is just under two hours by daily B737 jet from Makassar. Ternate town is scattered around the southern and eastern slopes of Mt Gamalamma, the still smoking volcanic cone that makes up most of the island. We first visited this part of the archipelago in 2017 (see my blog here: https://makassar.consulate.gov.au/mksr/Blog_24.html).
This time we were visiting two projects supported by Australia: one a small tourism village development, and the other a project to create bio-kerosene and other products locally. Both projects make sustainable use of specific local trees.
Kris Syamsuddin from the North Maluku Tourism Department and Dr Lily Ishak from Khairun University picked us up from the airport and took us to the beautiful "Villa Ma'Rasai", which looks out over treetops to the Maluku sea, towards the dormant, almost-perfect cone of Tidore Island, south of Ternate. From the veranda it was quiet and birdsong echoed around the treetops, but below us were a thousand students and lecturers – Khairun University is hidden under the trees on the southern slopes of Gamalamma Mountain.
Just before lunch Kris and Lily took us to Desa Tongole, half-way up the mountain. Kris participated in the 2017 Australia Awards short course on Sustainable Tourism, spending two weeks in Australia studying modern tourism development. As part of the course he undertook a project to develop a tourism village, centred on some of the oldest known clove trees in the world around Desa Tongole. In Tongole village is a clove tree reportedly over 200 years old, and another one further up the mountain slope is even older. These trees are called "cengkeh-afo" meaning "old clove", so the project became known as the Cengkeh-Afo Tourism Village.
The tourism village is a rich garden of all the trees that Maluku is famous for: clove, nutmeg, cinnamon, sea almond; and fruit trees such as durian, nangka (jackfruit), mango, cempedak and rambutan. We arrived at the village kitchen and were given a sweet drink made from the fleshy peel of the nutmeg fruit, and it was very refreshing. The village ladies have also developed a sweet snack made from the nutmeg flesh. It was crisp, sweet moist and a little tart. The ladies told me it helps maintain healthy skin.
The tourism village is also a teaching location, especially for school children who come to learn about their island's history, including how important it was once in the global spice trade.
The highlight of our visit was lunch. We sat in a bamboo pavilion and the village ladies served us food cooked in special bamboo tubes. Only the "batik bamboo" will do for this type of traditional cooking. The village headman joined us and explained that under Kris's guidance the villagers had rediscovered their heritage, re-learning how to cook old recipes. There were fish, chicken and vegetable curries served from bamboo tubes; spicy squid and shredded tuna dishes; sweet potato mixed with shredded coconut; vegetables with a dipping sauce made from the kenari nut. And to wash it down was a magic tea spiced with cinnamon, clove and nutmeg. For dessert there was fresh fruit, including a just-opened cempedak, the sticky flesh of which tastes like something between jackfruit and durian.
All this was beautifully presented on hand-made bamboo dishes, with bamboo cutlery. In the background the village men played traditional music on bamboo flutes, goat-skin drums and wooden violas.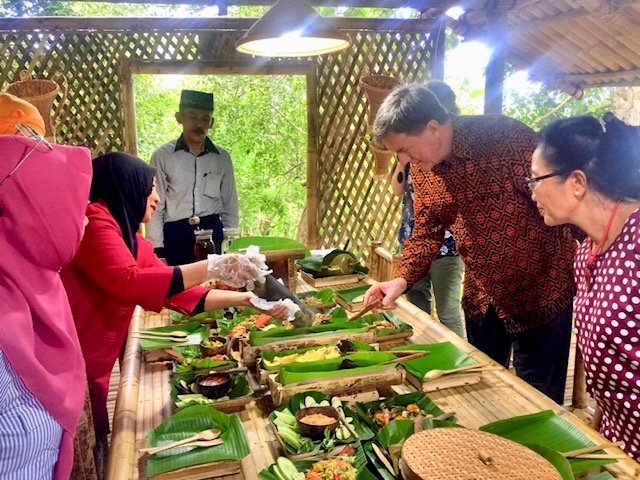 Kris's project, which came out of his Australia Awards course, has now taken off. Lunch at the Cengkeh-Afo Tourism Village has become the highlight of a visit to Ternate. Groups of up to 150 people can book a day in advance for this ultimate island culinary experience. The villagers have taken their cooking and culinary experience to a food fair in Yogyakarta; and soon will go to the Ubud Food Festival. Their family incomes have increased significantly since the project began at the end of 2017.
…
Dr Lily Ishak graduated with a PhD in soil science from Central Queensland University (CQU) a few years ago and returned to Ternate to take up a position teaching agriculture at Khairun University. Lily was an Australia Awards long-term scholarship winner. Back in Ternate she began researching the properties of the capilong tree, known in English as the Beauty Leaf Tree. Lily worked with her CQU supervisor to explore the best way to extract oil from the fleshy nut of the capilong tree: she developed a special manual oil-press for the villagers. The oil from the capilong nut can easily be turned into a kerosene substitute, which suits the people of North Maluku, many of whom still use kerosene for cooking.
Lily has also built up an enthusiastic cohort of village people who are now working to build local industries centred on the capilong tree. In addition to making bio-kerosene, the oil can be turned into soap, aromatic skin oils and other cosmetics, replacing expensive imports for the local market – including the tourism industry.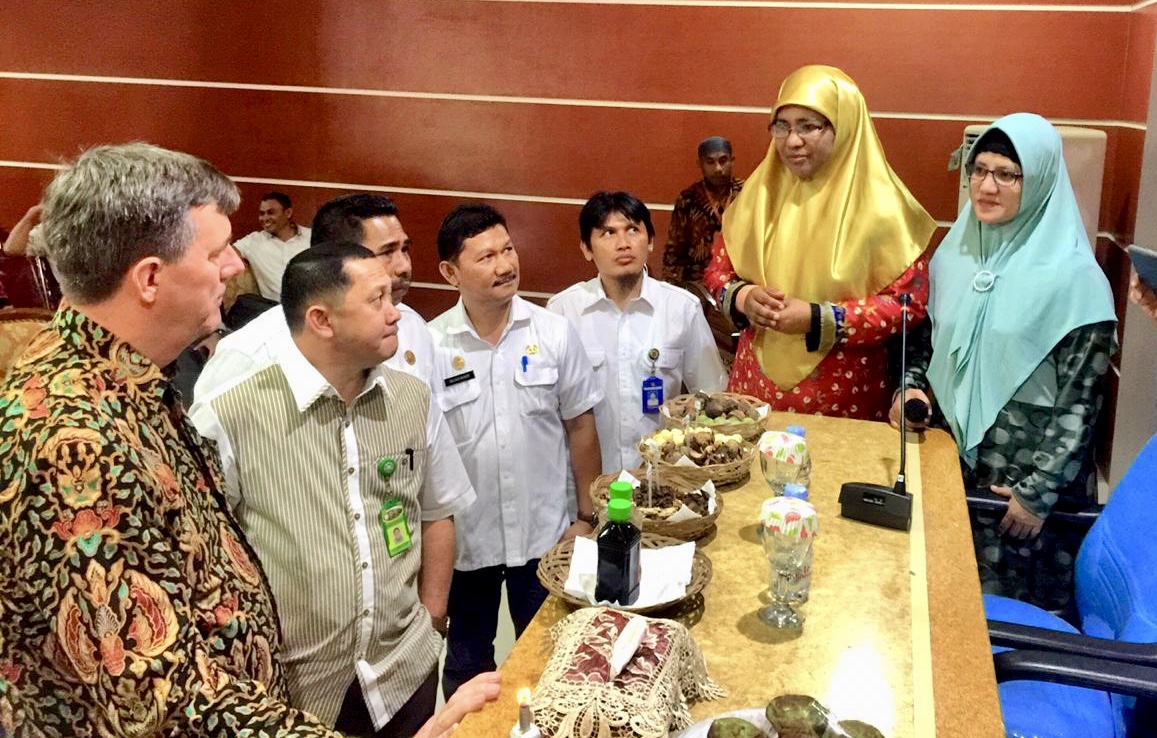 There are just over 1,000 capilong trees on Ternate, and now the villagers find them useful they will not be chopped down.
Lily developed her project with the assistance of funding form the Alumni Grants Scheme, administered by Australia Awards Indonesia. Lily had invited me to attend an information session at Khairun University to promote her team's project, where I met a number of enthusiastic supporters for the project. For example, the local military commander, Pak Bambang, has become a strong backer of the project. He told me that he had got his troops to plant over 1,000 capilong seedlings along coastal zones in North Halmahera. The local head of Bank Indonesia has agreed to provide follow-on funding for the capilong biofuel project, as it will contribute to local economic development (which is part of the state-owned bank's remit).
Lily has been recognised for her efforts by her alma mater, Central Queensland University, being awarded Alumnus of the Year for Early Career Achievement in 2019.
…
These two projects, centred on sustainable use of local trees and their fruits, are making real differences to local communities. They are contributing to the growth of tourism in Ternate and North Maluku by helping preserve natural attractions, and developing local products for the tourism industry. With support from funds such as the Alumni Grants Scheme, the Development Assistance Program, and the Australian Friendship Grants program, we can encourage fruitful change, benefitting local communities in eastern Indonesia.